South Korea
From Dating Local Girls
South Korea dating guide advises how to meet single girls. You just need to know the basic steps how to date South Korean women. Learn how to arrange dates with hot South Korean girls, how to take your relationship to the next level and how to find your soulmate and fall in love. Read more on how to date local women and where to meet girls in South Korea, Asia.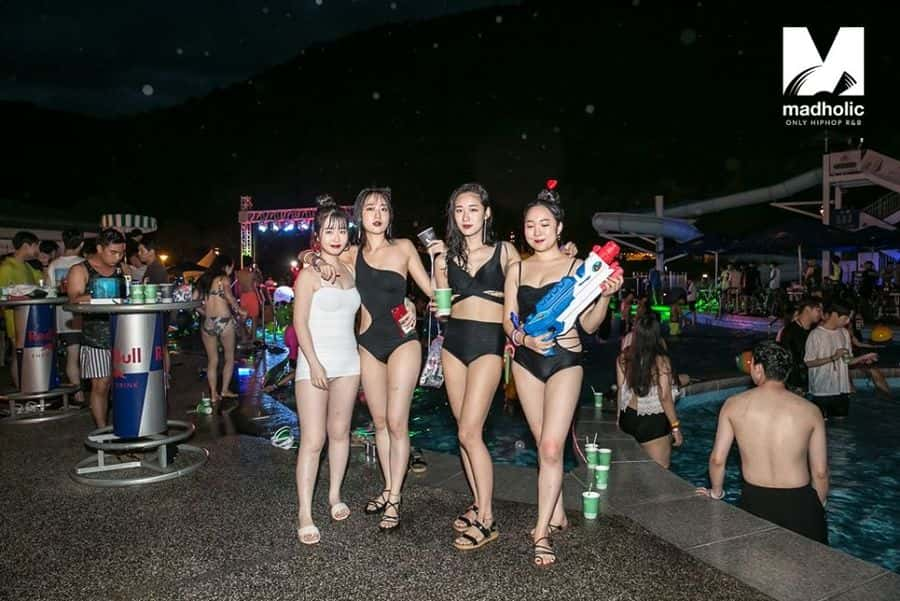 Girls in South Korea:
Education level of girls: 4.5 / 5
Dating in South Korea:
Chance of arranging dates: 4 / 5
Casual dating culture: 3.5 / 5
Online dating popularity: 3.5 / 5
Sex in South Korea:
Women's sexual activity: 3.5 / 5
More about South Korea:
Nightlife in general: 4 / 5
Locals' English level: 4.5 / 5
Budget per day: US$44 - $470
Accommodation: US$26 - $250
Dating
Located on the southern part of the Korean Peninsula has given South Korea the name we now know it by. For years, the country has been in a state of constant alert and war with its close neighbor, North Korea. This has greatly impacted the personality of the South Koreans. The discipline and the degree of obedience that can be seen in these people are a direct result of this socio-political situation.
Despite all the hardships and constant state of alert, South Korea has advanced significantly in terms of modernization and societal advancement than its close counterpart, North Korea. The advancement in society has provided South Korean women opportunities to receive education and pursue a career.
South Korean women are extremely gorgeous with fair skin and long black hair. They are petite and have alluring brown eyes. But, the most striking attribute is their personality. They are naturally shy and polite. Respectful attitude and politeness are ingrained to them at a very young age. This is also the reason why these women are not all temperamental. Instead, they prefer to compromise and talk out things.
While some of the South Korean women may go for flings, a majority of these women seek committed relationships. These women prefer men that are confident but are chivalrous. They are extremely attracted to men that can sustain an intellectual conversation with them.
These women may have advanced in great leaps, but they still expect the men to make the first move. Fear of their reputation being tarnished keeps them from initiating or approaching men generally. These women also prefer men that are serious about life. They also have a strong misconception about foreigners. They assume all men from across the globe to be womanizers. They are also worried about the attraction of foreigners and whether if it is only because of their external beauty.
While these women are truly exotic, they seem to feel more proud and happy when they are accepted for more than just their beauty and demure personality.
Dating Culture
The dating culture of South Korea is vastly different from the rest of the world. Here, despite all the technological advancements, when it comes to dating, people seem to prefer the old-fashioned route. The men are expected to approach the women and ask them out. Convincing them is not too hard if you can put forward your best charms.
These women are not very trusting, especially of foreigners. So, you need to establish that trust before she can make up her mind to go out with you. You can achieve this by impressing her group of friends. Gaining their approval is the perfect way to get her consent for a date.
After you have managed to ask her out, you must plan the date. These women are greatly attracted to men that are serious enough to hold an intellectual conversation with them and keep them intrigued. They dislike men that are loud, boisterous, and are keen to display their macho personality. It seems that these women prefer their men to be polite and respectful.
These women are sometimes associated with being materialistic. This is because they readily accept lavish gifts and token from the person that they are dating. It is wrong to link this to the character of the women there. It is more of a cultural norm as these people associate expensive gifts with love and care.
After the end of the date, the men are expected to pay the bill. However, modern times have also shown that women are eager to split the bill. In that case, it is important that you have the required cash, but if she is enthusiastic about splitting, don't turn her down. These women also like men that grant them their freedom and give them the opportunity to voice out their views.
Despite their shy and kind personality, these women are very sensual. Generally, these women do not want to be perceived as wanton women, but when charmed right, they can be downright passionate and exhibit their sexual prowess during sexual intimacy. These women are sentimental and invoke huge passion while being intimate.
Women
South Korean women are simply radiant. This not limited to their external beauty. These women have slender, petite frames that give them a fragile appearance. Their soulful gaze from the brown eyes and dark long black hair is enough to hypnotize men across the globe. Their personality makes them even more appealing.
These women are shy and show immense respect for others. Even if they are upset with you, instead of being angry and possibly volatile, these women will want to talk it out. They avoid confrontations and are quite peace-loving. These women are not very trusting of men and require them to put considerable effort into convincing them.
These women are ambitious and hard-working, as well. But, they also like to maintain their feminine beauty with the use of makeup products. They like to remain presentable and enhance their gorgeous feminine attributes. South Korean women are quite fashionable too. While some of these women may dress conservatively, some of them have a very bold fashion sense.
These women often seek committed relationships and are quite romantic. Chivalrous acts like holding the door for them, bringing them flowers, etc. are the way to impress these incredibly beautiful women. These women also like men that are respectful but successful in life. Their crazy drive for balancing their family with career makes them the perfect life partner.
South Korean women have great maternal instincts and manage their household with an ease that is hard to find. They are career-driven, but in no way, neglect their family for it. This is a reflection of how they are brought up with great importance placed on family and its honour.
These women are experts in the art of culinary. But, they also know the importance of healthy foods, and this is reflected when they cook food for their family. In South Korea, couples celebrate something on the 11th of every month. These women expect the men they date to surprise them with gifts and dates. Once these women are in a relationship, they remain utterly loyal and committed.
South Korean Girls (age 18 - 29)
South Korean girls in this age bracket are fun and more adventurous than the others. On your trip to South Korea, these are the girls that you have the maximum chances of hooking up with. They are just starting to establish their careers and are not opposed to having some fun.
These girls are utterly gorgeous and have a wild fashion sense. Their resplendent beauty, coupled with their efforts to look perfect, makes them incredibly desirable to men across the world. These women also have a great personality. They are not overly flirtatious, nor do they display interest in men chasing after them.
These women prefer men that can be honest with their intentions. If your desire is a short and casual affair, you will find that you will have more chances of impressing these girls if you are just honest about it. These women are just as interested in casual sex as you are. They have just tasted a little bit of freedom and are not willing to part with it by entering a committed relationship.
These girls are often seen in the various clubs, pubs, and bars across the country. These South Korean girls are bold and like to party to their heart's content. It is also important that you have a decent fashion sense. These girls prefer men that can clean up nicely. Put on a trendy outfit and visit the prime hotspots of the country. You can then ask her permission to buy her a drink and strike up a meaningful conversation. These women prefer men that are respectful and recognize them as something more than just exotic dolls. If you can manage to have an intriguing conversation and charm her, then there are high chances of you getting lucky for the night. If charmed with patience and great skill, you can expect her to get utterly sensual once you are alone.
South Korean Women (age 30 - 45)
The majority of the South Korean women under this age bracket have already married and settled down. These women are very faithful and are highly unlikely to have an affair with you. It is also not advisable to pursue a married woman in a foreign country. Their husbands can be quite possessive and create major troubles for you.
Instead, you can look for single, divorced, or widowed women here. You can easily locate them by using several dating apps that are prevalent there. These women are utterly beautiful and now have a grace that was lacking in their teen years. These women are highly confident too. They are aware of their desires and hence, are not afraid to date men according to their preference.
Despite their boldness and confidence, these women exhibit a very polite personality. They are respectful of others and expect the same. This leads them to prefer men that are perfect gentlemen. The trick to impressing them is to be polite and shower them with gifts and attention. If they can feel that you are persistent, they are more likely to believe in you.
These South Korean women are generally seen in the more sophisticated bars and clubs. They are much more poised and prefer men that avoid loud actions. They are also not quite comfortable with men that are keen on subduing them. While they may be polite, it will be wrong to assume them to be submissive. Their polite nature is an indication of how they are brought up and not an excuse for the men to mistreat them.
These women also prefer men that can match up to their intelligence. Interesting conversations with subtle flirting is a great way to seduce these women. These women, once charmed, can make your night completely memorable. They are exceptional lovers and leave no stones unturned in pleasuring their partners.
South Korean Ladies (age 45+)
Most South Korean ladies under this age bracket are happily married with kids and are perfectly content with their family. These women remain faithful and are not likely to indulge in any kind of affair with you. If your taste in dating women falls under dating mature ladies, then you can expect to face a few difficulties here in South Korea.
These South Korean ladies are still beautiful, despite their age. This is greatly due to the fact they are great cooks and consume healthy foods. This keeps their figure in shape and also provides them with a certain glow that attracts men in hordes. These women have an alluring personality as well. They are kind, polite, and are not susceptible to sudden outbursts.
These ladies are confident and totally aware of their wants and desires. It is not uncommon for these single ladies to approach men if they find them interesting enough. These women are not very keen to accept the societal rules and often, surprise, the men that they are dating.
However, some of these women may still seek committed relationships. It is always better to be clear about your intentions. This will greatly aid you in avoiding getting yourself in unnecessary troubles. Once you have cleared this with her, you can proceed to charm her. Make sure that your efforts are noticeable and also be a charming gentleman.
These women can be seen in some of the high-end clubs, bars, and cafes scattered across the country. They prefer men that are confident in their approach. Heavy forms of flirting are generally frowned upon in the open by society. But, you can expect her to display her sensuality when you are in a private space. These women have a fiery passionate side that is incredibly irresistible. These women display emotions during sexual intimacy, which makes the action even more passionate and fulfilling.
Foreign Girls (tourists, expats, students, etc.)
While South Korean women may have a shy personality, some men prefer their women to be fiery and wild. And, sometimes their kind and courteous acts, may come off as boring. Some men also find it difficult to convince these women to trust them. South Korea experiences a massive wave of tourists every year. These foreign women are a fine alternative to the locals.
The foreigners who visit South Korea also include a high number of women who are quite eager to explore the world. These women are bold and adventurous. They are confident enough to initiate conversations and are not opposed to the idea of casual sex. In fact, these women readily accept casual affairs as they are not too keen on forming relationships with a foreigner in a foreign country.
The booming economy and constant urge of the country to embrace the modernized aspects have made it a huge hotspot for ex-pats. They are greatly interested in living a comfortable lifestyle with a considerable low cost of living.
South Korea proudly hosts ex-pats from all over the world. On your trip to South Korea, you will come across several such ex-pats. They are usually noticed in both the high-end and local pubs, bars and nightclubs in the country. These women are easy to approach and do not expect complete politeness or a perfect gentlemanly behavior from you.
The increasing educational opportunities can be directly linked to the sprouting of numerous colleges and universities across the country. This is also the reason for the rising economy and lower unemployment rates.
The offering of student exchange programs allows students from other countries to come here to study. These women are quite laid-back and are often interested in casual flings. They are aware that they have their whole life ahead and are not ready to settle down immediately, even less with a tourist.
Sex
Despite the seeming advancements in terms of technology, the modernization of the society when it comes to sex is still underway. Society, at its very core, is quite traditional and patriarchal. It is going to take decades, if not centuries, for the society to truly adopt a more open mind when it comes to sexual acts. The barring of PDA in the open is just an example of how rigid society still is.
Educational opportunities and the chance to meet and interact with people from different cultures have lent the South Korean women the strength to battle against the brutal grips of patriarchy and double standards.
While men are not usually blamed or even pointed out for indulging in sexual acts, women are. This is also the reason that most of these women are quite afraid when it comes to the protection of their reputation. They are quite afraid by the society who insists on marring their reputation if they dare to make any bold moves.
But, this exact attitude of society is what propelled some of these women to rebel. These women are confident, bold, and do not care about the rules that society has laid down. Instead, these women are much more interested in seeking out men and fulfilling their sexual desires. They do not wish to remain in the shackles that the older generations have been.
On your trip to South Korea, you will encounter women with various personalities. While you will come across some very wild-spirited and free women, you will also encounter some who are very traditional. These women seek long-term committed relationships and only indulge in sexual acts when they are utterly confident with their partners.
It is necessary to make the differentiation before making a move. If you are unable to, then the next step is, to be honest, and be clear about your intentions. You will be surprised to find that these women find honesty very appealing. You will be more surprised that many of these women will be perfectly content with your idea of casual hookup and have a wild time with you.
Sex Culture
The sex culture in South Korea is vividly distinct from the rest of the world. In terms of indulgence in sexual acts, it is neither very rigid nor very relaxed. Although the sexual revolution is slowly undergoing in the country, it is still a long time before society accepts sex as a natural activity.
This has led the South Korean women to be bold and confident. But, for most of them, the fear of being judged by society still prevails. It is more accurate to assume that these women indulge in sexual acts but like to maintain privacy. PDA is not all accepted by society. Holding hands is considered to be fine, but anything more than that can cause the older generations to raise their brows.
On your trip to South Korea, you will witness the rapid changes that are being accepted by the current generation. They are more accepting of other cultures and are thus more open towards sexual intimacy. If you are aware of the popular jaunts that are visited by the single and hot South Korean ladies, then you have a splendid chance of seducing them.
One-Night Stands
The concept of one-night stands is not as uncommon as you might imagine it to be in South Korea. Through the progressing waves of modernization, the youth of South Korea is quite interested in the notion of one-night stands. This makes foreigners very appealing to them. Nevertheless, it has been quite a struggle for these beautiful women to come out and seek out their sexual desires.
There is no shortage of South Korean women who are interested in casual affairs of hookups. You just need to be honest about it rather than being flirty and then seducing them. You will find that these women value honesty and will most likely be impressed with it. This will give you an opportunity to further seduce these women.
The women visiting several bars and nightclubs are the ones that you can approach with your idea. They are already in a relaxed setting and in the mood to have some fun. If charmed properly, you can expect to have wild fun later on in the night.
But, you must also be aware that some of the women might not feel comfortable in your idea or approach. In that case, take a step back and do not press the issue. You must gain her verbal consent before partaking in an adventure-filled wild night.
Best Places to Meet Single Girls
South Korea has numerous cities that are densely populated. This gives you ample ladies to select from the various places that you visit on your trip. Each city is distinct from the vibrant locals and a particular history that it is associated with. On your trip to South Korea, you will come across women with different personalities. This intriguing mix will make your trip all the more worthwhile.
Unarguably, the best place to divulge in some heavy flirtations and seductive moves are the various nightclubs, bars, and pubs. There are several of them across various cities. While hopping between cities, make sure to know about the most happening places and then check them out.
It is important that you dress well as the first impression is a big deal here. Being a gentleman and not being loud is the way to impress these shy but gorgeous women.
Shopping malls and tourist places are excellent sites that you can visit during the daytime. It is evident that meeting and interacting with women during the day will be much less productive than during the night. But, you can still meet some of them and casually start a conversation charmingly.
You can also use this opportunity to set up a nice detailed date for the women you have convinced. Make sure it's creative and different from ordinary dates. The high number of colleges and universities provide a great opportunity to encounter different women and be intrigued by their distinct personalities. These girls are often found in local cheap bars, pubs, and cafes.
You can visit these places to engage in an interesting conversation with them. They are quite easy-going and are not completely against having some wild time. It is advisable not to be seen too much around the university and college campuses. Security is more there, and any misstep might land you in undesirable legal troubles.
Bars, Pubs and Nightclubs
Nightlife in South Korea is vibrant and exotic. The sheer number of bars, nightclubs, and pubs is an indication that the South Koreans love to party. They are not opposed to letting out some steam after working hard during the day. A large number of women can be seen dancing and partying in these establishments. Dress stylishly and ask her permission to buy her a drink. Chances are she won't say no, and then you can start impressing her.
A list of some of the most highly visited establishments is given below.
Soap Seoul Seoul: Convenient location and vibrant music pull the crowd in this massively popular nightclub in Itaewon. The crowd wildly grooves to the music and is essentially a party lover's heaven.
Bulldog Pub (Seoul): One of the most highly frequented pubs by locals, tourists, and ex-pats. With economical pricing and friendly staff, the pub has a warm ambiance that allows for some interesting conversation with the locals.
Revel (Busan): A perfect mix of lounge and nightclub, this place attracts a crowd like no other. The atmosphere buzzes with energy, and the crowd sways to the most happening music. It is explored by both locals and tourists.
DM Lounge Gwangju: With a laid back atmosphere and an extensive menu of drinks, this mesh of bar and lounge is a perfect opportunity to have a relaxed time. The music is good, and the staff greets you with warmth.
Thursday Party Daegu: Loud music and a dance-loving crowd are what pack this place completely. The music is loud, but upbeat with mostly hip-hop being played. The atmosphere is lively and perfect to dance the night away.
Korea Beer Exchange Seoul: A surprisingly hidden gem in metropolitan Seoul. The selection of beer in this place is massively impressive. Good food, an abundance of beer, and excellent staff has the potential to make this bar huge.
Shopping Malls
Daytime can put forward difficulties when you are trying to woo a girl. It is because most of them remain quite busy. They are either at work, college, or home. But, you can still find some of them in the more popular shopping malls across the country.
Some of these women resort to shopping during the day. You can approach her politely and strike up a conversation. It is best not to be too aggressive. Also, make sure that she is away from her friends when you are making the move.
Mecenatpolis Seoul: Great location and the availability of various things make this shopping mall highly popular. The mall has 34 floors with 7 levels of basements. Beautifully decorated, this shopping mall has everything – branded stores, cinema, and delicious eateries. The presence of the arts center is a beautiful surprise.
Seomyeon Underground Busan: Connected directly to the Seomyeon train station, this shopping center is located underground. The shops here sell a variety of things that are up for bargaining. This attracts the locals to this place massively.
Times Square Mall Seoul: One of the most popular shopping malls in Seoul. It offers a wide range of materials under a single roof. High-end retail stores, a theme park for children, and luxurious dining is available here. It is also credited for hosting the biggest cinema screen across the globe.
Outdoors
The tumultuous history of South Korea has provided some of the most culturally rich spots for the tourists. The rich history, coupled with the picturesque beauty, makes South Korea an enthralling place to visit. On your trip here, it is better to have a look at some of the most notable spots. Visiting at least some of these places would definitely make the trip worthwhile.
You can also use this opportunity to interact with the local women. You may be lucky enough to encounter some of them in the popular tourist attraction sites. These women are extremely proud of their culture, and the fact that they are so polite will definitely aid you in enlisting their help.
Be a gentleman and ask politely for some help, and they will readily do so. After charming her, you can then casually ask for a date. Some of the most popular tourist spots are given below to aid you in viewing the ethereal beauty of South Korea.
Gyeongbokgung Palace Seoul: Constructed in 1395 by the Joseon dynasty, this palace served as the residence as well as the stronghold. During the time of the Japanese occupation, this place was almost destroyed. However, restoration efforts have been in effect since 1990. The architecture of the palace is magnificent with several gates, pavilions, inner and outer courts.
Heading Yonggungsa Busan: Built by Naong in 1376 when the Goryeo dynasty was in power, this Buddhist temple exudes serenity profusely. Its location overlooking the sea and the massive area it encompasses is simply enchanting. It was damaged severely during the Japanese invasions but was promptly restored and rebuilt during the 1930s.
Seongsan Ilchulbong Jeju-do: A naturally formed tuff cone due to hydrovolcanic eruptions almost five thousand years ago, this place is an absolute marvel. About 6 plant species that are the rare and marine algae of about 300 species have been found here. The diversified internal structures and its location along a cliff overlooking the sea add to its appeal greatly.
Seoraksan National Park Sokcho-si: Declared as a World Heritage site by UNESCO, this biosphere reserve is a revelation. The area has several mountain peaks, diversified flora, and fauna and about 1562 classified animal species. Rare plants and endangered animals can be seen here. Renowned Buddhist temples are also found in this reserve.
Hahoe Folk Village Andong: Listed as a World Heritage site by UNESCO, this traditional village is a very important aspect of the Korean culture. This village preserves the history and architecture of a long-gone era, the Joseon Dynasty. The intriguing shape of the village as a lotus sparks more interest among the foreigners.
Universities and Colleges
The abundance of colleges and universities in South Korea is a clear indication of the rising economy and the modernization that is slowly grasping society. Educational opportunities have led South Korean women the support they needed to establish a career and not remain dependent on their family.
This has made a great change in their personality. The result is an emerging wave of women who are no longer afraid to explore their wishes in the outside world. Some of the most notable colleges and universities are listed below.
Seoul University (Seoul)
Busan College of Information Technology (Busan)
Pai Chai University (Daejeon)
Yosu National University (Yeosu)
Choonhae College (Ulsan)
Korea Advanced Institute of Science and Technology (Daejeon)
Most of these educational institutions offer amazing opportunities for foreigners to come here and gain an education. The luxurious lifestyle with the low cost of living attracts these foreigners even more. You can easily encounter girls of different ethnicities in the various colleges and universities across the country.
These girls are bold and more outspoken than the locals. They are not opposed to having a good time. Also, the lack of a language barrier makes things relatively easy. The bonus is that these girls are well aware that relationships created in this way are most likely not going to last. They agree with that notion and just expect to have some wild adventure.
Relationship
South Korean women are utterly gorgeous, and their shy personality attracts men immensely. These women are kind and respectful. They make perfect lovers as they love intensely and are very loyal. They take good care of their partners and believe in cherishing the relationship every single day.
On your trip to South Korea, you will meet several women with varying personas. Some may seek a committed relationship, but some may just want to have some fun. Based on your desires, you can seek out and then charm them. But, it is extremely important to display honesty and be clear about your intentions. These women take a lot of time to open up, and seducing them just for a wild time is simply disrespectful.
But, if you have fallen for one of these gorgeous beauties, then you may need to be patient. They are not very trusting of foreigners. So, you must make continued genuine efforts to convince her of your love. Plan simple but creative dates, compliment her, and devote all your attention to making her feel special. Also, respect her family and culture as a family means a lot to these women.
You can also engage in some fun but short-term relationships here. Encountering the women who are not opposed to this notion is not a difficult feat. These women live life to the fullest and do not hesitate to have some wild adventures. These women are rather bold, but you do have to be confident and a gentleman to impress them.
Holiday Romance
The lingering notion of a holiday romance is enough to propel you to find some exotic beauties to romance on your trip to South Korea. The fact that these women have such an alluring beauty and an even more mesmerizing personality just adds to the appeal. The country is simply magnificent, and romancing a local girl against a scenic backdrop is bound to make the trip more memorable.
It is more important that you discuss your notion of a holiday romance with the girl you are trying to impress. If you are up for a short and fun casual affair, let her know. It is best to be transparent with the girl about your intentions. She must not feel disrespected after you leave the country. You can have a great time if you display honesty and tell her about it.
But, if you have truly started liking a local woman and want to pursue it further, you have to convince her. Now, this is not easy and will definitely drain your patience. But, you must make the efforts and convince her that your love is real and is not going to vanish as soon as you leave the country. Keep in mind that these women are naturally shy and not very trusting.
Tips for Successful Relationship
Convincing these South Korean women to enter into a relationship with you is not an easy task. They require to be convinced thoroughly and the fact that they are so shy at times can create a lot of problems. But with patience and time, you can win her over.
But, just winning her over is not enough. It is also important to maintain the relationship that you have built so earnestly. Take a peek at the tips listed below to ensure that your relationship becomes stronger than it is now.
Make genuine efforts: It is not enough to simply convince her to be with you. You must make sure that she understands the intensity of your love. You must ensure that she never loses interest.
Make sure that she is heard: Her shy nature may keep her from speaking out her troubles. But, you need to make a comfortable atmosphere so that she can speak up what is bothering her without any fear or hesitation. Also, respect her views and opinions.
Secrets have no place in a relationship: Make sure that honesty remains a vital factor in the relationship. Encourage her to share her secrets and do not judge her for it.
Appreciate her efforts: If she is cooking for you or making any other efforts to make sure that you are cared for, do not discard it. Instead, appreciate her efforts, and you just may fall more in love with her!
Respect her family: Family is a very crucial aspect for the South Koreans. You must always display utter respect towards her family. Any slight disrespect can cause huge cracks in the relationship.
Keep the communication honest"': You must encourage stable communication with her. If she has any doubts, she must feel confident enough to approach you.
Love
Finding true love amidst all the facades is incredibly difficult. But, what is more, important is to open your heart and give yourself the chance to interact with others. Heartbreaks and rejection can make you fearful of the next endeavors. But, you must give yourself the opportunity for love to engulf you. It is not possible to guarantee that you will find true love in South Korea, but there is a high possibility that you can.
South Korean women make the loveliest lovers and great life partners. They are caring, kind, and very respectful. These admirable traits coupled with their radiant beauty, are enough to make you fall in love with them. Here, you will find that if you have gained the approval of the girl's family, then life is infinitely easy for you.
The girls here often seek committed serious relationships but are unable to trust the men to do so. You need to show the girl that you are serious. This will need you to remain patient and shower her with love and attention. But, once they have agreed to be with you, you can expect to be pampered.
These women are passionate lovers. They excel in the art of sexual intimacy and infuse love during sexual acts. They love deeply, and this is also reflected in the way they indulge in sexual acts with their partners.
How to Make Sure She Is the One
Sometimes, it is necessary to ascertain that the girl you are in love with is the one for you. It may seem petty or even unnecessary, but such measures are required to make sure that you do not make the basic mistakes as love tend to make you blind. You can take a look at the tips given below and ensure that your girl is the perfect one for you.
She must be your best friend: Being a great lover is amazing. But, you must also make sure if she can act as your best friend. Sometimes, you need a friend more than a lover.
She must value your honesty: The fact that you have gathered the courage to share all your ugly secrets must be appreciated. She must ensure that your transparency is valued and make you feel cherished.
She must put forward some efforts: It is not possible for one person to drive a relationship. It requires the effort of both of you to make sure that the relationship does not crumble with time.
Mutual respect: Respect is highly necessary and must be present from both of you towards each other from the beginning of the relationship. Without it, arguments can escalate real soon.
She must consider your views: While it's appreciable that you want to make her happy and go with her views every time to please her, it is also not totally healthy. The relationships consist of both of you, and hence, your views must be valued too.
Money must not be a huge deal: Sure, wealth and status can provide great luxuries, but it is not absolutely vital. It definitely should not be the base of a relationship. If you feel the girl is with you for your wealth, get out as soon as possible!
Marriage
Although South Korea boasts of being on the pinnacle of modernization, the society is still immersed in various rituals and traditions. Marriage is considered to be a very important aspect in the life of the South Koreans. They take the institution of marriage very seriously and solemnly vow to uphold the marriage. This is mainly due to the morals and principles that they are integrated with from childhood. The aspect of the importance of family continues more strongly after marriage.
Even though you have fallen in love with a modern South Korean woman, it is important for you to seek approval from her family members. The males of her family, especially her father and older brother must give consent. This is not to allude to the freedom the girl has but more to do with the prevalent cultural norm. The woman you love is most likely to marry you if she has the blessings of her family.
Being a gentleman and respecting the culture is a sure way to impress the girl's family. It is also vital that you answer every question that they ask. It may sound intrusive or absurd, but keep in mind that they need to be sure that you will take care of their daughter for life. Marriage is a commitment for life to the South Koreans.
South Korean women have great romantic notions. It is best if you have a grand plan for the proposal. Make sure that she loves it, and it is according to her preference. You must make her feel loved and cherished so that she is willing to convince her family to accept you.
But, before going to the family for approval, it is also better to have a discussion with the woman that you envision a future with. In case, she feels that marriage is not on the cards immediately, do not pester her about it. Instead, showcase romantic gestures to show the intensity and sincerity of your love.
Wedding
Numerous rituals and traditions surround weddings in South Korea. The people here are quite nostalgic about maintaining and upholding age-old customs. They are well aware of the importance to continue and preserve the rituals and customs that have been weaved into several aspects of their life.
If you have convinced the girl's family for marriage, you can get ready to experience some of the most amazing and fun rituals that will make your wedding truly memorable. Some of the traditions and rituals surrounding the wedding are given below.
Chin-young-rye: Weddings here are generally held in the courtyard of the bride's house. This ceremony is the meeting of the groom with the family of the bride for the wedding. The groom is led by girukabui, which can be termed as the best man.
Jeon-an-rye: In ancient times, the groom used to present wild geese to his mother-in-law. Nowadays, the custom is modified into presenting wooden geese. But, the concept remains the same. The notion of presenting the wild geese is a promise to take care of her daughter as wild geese mate for a lifetime.
Gyo-bae-rye: The bowing is a very vital aspect of a Korean wedding. The bride bows six times, and the groom bows two times during the entire wedding ceremony. The bowing is done to signify the vow of the commitment of the couple to each other.
Hap-gun-rye: In this tradition, the groom and the bride sip wine from a gourd that has been split into two parts. This is usually presented by the mother of the bride and the two separate halves signify the impending union of the bride and groom as one.
Pyebaek: This occurs a few days after the wedding. In this custom, the bride tries to catch the chestnuts and dates that are thrown towards her by the parents of the groom in her wedding skirt. The chestnuts and dates symbolize children, and the number caught by the bride is said to be an indication of the number of future children for the couple.
Hanbok: These are the traditional wedding attires that are worn by the couple and their families to Kunbere. The bride wears the color red, and the groom wears a blue one. This is to depict the Confucianism principle of yin and yang.
Wedding gift: It is a cultural norm to provide cash as a wedding gift by the guests to the couple. The amount of money that is given depends on the relationship of the guest to the couple.
Family Life
Confucianism is greatly observed in South Korean society. The principles of Confucianism stress the importance of family. As such, family and the relationship with family members are given great importance. It is normal for family members to help each other in times of need. The shameful act of one is also designated as the act of the entire family and is shunned by society.
Hence, individuals maintain and safeguard their reputation to a massive extent. Family life in South Korea is still somewhat patriarchal despite the progressing modernization that the country is constantly witnessing. Here, the males are given more power and are considered to the head of the family. The females are given a more subservient role and are expected to follow the lead of the men.
However, the opportunity to establish good careers and the changing mindset has propelled the women to balance their home and work with a delicate poise. Marriage is given a lot of respect, and thus, divorce is still a major taboo in society. The deeply rooted principles make the couple talk out and compromise rather than parting ways. If you have married a South Korean woman, you can expect her to take care of you and your family diligently. They are great cooks and are never likely to walk out on you.
Children here are raised by integrating certain morals and principles. They are taught to respect elders and show complete obedience. The eldest son of the family is expected to take care of the parents when they become old and ailing. This is also why most of them do not move out of their parent's house.
South Korea is a great place to settle down and have a family. Great opportunities for employment, the opulent lifestyle, and the overall safety that the country provides make it an ideal place to start a family.
Regions
Gyeonggi
surrounding Seoul and covered in its urban sprawl. Notable Places: Korean Demilitarised Zone, Suwon.
Gangwon
natural wonderland; Seoraksan National Park, east-coast beaches and ski resorts. Notable Places: Chuncheon
North Chungcheong
landlocked province filled with mountains and national parks. Notable Places: Danyang, Cheongju.
South Chungcheong
central western part of the country. Flat area made up of rice paddies. Point where main train lines and highways converge and known for its hot springs. Notable Places: Daejeon, Gongju, Boryeong.
North Gyeongsang
largest province and richest area for historical and cultural sites. Notable places: Andong, Gyeongju and the islands of Ulleungdo.
South Gyeongsang
known for its gorgeous seaside cities and most respected temples. Notable Places: Busan, Haeinsa Temple, Jinju.
North Jeolla
Great Korean food. Notable Places: Jeonju
South Jeolla
Lots of beautiful small islands and landscape, fantastic food (especially seafood along the coast) and good for fishing. Notable Places: Gwangju, Boseong, Yeosu.
Jeju
Korea's honeymoon island, built by a volcano. Great scenery with wild flowers and horseback riding. One of the few places you may need a car.
Cities
See Also