Lagos
Guide for dating in Lagos helps you to meet the best girls. This dating guide gives you tips how to date Nigerian women. You will learn rules where and how to flirt with local Nigerian girls. We advise how to move from casual dating to the relationship and find the real love. We also tell the best dating sites in Lagos. In this article below you will find more information where to meet and date girls in Lagos, Nigeria.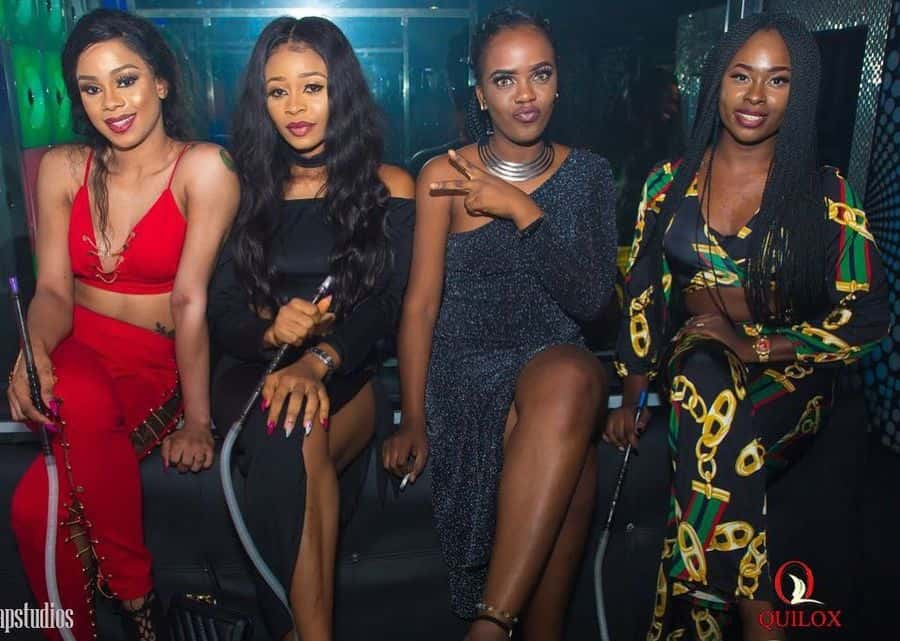 Girls in Lagos:
Attitude of girls: 2.5 / 5
Education level of girls: 3 / 5
Dating in Lagos:
Chance of arranging dates: 3 / 5
Casual dating culture: 2.5 / 5
Online dating popularity: 3 / 5
Sex in Lagos:
Women's sexual activity: 3 / 5
More about Lagos:
Nightlife in general: 4.5 / 5
Locals' English level: 3.5 / 5
Moving around the city: 3 / 5
Budget per day: US$20 - $1000
Accommodation: US$10 - $500
Dating
Lagos is by far the largest city in Nigeria and home to more than 10% of the population of the country. While the area around the city was traditionally claimed by the Yoruba tribe, Lagos' population consists of citizens from all of Nigeria's 250 ethnic groups.
With this great diversity, the Nigerian girl you will come across will come a tribe with beliefs and practices different from someone else. This will also be different if you are coming from outside the country. However, just like any other city, there will always exist common traits and beliefs that will characterize all Nigerian girls that you will meet in the streets of Lagos.
Dating Culture
No matter how long you may have been seeing a girl in Lagos, whatever the two of you will have going on will not be recognized as dating until a formal introduction has taken place and you have met her parents. Imperatively, this means that the two of you may opt to have a good time without referring to it as dating because once you meet her parents and relatives, the journey towards a wedding and marriage thereafter begins immediately.
One of the common aspects of dating in Nigeria is that the ladies expect you to be the sole provider while dating. It is therefore wise to ensure that before you get into a relationship you can finance the nights out and the processes leading to the wedding. However, the proliferation of western culture and women getting empowered economically has seen some women being comfortable with chipping in once in a while.
Online Dating
Dating in Lagos can be a bit tricky due to not knowing if you have a solid connection, so your best bet is to sign up for a dating site before you venture to the night club or bar, so you can meet a few locals ahead of time. AdultFriendFinder.com lets you meet local members in Lagos and get to know them on a personal basis before you meet in person. Take advantage of site features like live chat and member to member webcams so you can begin flirting before arranging a face-to-face meeting.
Women
As mentioned earlier, Nigeria is home to over 250 different ethnic groups in addition to many immigrant groups. This presents a unique blend of many cultures and beliefs. While Nigerian girls in Lagos can be categorized using different criteria such as age, tribe, occupation or even level of education, these women can be grouped on how they behave.
The first group is made up of girls who have been in a bad relationship in the past and are unwilling to commit themselves to another relationship. While some will claim that they will never fall in love again, all they need is the right way to approach them and a lot of patience. The risk of such women is that they come with insecurities from their relationships and so any slight feeling of being taken advantage of will have them getting mad and even overreacting.
The second group of Nigerian girls that you will find in Lagos is also made up of girls who are not willing to get into a relationship. However, these opt to remain single as it allows them to flirt with as many men as possible. These girls are afraid of committing to one guy as this, they believe, it tie them down. These are the kind of girls who will show up in clubs every day with a different man. This girl will know about all the best entertainment joints in the country and which concert is taking place in the city.
The third type is the girl who is always getting into relationships. This lady believes that she must be in a relationship. She has been in several relationships before but she keeps getting disappointed without learning any lesson jumps right back into another relationship. This cycle ends up affecting her self-esteem as she may start to think that she is the one with a problem. While she has been hurt enough times to make her unwilling to commit again, she is afraid of being single and will always look forward to getting someone else.
With the effects of modernity creeping in, another type of Nigerian girl that you will find is the one who is addicted to her career. This is the lady who has worked hard in school, passed and joined the university to study for her dream career. After getting a job, this girl enrolled back to pursue higher education. As a result of this, she does not have the time to socialize as her life involves commitment at work with meetings in between. Such women get into the dating scene late after all her contemporaries have settled down. As a result of their hard work, this type of girl is financially stable and may own a car, house and dresses expensively.
Another type of woman that you will find in Nigeria is the devout religious one. With just a small fraction professing traditional religions, most of Nigeria is made up of Muslims and Christians. Particularly prevalent with the Muslims, the religious types stay away from getting involved with men unless they are ready for marriage.
Nigerian Girls (age 18 - 29)
One of the reasons why the Nigerian capital city status was moved from Lagos to Abuja was to reduce the population pressure on Lagos. This was because it was noted that every year hundreds of thousands of Nigerian citizens left their home areas and trooped to Lagos to seek jobs and other economic opportunities. For a long time, Lagos was the fastest growing city in the world in terms of population.
Even after the shift in government operations, Lagos has remained to be the commercial hub of the country. This is mainly due to its already established infrastructure and institutions. This has resulted in Lagos retaining its population and attractions.
This great population directly means that Lagos has one of the biggest numbers of young girls and women. Like many other countries, 18 years is the recognized age of consent. However, this age is not legally proscribed but it is a matter of common practice.
Nigerian women aged 19 to 29 years are at the stage of transition between teenage and adulthood. These women are out of elementary school and for those who qualify, this is the time that they join the university. For others, this is the time when they make alternative career decisions such as getting in non-skilled jobs or joining the disciplined force.
Because of the strong religious upbringing for most Nigerian girls, most of them will only get into a relationship if they are sure that it will lead to marriage. For the Muslims, their religion forbids young girls frolicking with men unless they are married to them or are planning to get married to them.
Christian teachings, especially the emergent charismatic churches, also frown upon such behavior. This, coupled with the strict upbringing that parents applying to the girls has greatly reduced the interactions. It is not strange to approach a girl in Nigeria and have her tell you that she will only talk to you if you are looking for a serious relationship.
Nigerian girls aged 19-29 years have two main backgrounds. Some of the girls have left their families in the villages and have come to the city to seek economic opportunities. These are the more conservative ones who will be less ready to get into a casual relationship with you. We also have those girls who have been born and brought up in the city. These are slightly more liberal and are more ready to get into a relationship a lot easier, whether casual or serious.
At this stage, the girls are not yet financially stable as they are just getting into employment while some are still in college. For those still in college, some still depend on their parents for upkeep while others receive sponsorship from the Nigerian Students Loans Board. This means that as you take them out for a date, you should be able to cater for both of you.
Most Nigerian girls are known to be very well-endowed. The girls have some of the biggest bums in the world. While they dress relatively modestly, their bums and breast are prominent features in their bodies. For the liberal ones, they dress in knee-length skirt suits or dresses whereas some wear long tight pants. One common mode of dressing for Nigerian ladies is low-cut blouses which expose their cleavage. This brings out their voluptuous breasts.
For those who are able, Nigerian girls at this age will move out and stay on their own. However, most ladies opt to remain at home until they move to their matrimonial homes when they meet the perfect match.
It is a popular belief in Nigeria that at 30 years, a lady needs to be married, about to get married or dating. This means that the lady you will meet who is approaching 30 years will be looking to settle down, which should greatly enhance your chances of getting along.
Nigerian Women (age 30 - 45)
As mentioned earlier, 30 years is the official marriage age for Nigerian women. A woman who gets past this age without any visible signs of settling down with a man is often thought to be having a problem. This only gets worse when one is gainfully employed and seems stable. If one is still staying with their families, she may even be subtly pushed out as the parents will not want to appear to be encouraging her to remain single.
In Nigeria, whatever achievement a girl has in life, she will be considered as a non-entity if she is part prime age and is not married. It is common for one to be shunned by one's friends and relatives. As soon as you get married, your status changes and you will even begin receiving invitations to communal gatherings. Because of this pressure, most women of this age are married usually or will get married before getting to 45.
Upon getting married, some women get pregnant immediately and get down to taking care of their babies. Some, however, get married and opt to continue building their careers before getting to motherhood. Despite this, some Nigerian women will withstand the pressure and remain single concentrating on their careers. A few opt to get pregnant by sperm donors and remain single even as they become mothers.
As the women grow older, they tend to change their dress code and cover up more. This means that the amount of skin they expose is greatly reduced. For the women in formal employment, the length of the dresses and skirts increases downwards while the trouser pants become looser. The neckline also moves up as they now become mothers. This does not mean that they become less attentive to their appearance, rather they move from risqué to classy. The women in this age bracket can finance their lifestyle and so they dress and accessorize more expensively.
For the married ones, they will move out and start living with their new families while those who are not married will be living in their rented houses. While getting married is the ultimate sign of social achievement for Nigerians, the place of residence is one of the most important signs of economic success. A person's worth will be determined by the size and location of the house.
Another eerie question that you are bound to be asked by a woman the moment you approach her is where you stay. The answer to this question will have a great impact on your chances of being accepted or rejected.
Nigerian Ladies (age 45+)
With 30 years being the prime age for Nigerian women to get married, it follows that most women aged above 45 years are usually married with children, some adults. In Nigeria, it is assumed that if by this age you will not have gotten married, something is wrong with you. Everywhere you go, you will be asked if you have a problem.
It is not all women who are single at this point that have never married. There are a small fraction of women who at one time were married but are not divorced. While a measly 0.2% of marriages in Nigeria end up with a legal divorce, a significantly bigger number of couples either were living together without having been officially married so cannot be divorced officially or for some, they were officially married but do not bother seeking legal divorce but end up separating.
What these women will be lacking in their social life, they will make up for in their careers. As a result of this, single women at this age may make big progress in their careers. For those who opt to pursue further education, they will most likely have attained a doctorate. Those who ventured into employment and enterprise, will at this time made enough money to acquire property while some will have opted to join politics.
Whereas younger women may still be seeking financial stability, most women here are financially and socially independent.
In terms of appearance, the women are still well-built though as they grow beyond 55 years, age begins showing. Those who can conceal these signs using expensive beauty products do so although others let the age show. The age at which they are, also makes them dress more maturely. Most of them dump the tighter clothes altogether and choose more loosely-fitting clothes. They don expensive jewelry and designer cosmetics.
It is at this age that women acquire the tribal ceremonial outfits which Nigerian women are known for and which range from tribe to tribe. Some of the women favor the younger energetic men for the occasional fling. The younger men are only sought when they are needed and compensated with money. However, some women end up staying with the younger men in their posh homes as they attend to their carnal needs.
Foreign Girls (tourists, expats, students, etc.)
Alongside Ghana, Nigeria has been one of the most politically stable countries in West Africa. The region has seen many countries undergoing regime change through coups. This relative peace together with its robust economy has seen many immigrants from many neighboring countries seek residency in the country. This economic position powered largely by its petroleum exports has also resulted in many overseas countries establish links with Nigeria. This has seen many foreigners flock to the country.
However, since 2018, this situation has been negatively affected by two factors: First, Nigerians were irked when Nigerians and other immigrants doing business in South Africa were attacked and their businesses vandalized by South Africans who were complaining about unemployment while foreigners seemed to be prospering. This resulted in Nigerians in Nigeria retaliating by chasing not only the South Africans but other African immigrants.
Secondly, and as a reaction to the protests, the Nigerian authorities introduced strict regulations that limited the entry of foreigners to the country. These two factors saw the number of foreigners in the countries drastically reduce. The foreign girls in Nigeria fall into the following categories. The first ones are the expatriates who come into the countries to work. These work for the many foreign companies found in Lagos.
The second category is technical workers who come to work in factories and the oil industry. The third group is students who come to study in Nigerian universities. These mainly come from neighboring less developed countries.
Sex
It has already been mentioned that religion plays a central life in the lives of many Nigerians. Both Christianity and Islam are against engaging in premarital sex. This has resulted in fewer girls engaging in sex before marriage. This has however changed recently with the proliferation of western culture into the lives of Nigerians. This has opened up more Nigerian girls to casual sex.
While parents and other guardians may have control over girls while they are still growing up and living under their roofs, they lose this as soon as the girls finish secondary school and go away to universities and colleges.
Research has shown that a significant number of girls lose their virginity when they join tertiary institutions. You are more likely to have sex with a Nigerian girl who is in college than when they still live with their parents. This likelihood grows as the girls finish their education and begin being independent.
Sex Culture
For a long time, the matter of sex was too touchy and rarely was it discussed especially between parents and their children. Quite often, the young girls learned about their sexuality in their biology classes and from interactions with their peers. They would later come to experience it on their own when they grew up and got married.
This changed greatly with modernity. Movies from Hollywood with sexual scenes wiped the innocence of many Nigerian girls. In some of these movies, the characters appear nude and engage in sex in the full glare of the cameras. As if this was not enough, Nollywood, the local movie industry experienced unprecedented growth and attempted to emulate what was being shown in the American and European films.
The very fact that the local films had Nigerians acting in sexual scenes has in a large part exposed more Nigerian girls to the world of sex. Even those who have not watched the films are often initiated by their peers in colleges, universities and even in the workplace. All this has seen Nigerian losing their hitherto naivety on matters of sex and slowly being open to casual sex.
One-Night Stands
Despite the strong religious and cultural morals that guide daily lives, there are many opportunities for one night stands in Lagos. Ironically, Nigeria has one of the highest rates of one-night stands in Africa. While many will be contented to look for an easy catch in the clubs and bars, some go all out and even advertise in the classified sections of newspapers.
Nigerian girls are notorious party animals and one only needs to show up in an entertainment joint and buy drinks for a girl and she will be ready to entertain you for the night. Indeed there are several clubs in Lagos that are known as hangouts for single ladies who will be willing to go for a one night stand with you.
Your chances of this happening are greatly enhanced if it is known that you are a tourist as many young girls have a sense of curiosity and would readily spend the night with you just to know how it feels to have sex with a foreigner.
However, the government has been on a campaign to discourage this practice due to the risks involved. In 2018, Nigeria had 1.9 million persons living with HIV/AIDS. While this is a small fraction of its large population, it is a large number by any standards. This is in addition to the other venereal diseases as well as the increases in extramarital pregnancies.
Best Places to Meet Single Girls
Lagos' 21 million people place it at the top of the population ranks in Africa. This population means that if Lagos was a country in Africa, It would be more populous than half of the countries on the continent. With this population, it is safe to say that Lagos as a city has more girls within a small area than many countries in Africa. This means that there are so many opportunities to meet single girls in the city without breaking a sweat. The best places to meet girls in Lagos are the clubs, bars, pubs, parks, shopping malls and the tourist spots.
Bars, Pubs and Nightclubs
Clubs and Entertainment Joints : Even though many things were moved up to Abuja, Lagos retained its numerous entertainment join. With a uniquely West African experience right by the sea, Lagos offers you not just entertainment but a great opportunity to meet single girls.
Club Quilox - The club is popular with the elite who favor its luxurious feel. It has three different sections. The regular dancefloor is always open to everyone. The VIP section is smaller in size and is good for a small private party while the VVIP section is for those who love their privacy away from the club noise as it is soundproofed. The club is located along Ozumba Mbadiwe Avenue in Victoria Island.
Prive Lounge - This spot is also famous with the rich and famous and it has complete cabanas as well as a dedicated cigar room for those who enjoy a quiet time puffing away on a cigar. With a sitting capacity of 300, the club is famous for hosting private parties. It is located along Karimu Kotun Street.
Ember Creek - As the name suggests, the club has a restaurant right at the waterfront. It has additional swimming for those who fancy indoor swimming. It offers a mix of local hospitality with an exotic touch. Ember Creek is located on Awolowo Road in Ikoyi.
Club Pravda - In addition to the standard and VIP sections, the club comes with private rooms for a quick escape. It usually has complimentary cocktails and other attractions, especially for the ladies. Happy Hour occurs from Monday to Wednesday at 5 pm while every Thursday is Ladies Night. It is located on Agoro Odiyan Street in Victoria Island
Escape Night Club - The club is popular with the country's celebrities. This makes it a nice place to interact with your favorite celebrity. Like most of the other clubs in this list, Escape is located in Victoria Street along Adeola Odeku Street.
Uptown Stream Bush Bar - This club's unique and chilled ambiance is the ideal place to relax. The club has several in-house DJs who play requests by the guests. Uptown is located along Langbasa Road in Lekki.
Sip Lounge - The club is ideal for late cocktails. Its cigar room offers a relaxing ambiance with a view of its expansive dancefloor. The club also has private rooms for those looking for a good time away from the crowds. The club is along Akin Adesola Street
Cova Lounge - Formerly known as Kudeta Lounge, Cova offers a rooftop experience with a high roof providing an open feel. The club has a special live performance every Sunday as well as karaoke. It is on the 4th floor of Mega Plaza along Idowu Martins Street.
Club Uno - The club offers the best all-night entertainment seven days a week. The club strictly restricts entry to those above 18 years. The club is located along Allen Avenue.
Bheerhugz Café - The club is unique in that each day of the week is themed differently be it a live band or a night for the ladies. It has a home feel which is complemented by its delicious food, both local and international cuisine. The club is also a spot for hosting concerts by major local and international artistes.
The Bank - Perhaps the newest club in this list, the Bank is popular with expatriates due to its varied choice of entertainment. The club is inching its way up the ranks as one of Lagos' most iconic clubs. The club is located along Admiralty Way.
Other popular clubs worth mentioning are Club 57, Velvett, Thirst Bar, Virus and Club Vegas. While the nightlife in Lagos is relatively safe, you still need to be cautious if you are staying out late as muggings and carjacking incidences do happen often.
As a visitor, it is advisable to avoid venturing into unfamiliar areas alone. You should avoid putting on flashy jewelry that can cause undue attention to you. If possible, use a cab or hire a car as public transport vehicles in Lagos can be quite dangerous. Homosexual relationships are illegal and frowned upon. Therefore if you are gay or lesbian, avoid public display of affection.
Shopping Malls
With its place as the commercial hub of Nigeria and with the biggest urban population in Africa, Lagos is home to many malls. Some of the popular malls in Lagos include:
Ikeja City Mall - Built in 2011, the mall comprises of over 100 new stores, the anchor stores being Shoprite Supermarket and the Silverbird Cinema. The mall also hosts high-end outlets like restaurants, barbershops, salons, banks, jewelers and even an ice-skating arena. It is considered to be the best shopping mall in mainland Lagos. While it is famous among many residents of Lagos, it is considered to be overpriced and at times overcrowded especially in the evening and during weekends. Ikeja Mall is situated along Obafemi Awolowo Way in Ikeji.
The Palms City Mall - The mall is aptly located near the Lekki suburbs providing a one-stop experience to the residents of the estate and its environs. The mall is in an 11-acre plot which enables it to host many outdoor activities for the whole family. The large compound means that it can accommodate up to 1000 cars. The mall has two major retail stores, Game, and Shoprite. Palms City Mall which was the first modern mall in Nigeria is found along Bisway Street.
Maryland Mall - Also known as the big black box due to its design, the mall is popular for hosting family events. The mole is home to over 50 different retailers which include a state of the art cinema. The mall is located along Ikorodu Mall in Ikeji.
Novare Lekki Mall - Serving the Sangotedo area, the mall consists of several high-end retail outlets. The mall has a large fashion store that offers customers a large display to make their selection from. The mall has many major stores including Game, Shoprite and Genesis Cinemas. The mall has more than 100 retailers and a large parking area that accommodate up to 1000 cars. The mall is situated at the junction of Cardinal Olubunmi Okojie Way and the Lekki-Epe Expressway.
Festival Mall - Opened in 2015, the mall is situated in downtown Lagos. The mall was built to serve the residents of the Festac area. It is the first mixed-use facility of its kind in Nigeria. Festival Mall is located at Janet Faje Street, Off Festac Link Road
Mega Plaza Shopping mall - It is an ultra-modern 5-story complex with over 60 tenants. The mall is unique in that it provides a delivery service for customers who shop in any of the stores. The mall is situated along Idowu Martins Street.
Adeniran Ogunsanya Shopping Mall - Often shortened to AOS Mall, this is the largest shopping mall in Lagos. Its food court is famous for serving both traditional African dishes as well as continental dishes. The mall is located along Adeniran Ogunsanya Street.
Other malls found in Lagos include Circle Mall Lekki Peninsula ,Worththanks, Circle Mall, Sunderland mall and the Lennox Mall.
Outdoors
If you are the adventurous type who prefers outdoor activities, Lagos has some of the best to offer.
The Lekki Conservation Center is the longest canopy walkway on the continent. The walkway and the conservation center around it provides a welcome shift from the concrete jungle that is the city to the untamed nature. You can choose to wander about on your own or hire a guide for a guided tour. The park is located along the Lekki-Epe Expressway.
If you are the art type, the Nice Centre for Art and Culture. The center is run by Oyenike Monica Okundaye. The center acts as an art gallery, workshop and a retreat for artists while serving as Monica's home. The center has art exhibitions by local and budding artists who are sharpening their skills. You can buy some of the pieces on display as a souvenir. The gallery is located along the Nike Art Gallery Road.
A visit to Lagos will be incomplete without riding on a rickshaw commonly known as Keke. For an unfettered tour of the city, you can jump onto a rickshaw and have the rider give you a tour of the city. Alternatively, you can use one for your short errands.
For those who love history, you can visit the ancient town of Badagry. The town is a short distance from Lagos and offers an insight into the history of the slave trade that decimated the population of West Africa a long time ago. You can learn more about the history of the trade at the Badagry Black Heritage Museum.
Even though Nigerian beaches have not been generally known for surfing, Tarkwa Bay is slowly becoming famous with international surfers who enjoy the serenity and privacy offered by the beaches. The bay is located on an artificial island that can only be accessed by a boat ride that lasts 30 minutes.
To understand the two economic extremes of the city of Lagos, you need to visit the floating slum of Makoko. The village is inhabited by not-so-well-off families that get their livelihoods from the ocean. It is advisable that if you need to visit the slum, you need to get a tour guide who will advise you on what to do and not do. The inhabitants are particularly averse to being filmed as they go on with their lives.
Lagos offers so many other interesting places and sights to visit that will offer you with an opportunity to meet single girls out to have a good time. Some of the places of interest include:
Lekki Crafts Market
Wander Freedom Park
The National Theatre
Nigeria National Museum
Universities and Colleges
All over the world, universities present some of the best opportunities to meet single girls. The freedom offered by these institutions provides a conducive hunting ground. However, remember that universities are restricted areas for outsiders so you may need to wait outside the gates or hang out where students frequent to get a shot at hitting on these students. Lagos is home to many universities and colleges that attract students from both the country and the region.
Some of the universities and colleges found in the city include:
University of Lagos (UNILAG)
Lagos State University
Lagos City Polytechnic
Nigerian Law School
Nigerian Institute of Journalism
Holy Child College
Tenstrings Music Institute
Yaba College
Josse Maria College
Caleb University
Relationship
With the huge population in Lagos, it is clear to see the potential that lies in the city in terms of relationships. Just like in any other setting, the initial stage of a relationship with a Nigerian girl comes with its challenges. A relationship is the coming together of two personalities and so there will always be the timidity and fear of the unknown. This will soon wear out as the two of you spend more time together. It is good that the two of you spend time together so that you can learn and understand each other better as well as address any initial challenges together.
Holiday Romance
As a foreigner coming into the country and looking for a romantic relationship, there are a few basic principles that will help you on your holiday. You will need to learn beforehand the culture of Nigerian as this will make your interaction easier not just with a Nigerian girl that you will be spending time with but with her country people.
Nigerians are generally more conservative than many other cultures and so getting a girl to spend your holiday with may be admittedly hard, especially if you are just going to be with her for the holiday and leave. It will require patience and understanding for you to get a Nigerian girl as many of them are uncomfortable with strangers.
Tips for Successful Relationship
A successful relationship is characterized by mutual respect. Whereas the position and roles of the man and woman in a relationship may vary from one culture to another, the two people must show respect and understanding to each other. This respect should not be dependent on the status and circumstances in which one is going through. Whether one is jobless or rich, the couple ought to maintain their feelings and love for each other.
Patience and self-control are important if the two people will be able to remain together. There will be times when the two parties will feel aggravated with each other. Whether this may seem deliberate or not, you will need to take a step back and handle issues without emotions or bitterness as this will only worsen things. If you feel too angry, you are better off walking away and getting back to resolve matters when your temper is better.
While everything else may be important in a relationship, love will always help you every day even when you feel like walk away. Love for each other will carry you through the ups and downs that are brought along by any relationship.
Love
Whether it is in Lagos or anywhere else, the feeling of being in love is something that we all look forward to at a point in our lives. From birth and throughout, we are born with an innate longing to love and to be loved. At times, falling in love may be seen from a distance. However, most times you will never know how things happen but you will find yourself being attracted and later attached to someone who a while back was a stranger. With the many activities that Lagos has to offer, being in love here is going to be one of the best things ever.
How to Make Sure She Is the One
In life, it is often said that we will kiss many frogs before we meet our prince. This saying, while not literal, tells us that we will often get involved with many people in our attempt to fall in love. While not cast in stone, there are many pointers to help us identify the one girl for us.
First, she will never be too busy for you. Life in the city can be very busy in our endeavors to make a living. Even in our busy schedules, two people who are truly in love with each other will always get time to spend together.
Secondly, the girl for you will always be genuinely happy to spend time with you. Our faces are the gateway to our hearts and if a girl is happy to be with you, she will have it clearly showing on her face.
Even as she spends time with you, the girl for you will be interested to know your interests and passions and will be willing to learn and join you in these activities. This, however, needs to be reciprocated as there is nothing as bad as unrequited love.
Nigerian women are known for being particular about their appearance and go to great lengths to dress. If a girl you are dating is comfortable being seen by you in her natural state then she likes you and is comfortable to be herself around you.
Marriage
While there is no constitutionally-stated legal age of consent in Nigeria, 18 is generally taken as the minimum age that one can get married. For a country with more than 250 ethnic groups, it is obvious that there will be many customs and practices leading to marriage. However, some of the practices cut across and are practiced by many tribes.
Nigerian girls are extremely close to their extended families and if you hope to make things serious you may be forced to relocate to the country. Secondly, the conservative nature of Nigerian girls makes them hesitant to get married to a foreigner. This, however, can be overcome with patience and understanding. At no point should you be seen to be looking down upon her customs.
As you embark on a journey towards marriage, remember to be honest with your Nigerian girl especially on matters of employment and financial ability as they are normally keen on this.
Wedding
To get married in Nigeria you need a valid passport, a residence permit, a written request for issuance of a marriage clearance, a bachelor certificate and a written undertaking from the foreigner saying that she is marrying the Nigerian girl at his free will.
Once the couple agrees to get married, the man will visit the woman's family for a formal introduction and request to be allowed to marry. After the girl's family agrees, the man will be required to pay dowry to the girl's family. The money will be divided between the father and the mother. Part of this money is used to prepare a feast for the traditional wedding which will take place in the girl's home. After the traditional wedding, the bride remains with her family for a week after which she is culturally married. However, many couples opt to conduct a religious ceremony in a church or a mosque.
Weddings in Nigeria are a big celebration that lasts a full day. During the religious service, the bride will be presented to the groom by her parents. The presiding officer will conduct the wedding rites after which the marriage certificate will be presented to the couple. The ceremony moves to the reception venue where traditional food and drinks are usually served in plenty.
Family Life
As mentioned earlier, the family is a very important aspect of Nigerian society. Children are usually considered as a status symbol and in some cultures having ten children or more is admirable. Most Nigerian cultures place the man as the head of the family. Girls are usually socialized to grow up to submit to their husbands. This, however, has occasionally led to divorce as some husbands become agitated when their wives only bear daughters.
While the conventional Nigerian family is composed of the father and mother and their children, many families live together with their relatives. Even for those families which do not always stay together, they come together to celebrate weddings, birth, and funerals.
See Also