Nairobi
Guide for dating in Nairobi helps you to meet the best girls. This dating guide gives you tips how to date Kenyan women. You will learn rules where and how to flirt with local Kenyan girls. We advise how to move from casual dating to the relationship and find the real love. We also tell the best dating sites in Nairobi. In this article below you will find more information where to meet and date girls in Nairobi, Kenya.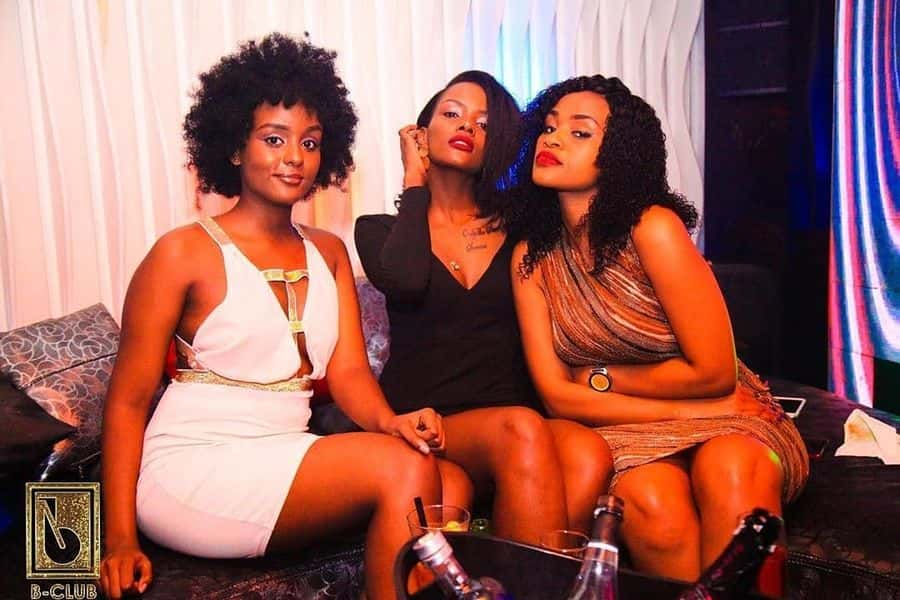 Girls in Nairobi:
Loyalty of girls: 3.5 / 5
Education level of girls: 3.75 / 5
Dating in Nairobi:
Chance of arranging dates: 4.25 / 5
Casual dating culture: 3 / 5
Online dating popularity: 2.5 / 5
Sex in Nairobi:
Women's sexual activity: 3 / 5
More about Nairobi:
Nightlife in general: 4.25 / 5
Locals' English level: 4 / 5
Moving around the city: 3.75 / 5
Budget per day: US$25 - $250
Accommodation: US$10 - $200
Dating
If you ask anyone in Kenya what defines their capital city, Nairobi, one thing that you are sure to be told is the legendary status of the city as a party city. It is often said that Kenyans, especially Nairobians never pass up the opportunity to celebrate just about anything.
Being the busiest city in Eastern and Central Africa, Nairobi is always abuzz with activity every day. This activity transforms into fun and parties at night as revelers throng the various entertainment joints in the city to have a good time. It is no wonder that the city hosts an international artist at least once every month. If you are a tourist looking for a beautiful girl ready to entertain and be entertained, Nairobi is the place for you.
Being the capital city of Kenya, Nairobi is the convergence point of all cultures in the country. As a visitor seeking to date a girl in Nairobi, you need to know what to expect. There are opportunities for a one-night stand, occasional sex, and even long-term relationships. Kenyans have been generally known to be welcoming people and this will help you as you look for a partner. You may want to be careful with your selection of women as some girls may look older than they are. When you come across a girl in a club or even in the streets, use your judgment to know her age. The legal age in Kenya for consent is 18 years.
Dating Culture
Just like the dating scene in Nairobi is very active, there are many opportunities to date Nairobi girls. While some of the older women in the city may have some hint of their traditional demeanor, many girls in Nairobi do not conform to any set norms or cultures especially in matters of dating. The girls are open to dating any type of person and their choice is usually personal. Many single girls walk the streets of Nairobi waiting for the one person who will approach them. Once you do this right, you will be ready to have a wonderful adventure.
Online Dating
Dating in Nairobi can be a bit tricky due to not knowing if you have a solid connection, so your best bet is to sign up for a dating site before you venture to the night club or bar, so you can meet a few locals ahead of time. AdultFriendFinder.com lets you meet local members in Nairobi and get to know them on a personal basis before you meet in person. Take advantage of site features like live chat and member to member webcams so you can begin flirting before arranging a face-to-face meeting.
Women
Kenya as a country is comprised of 42 different ethnic groups in addition to other minority groups and immigrant communities. Each of these tribes comes from a different part of the country which has a direct influence on the people from that area. One of the distinguishing features of each tribe is the set of beliefs and practices for each.
The most empirical distinction of these groups is that they all speak different languages with some even having dialects within the same ethnic group. This, however, should not be a hindrance as most Kenyans speak and understand either or both English and Kiswahili. Most young Kenyans speak English quite well and so you should have it easier if you can converse in English.
Out of the 48 million people who live in Kenya, 4.5 million of them live in Nairobi. Additionally, 2 million of them live in the neighboring counties making up what is called the Nairobi Metropolitan area. Every year, thousands of young Kenyans who finish their formal education all over the country come to the city hoping to get a job. As is the case in the entire country, Nairobi's population is composed mainly of young people below the age of 35 years with 55% of them being ladies. These statistics are an indicator of the huge opportunity there is for you to meet a girl of your choice in Nairobi.
Nairobi is characterized by ladies of all walks of life and each one has their unique character and so as you plan to hit on a girl, you will have to adjust your expectations and plans accordingly. Just like any other city, the residents of Nairobi can be broadly divided into the haves and the have-nots. Although it is not an accurate representation of the facts, people living on the eastern side of the city are considered to be less privileged as compared to the western side. This classification has its roots in the colonial days. Over time, things have changed and both sides of the city have all strata of people.
That aside, the girls that you will encounter in Nairobi can be loosely categorized into several groups. The first group is of the girls who have been born and brought up in the city. Those from relatively wealthier families will have attended prestigious schools while the less affluent attended public schools. These girls know all about the city including the best entertainment spots and are the most approachable as in their upbringing; they are used to interacting with strangers. While some of them are naturally beautiful, those who are not, know about the best beauty products and so they can enhance their looks and end up looking pretty.
The second group is of those girls who have been raised in the rural areas and came to the city in pursuit of jobs or higher education. Having been brought up in conservative setups with controlled freedom, these girls are the most adventurous as they will be enjoying freedom and life in a new environment. Some of them however still retain some of the traits from their upbringing and will be very laid back. To win over such a girl, you need to be patient as they have a bit of conservativeness. The third group of girls can come from either of the above. This girl is always ready to have fun any and every day of the week. This girl just wants to have fun and for you to get along with her, you will need to become like her. She knows about the newest entertainment joint opened in the city. If you need to know which artiste will be performing in which club or which events are going down in Nairobi then this is the girl you want to hang out with.
Kenya is predominantly a Christian country and so you will not miss coming across church going girls. If you are looking for a one-night stand, you need to look elsewhere as this girl will only give you the time of day if you are keen on having a long-lasting relationship leading to marriage. The challenge with this type of girl is that they are not easy to win as a tourist. They will be more inclined to get along with a compatriot as this presents to them a more realistic chance of a longer relationship. This means that if you want to be given time of day by such a girl you need to be willing to commit and wait longer if you want to have sex.
The above categories are not exhaustive. As mentioned earlier, each girl is unit in her own way and so you may find one who may not seem to fit into any of the above groups. You only need to adjust accordin
Kenyan Girls (age 18 - 29)
As has been mentioned earlier, Nairobi is the capital and the biggest city in Kenya. Every year many young girls leave their families in the villages and other towns and come to the city to either join the many tertiary learning institutions in the city while some who have finished their studies elsewhere come to the city to look for jobs. For those who will be coming to further their education, they will be taking accommodation in the colleges and universities or hostels. The ones looking for jobs will most likely stay with relatives before are stable enough to move out and stay alone. To manage the cost of living, some girls opt to share rooms with their friends. This number coming in will add to the many girls who have been born and brought up in Nairobi. While many of those who have their families in the city will continue to stay with their families, some will seek independence by moving out and only visiting their families over the weekends or during holidays.
Since these girls are just getting into adulthood, many of them are not yet financially dependent. Many still depend on their parents for support though some seek side jobs to supplement their income and better their lives. It is at this stage that girls also look to carve an identity for themselves. Those who do not come from rich families usually try to match up to their richer counterparts. They do so either by looking for additional income streams such as entrepreneurship or getting other jobs.
Another way that Nairobi girls use to upscale their lives is by getting what is locally known as sponsors. A sponsor is a sugar daddy who is an older rich person who provides for a young girl her financial needs. In return, the girl will offer herself to meet the sexual wants of the older man. This phenomenon is most rife with girls in colleges and universities. It is not uncommon to see a university student living in an expensive apartment in a posh estate, driving a high-end vehicle, wearing designer clothes without any visible income-generating activity.
On average, Nairobi girls are generally well-endowed. At this age bracket, the girls' bodies are developing in the right places. The breasts are firm and pointed and the girls dress to accentuate their prominence. Their bums also grow round and big and they will be noticeable as most girls dress in tight dresses, skirts, and trousers to show off the form of their bodies. Nairobi girls are known for their liberal dressing and they are comfortable to walk around with low-cut tops that show cleavage and miniskirts to expose their thighs. This gets better when they go out in the evenings as the clothes get shorter and tighter and more and more flesh is exposed.
Even though this is the best age to go for if you are looking to having just a good time or even if you are looking for a long relationship, there are a few things you need to be aware of. First of all, if you want a serious commitment, you may need to consider the older girls (27+). This is because the younger girls tend to be unsure of what they want and so they may juggle between two or more men. Unless you want to be part of this game, the older the better.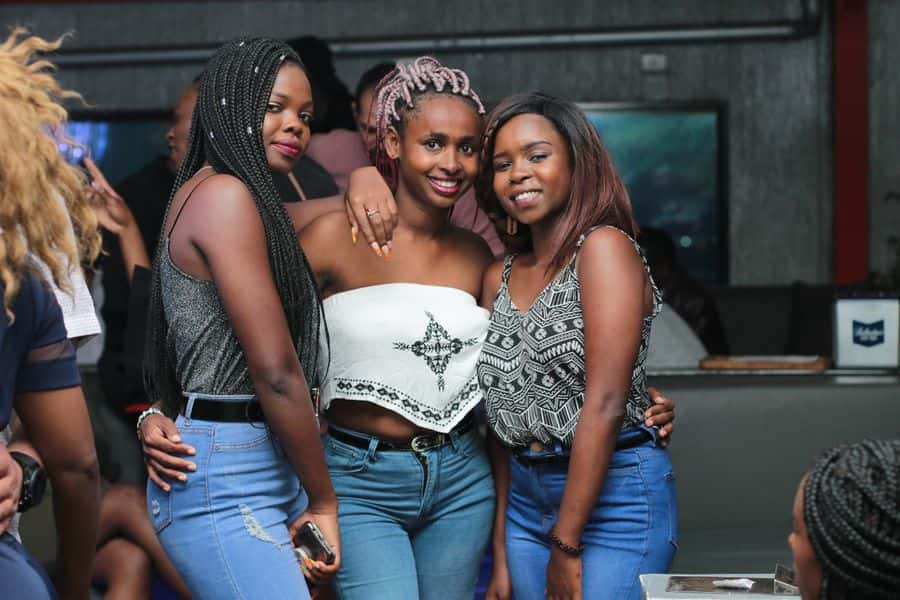 Kenyan Women (age 30 - 45)
Women of this age bracket are usually married or in serious commitments. The single ones are those who gave their career priority over other things or just did not see the point in getting married. If they are in their thirties then they might be looking for a serious relationship. If you want a mature woman who is well established and can understand the dynamic of an adult relationship then this is the age bracket you should be aiming for. you will find these women in shopping malls, bookstores, nightclubs and online dating websites.
Kenyan Ladies (age 45+)
Apart from the widowed, divorced and separated, most women of such ages are usually married. This is mainly due to the traditional order of priorities that Nairobi girls are inculcated with. One is usually supposed to study, get a job, get married and settled down. Any girl who falls off this trajectory is usually considered abnormal and will be on the receiving end of many questions from family and friends on why she is single. Many suggestions will even be put to her to consider.
Every trend has its exceptions and this is no exception. There exist many Nairobi women who are above 45 years of age and still single. These women, including the married ones, are good for a one-night stand. This is because, at this stage, most of them are not looking for partners in long-lasting relationships. They are simply looking for a good time with no strings attached.
While young girls fall into the hands of male sponsors, these women at times represent the female version of the sponsors which is a sugar mommy. They will be ready to provide all the material needs of the young men in exchange for sexual satisfaction. Some of these women are wealthy enough to comfortably pay their bills and the bills of young men who meet their sexual desires.
An interesting fact about these women is that quite often, they are the ones who spot and approach young men who they consider attractive.
Foreign Girls (tourists, expats, students, etc.)
Tourism is the second biggest contributor to Kenya's economy after agriculture. In 2018, Kenya received 1.98 million visitors. Most of these came in as tourists and expatriates.
Kenya hosts many multinational organizations and corporations. These organizations also bring in many foreigners every year for work and exchange programs. It has already been said that Nairobi is one of the biggest cities in eastern and southern Africa. As a result of this prominence, many visitors from the neighboring countries come in every year seeking education, business, and employment opportunities.
In addition to the above, Kenya has enjoyed relative peace as compared to its neighbors. Due to political and social upheaval in these countries, many people fled and came to Kenya. Many of these people settle in the country and become permanent residents albeit maintaining some identity from their countries.
Due to these factors, Kenya has played host to many foreigners. As a tourist seeking foreign girls, Kenya offers one of the biggest pools to choose from as these girls are plenty. Whether you want foreign students, businesswomen, professionals or fellow tourists, Kenya has them all.
Sex
Generally, it is relatively easy to have sex with Nairobi girls. You only need to know where and who to approach to have an opportunity.
This, however, does not mean that Nairobi girls are always promiscuous and ready to drop their pants. This simply means that there is less conservativeness among Nairobi girls due to an influx of western cultures and a mixture of many other cultures which has led to a loss of the traditional values that characterized Kenyans before the modern times.
Sex Culture
From before the coming of colonialists up to the 1970s, Kenya was a mainly traditional society. The various tribal beliefs and practices greatly influenced life. Sex was largely a taboo subject and the only time sex was spoken about in public was in school with a topic called sex education taught in elementary school. At home, the subject was spoken of in hushed tones. The only other place where sex was discussed was in the playground among peers.
All this changed with the coming of modernity driven in a big way by penetration of media. What was hitherto a dreaded discussion came to the living room through television programs and later on music videos. This has greatly led to a shift in perception of sex and sex has become an increasingly casual affair with no attachment or commitment. The younger generations regard sex as a recreation activity that can be done anywhere with anyone. This has been compounded with the advancement in technology especially the internet which is now accessible on mobile phones.
One-Night Stands
It has been mentioned earlier that getting Nairobi girls for a one-night stand is relatively easier than other countries. Whereas as in some countries girls are held back by traditions, Nairobi girls are a bit easy on traditions and you only need to go to the right place to get a girl who is ready for a one night stand.
One of the best places to pick a girl who is ready for a one-night stand is in the numerous night clubs within and just outside the city center. Starting on Thursday all through to Sunday, these clubs are usually packed with girls, most of them 19-25 years old who are out to enjoy a good time. At times all it takes to get to go home with a girl from a club are you buying her and her friends a few drinks of their choice and you will be on your way to a good time.
Some clubs in Nairobi especially those in the dingy areas of the city are popular with girls who there to look for men. However, as a tourist, it is advisable to keep away from some of the clubs as the girls there normally collude with thieves who will pounce on you and relieve you of your belongings. It is a common occurrence to come across a tourist who visited a club hoping to get a girl for a one-night stand and end up having his drink laced with sleeping pills. While he may be lucky to have enjoyed the sex, as soon as he falls asleep, his money, phone and whatever else of value will be stolen. Some ending up even without clothes.
It is therefore advisable that you get a local who is trustworthy and knowledgeable to show you around.
Best Places to Meet Single Girls
Nairobi is home to some of the most beautiful girls and they are in plenty. If you are looking for a girl to spend a night with, a girl for a short-term relationship or even a girl for keeps, Nairobi girls are some of the finest in the world. These girls are found in so many places around the city like Clubs and Entertainment Joints, nature places and shopping malls.
Bars, Pubs and Nightclubs
It would be impossible to keep count of the number of clubs in Nairobi as a new one seems to come up every other week while some of the existing ones close due to lack of customers who move on to newer and trendier joints:
B Club – This club is sometimes referred to as the Billionaire's Club due to its exclusive nature and the fact that it is popular with the wealthy business leaders and the political class of the country. The club is located in the upmarket Kilimani area.
Klub House – This is the name of two popular clubs commonly abbreviated as K1 and K2 located in Westlands and Industrial Area respectively. The two are famous for their themed nights whereby every day of the week, a different genre of music is played. The clubs are also popular with sports fans as the offer a stadium-like experience with big TV screens.
Kiza – Situated on the same building as the B Club, Kiza is also common among the wealthy. It is popular with Africans from all over the continent because it prepares different dishes and plays music from every part of the continent.
Brew Bistro – The club is located along Ngong Road. It is operated by Big Five Breweries and is famous for preparing food from different parts of the country. The club is conveniently located next to the Junction Mall.
1824 – This famous whiskey bar and club is famous for its great selection of both local and international beers. The club is located in the Langata area of the city and is a short distance away from the Nairobi National Park.
Tribeka – This is situated in the central business district. The club is particularly popular with the younger adults as its doors are open 24 hours and it serves everything from breakfast to dinner and also because of the convenience of being in town.
Tahiti – Located in the infamous River Road area of the city, Tahiti is popular with the low income-earners. This also works against it as anyone who appears to be dressed expensively runs the risk of being robbed right inside the club. Only go there in the company of someone familiar with the place.
Club Bettyz – It is also located within the central business district. However, unlike Tribeka, Bettyz only admits persons aged 26 years and above. The club is popular with many due to its pocket-friendly prices.
Carnivore – Perhaps the most popular of the list, Carnivore is located in Langata next to the Nairobi National Park. The club is popular as it hosts many family events in addition to its famous all-you-can-eat meat buffet.
Choices Pub and Restaurant – It is located in the city's Industrial Area. The club is also famous for its themed weekday night in which different genre of music is played. Its prices are also pocket-friendly.
In addition to the above, there are many more popular clubs in Nairobi that you may want to check out as you look for Nairobi girls. Others include Mercury, Galileo, Black Diamond, and Pavement.
Unlike some countries, most clubs in Nairobi do not charge an entry fee and only charge if they are hosting guest artistes. However, some require you to at least buy a beer that goes for at least Ksh. 200. It is also good to know that the law in Kenya prohibits clubs and bar operating before 2 pm and 5 pm on weekends and weekends respectively. Additionally, do not drink and drive as the law is very harsh on drunk-driving with very heavy fines imposed or jail terms or both.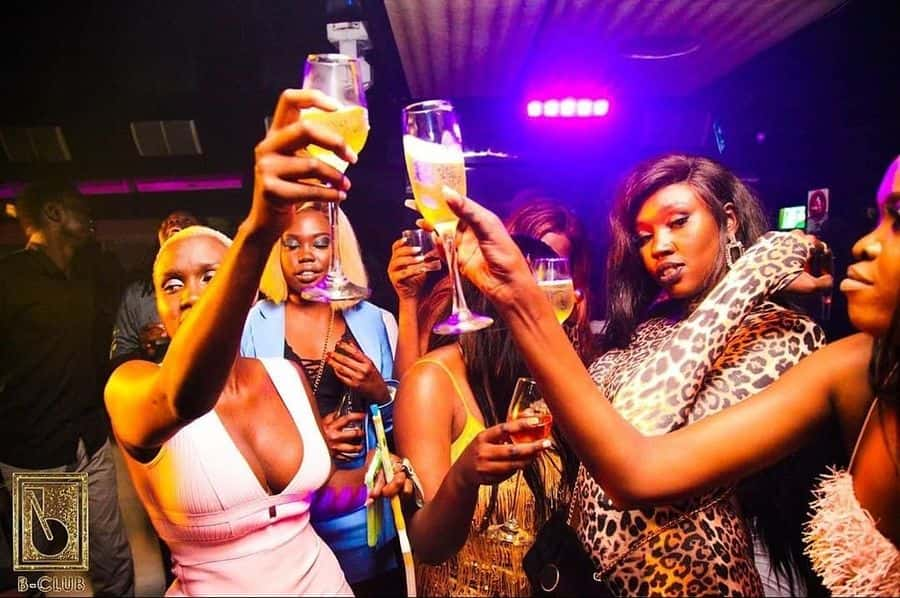 Shopping Malls
Over the last decade, Nairobi has seen an unprecedented mushrooming of shopping malls. The malls are found in all sides of the city used to initially be a popular destination for the middle and upper classes. This has changed and malls attract a clientele from all walks of life as they have the benefit of having almost everything under one roof.
Some of the popular malls in Nairobi include:
Two-Rivers Mall – By far the biggest mall in East Africa and one of the biggest in Africa, this mall derives its name from its location between two rivers. In addition to the numerous local and international stores that are to be found within the mall, Two Rivers boasts of the Eye of Nairobi, the largest Ferris wheel in Africa that gives a breathtaking view of the city. The mall is located in the Ruaka area between the Northern Bypass and Limuru Road.
The Hub – The Hub is located in Karen on the outskirts of the city. The mall serves the Karen area which is a popular choice of residence for the country's political leaders. Its laid back feel makes it the best place for a date or a day out with the family.
The Village Market – Situated in the upmarket Gigiri area, this mall is most popular with expatriates and employees of multinational organizations who live in the neighboring estates. The mall is near the United States embassy and the United Nations office in Nairobi.
Westgate – This mall is located in the Westlands area of the city and is popular with the Asian community that resides in Westlands and Parklands areas. The mall has an open rooftop that hosts many activities.
Galleria – This mall is located in Langata at the junction of Langata Road and Magadi Road. Galleria is easily accessible from the Nairobi National Park and is popular with visitors who throng the park to enjoy wildlife viewing.
Sarit Centre – The oldest mall in the city, Sarit Centre has undergone numerous renovations and expansions over the years that have seen it add more space and regain its place as a leading mall in the Westlands area.
Garden City – This mall is located along the Thika Superhighway. The mall is part of a complex comprising of the mall, commercial and residential apartments. It also has a large outdoor park ideal for events and small picnics.
Capital Centre – Before the emergence of other malls in its vicinity, Capital Centre prided itself as the first stop coming in and the last stop going out due to its proximity to the Jomo Kenyatta International Airport. The mall that is located along Mombasa Road also serves the neighboring estates of South B, South C, Imara Daima and Nairobi West.
Outdoors
Nairobi presents one of the most outstanding extremes in terms of moving from town to bush in a matter of minutes. Nairobi is the only capital city in the world that boasts of a national wildlife park within its borders. The Nairobi National Park is located 28 kilometers from the city center and it offers the visitor with an opportunity to seen the famous Big 5 (elephant, rhino, buffalo, lion, and leopard). The park has additional attractions such as the David Shedrick elephant orphanage and the Nairobi Safari Walk.
The Nairobi Museum is located at a walking distance from the city center and it serves as a preserver of artifacts and information about the country from the pre-colonial up to the recent past. The museum also incorporates a snake park where you can see all kinds of snakes that are found in the country together with alligators and other reptiles. The Nairobi Arboretum sandwiched between the University of Nairobi and State House is also at walking distance from the central business district. The park is open to the public to walk in and stroll as you enjoy the shade offered by the trees that are protected.
Across the city to the northwest lies Karura Forest. At 1041 hectares, Karura is one of the largest urban forests in the whole world. The forest has several activities that you can enjoy with your girl including a race track, ball games, and bike riding. The forest also has scenic waterfalls, picnic areas, and an eatery. If you like hiking, Ngong Hills lie 24 kilometers to the Southwest of the city. The hills offer a good place for sightseeing, camping, and hiking. Atop the hill is the grave of Denys Finch Haton who was the lover of the famous Danish author, Karen Blixen.
Universities and Colleges
Almost all universities in the country have a campus in Nairobi. As a result, Nairobi is home to at least 25 public and private universities. This is in addition to numerous colleges and other institutions of higher learning found in the city and its environs.
Some of the universities and colleges found in the city include:
University of Nairobi
Kenyatta University
United States International University
Daystar University
Vera Beauty College
Nairobi Aviation College
Institute of Advanced Technology
Railway Training Institute
Strathmore University
Vision Institute of Professionals
Relationship
Having listed the various places in which you can come across Nairobi girls, you must make your move the right way. It cannot be overemphasized that Nairobi is a melting pot of cultures and behavior so as you hit on a girl, you are best advised to be careful with exposing yourself too much at the onset. However, Nairobi is full of good girls who are genuinely looking for the right person to get into a relationship with.
Holiday Romance
As a tourist coming into the country for the first time or even if you have been to Kenya before and you are looking for a Nairobi girl to spend your holiday with, you should take time to find out about the kind of girl you would want to spend the holiday with and how far you would want to go with the relationship. This is important as one wrong move may ruin your holiday and even land you in trouble with the authorities.
To make your holiday enjoyable as you spend time with your girl, you may want to have a prior understanding of the country, its people, nice places to visit, the different costs to be incurred and even the local delicacies. This will save you from getting into activities without the knowledge and also from spending on things you had not planned for.
Tips for Successful Relationship
Further to what has been listed above, it is worth noting that a good relationship requires commitment and sacrifice. For the two of you to spend time together, you may both have to go out of your way to create time to spend together. Nairobi, like any other city, is dynamic and everyone is always busy trying to make a living. Amid this bustle, you need to get the time that can be convenient for the two of you to meet.
Alongside commitment, there needs to be constant communication between the two of you. In our busy lives, we tend to give priority to things that are on our mind consistently. If there is no regular communication, chances are high that the two of you will lose interest and drift apart.
Love
Falling in love is a wonderful thing. That said, the task is to stay in love. In a city of more than 4 million people, it is wonderful to find one person who is ready to spend their life with you. Whereas life in Nairobi can be demanding with so much needing to be done, there are enough distractions to keep your love strong each day. Whether you have a lot of money to spend or not, you only need to be creative and you will enjoy your love. At the end of the day, you only need to get a girl who will accept you as you are.
How to Make Sure She Is the One
It is often said that there is someone for everyone. Whether this is true is debatable. What is not debatable is that more often than not, you will meet many girls before settling down with one. Each one will seem to be the one until you part ways and you find yourself looking for someone else. So how do you know she is the one?
As it has been pointed out before, getting someone who will accept you as you are is the best way to know that she is a good choice. As human beings, we all have our flaws and getting the girl who is ready to put up with yours while helping you to improve is a good thing.
Secondly, find someone who does not hold back from sharing with you her life. As you have your flaws, she will have her and she will not pretend to be perfect but will be willing to be corrected when she is wrong. Thirdly, a girl who celebrates with you when things are going well and cries with you when things are bleak is a good choice for you to consider.
Marriage
The legal minimum age in Kenya is 18 years. However, most girls opt to complete their education to the tertiary level before they are ready for marriage. Same-sex marriages are not permitted in the country.
While the traditions accompanying marriage differ from one tribe to another, some are constant. For instance, it is expected that the girl will leave her family and join the man's family. As a result, most African families expect the man to pay dowry to the woman's family as a sign of appreciation for the upbringing of the girl.
In most cultures, once the dowry has been paid and an agreement reached between the two families, the two are provisionally married and only await the formal wedding to celebrate the union.
Wedding
In Kenya, there are three variations on how one can do a wedding. Civil weddings are held before a state law officer. A religious wedding is conducted by a licensed religious leader who represents the state as the officiating authority. African traditional weddings are conducted by tribal elders. Save for the latter, in the first two forms, a certificate is signed by the couple, a witness and the presiding officer. This makes the marriage a legal undertaking.
For you to get married in Kenya, you need copies of identification (Identity card or passport) to prove the attainment of the legal age. The couple is expected to present itself at the State Law Office or the County Commissioner's office at least 28 days before the wedding day and after filling in the paperwork, a notice is published in the Kenya Gazette for twenty-one days to allow for anyone who may wish to dispute the wedding. As this is going on, if you are planning to get married in a church, the notice will also be read in the church for 3 weeks before the wedding.
After that, the wedding will be held at the chosen venue and a reception held thereafter also at a place of the couple's choosing. Most couples thereafter proceed for a honeymoon for one to two weeks away from their friends, family, and normal lives.
Family Life
Most families in Kenya are composed of a father and mother and their children. In some African traditions, a man was allowed to have more than one wife. The man is usually the head of the family and is expected to influence and make most decisions on behalf of the family. Kenyan families maintain their ties with their extended families and take part in common activities and ceremonies together.
See Also