Santiago de Chile
Guide for dating in Santiago de Chile helps you to meet the best girls. This dating guide gives you tips how to date Chilean women. You will learn rules where and how to flirt with local Chilean girls. We advise how to move from casual dating to the relationship and find the real love. We also tell the best dating sites in Santiago de Chile. In this article below you will find more information where to meet and date girls in Santiago de Chile, Chile.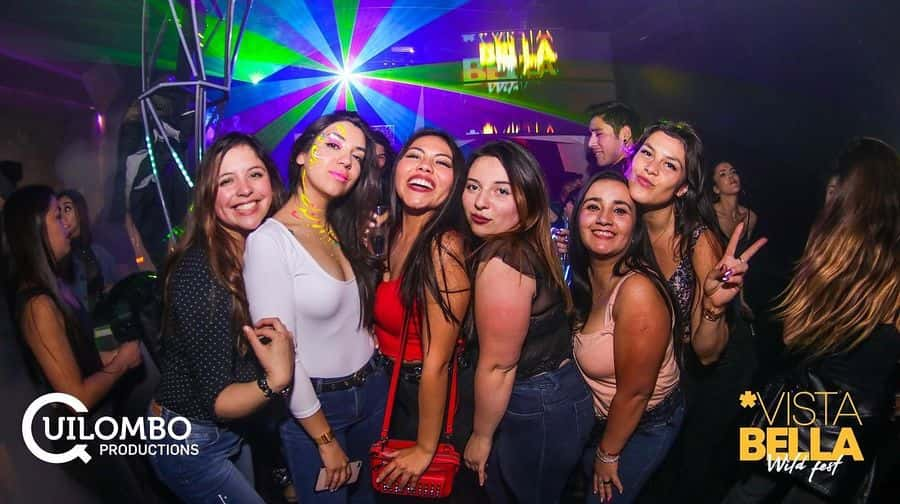 Girls in Santiago de Chile:
Education level of girls: 4 / 5
Dating in Santiago de Chile:
Chance of arranging dates: 4 / 5
Casual dating culture: 4 / 5
Online dating popularity: 4 / 5
Sex in Santiago de Chile:
Women's sexual activity: 4 / 5
More about Santiago de Chile:
Nightlife in general: 4 / 5
Locals' English level: 2 / 5
Moving around the city: 5 / 5
Budget per day: US$50 - $400
Accommodation: US$20 - $300
Dating
Santiago is the capital of Chile. It is also one of the main economic powerhouses in the whole of South America, as it is a metropolitan phenomenon which competes with the best cities in the world for standards of living. In fact, the vibrance and fast pace of the lifestyle often shocks visitors when they arrive.
Besides its impressive economic presence, Santiago is also considered the representative of the entire country. One will find that outside of the city's borders, the experience of Chile changes substantially. There are only a few farms and small towns. However, you also come across small resort cities on the coast that cater for the wealthy business men and women who like to go away on holiday.
Dating women in this beautiful gem of South America is something special. Firstly, one has a wealth of women to choose from, as they come from all over South America with the hope of finding a job or plugging into the city's wealth somehow. Secondly, the city itself has so much to offer in terms of culture, history and activities. There is a lot more to people than what meets the eye on first impressions.
The women themselves, within the city at least, are a gorgeous vision of the South American race. Expect the dating life to be filled with character and memorable moments. Whether it is a hookup, a short term romance or perhaps the age old quest for love, Santiago has everything you need to find fulfilment in your love life. Read on to discover how best to take advantage of one of South America's best loved cities.
Dating Culture
The dating culture within the city is quite western, but it does have its Latin twists. Men are expected to be vocal and flirtatious from the start; it is what the woman are used to, so they may take offence if you approach it with the normal 'cool' approach. Also, the women are known for being outright with what they want. If they are attracted to you and they want something to happen, you are sure to know about it.
However, should you wish to start the process of dating, you are required to build up attraction. This is easy to find in a city where women are open about sexual expression. The dating scene has less games within it. People express themselves freely with no barriers. It makes for a refreshing approach to dating. Make plenty of connections. Find a girl you like and if you know that the feeling is mutual, ask her out on a date.
The culture and entertainment options in the city leave plenty of room for the imagination. First dates are, however, never really too intense. Avoid fancy dinner venues or places which create a serious mood. Instead, consider options that allow for the conversation to flourish while still providing enough activity to keep you both having fun should the conversation die down in brief periods. Maybe grab a coffee or visit one of the many cultural site such as the museums or art galleries.
Second and third dates get serious. This is where you may consider either making the relationship happen or sticking to a just friends label. Some couples go on a day-by-day basis, prolonging the experience without any formal commitment or attachment. There are also those who seek just sex. That is completely fine in Santiago provided you are upfront with your expectations.
Within any sort of relationship, men keep themselves to a high standard. The Latinos are famous for their over the top romance and they showcase this through gestures and displays of passion. One thing that most westerners have to get used to is the public displays of affection. It is quite normal to find a couple kissing heatedly in public. Many coupes openly touch each others' butts or genitals, too. Everybody is used to it. It is only the foreigners who find it weird.
Online Dating
Dating in Santiago de Chile can be a bit tricky due to not knowing if you have a solid connection, so your best bet is to sign up for a dating site before you venture to the night club or bar, so you can meet a few locals ahead of time. AdultFriendFinder.com lets you meet local members in Santiago de Chile and get to know them on a personal basis before you meet in person. Take advantage of site features like live chat and member to member webcams so you can begin flirting before arranging a face-to-face meeting.
Women
Chile has a history which includes the most stubborn aboriginals in South America and a host of Spanish colonists who sought to take over the nation. Interestingly enough, the natives of Chile were the only ones who were able to stand up to the Spanish invaders. Thus, a peace treaty was formed and the two lived side by side, producing the current population.
The women are a combination of that. They have a fire about them which can be both sexy and scary. In terms of attitude, they have the standard South American tempers combined with a loud personality. They are confident and assured. If they find you attractive, they go in for the kill, as they are as seductive as women can come.
Much like their Argentine cousins, the Chileans have a very fair complexion. The darker people are immigrants from other countries such as Peru or Venezuela. You will find a Euro-Latin mix which is extremely attractive; some even have blonde hair. Now, there are some fat girls in the mix, as the city is probably the most western in all of South America. That means lots of fast food and starch. In fact, most of the food chains are American.
That does not stop Santiago from producing absolutely gorgeous goddesses. Much like the rest of South America, the best looking girls tend to be a blend between the native groups and the European settlers. Thus, those girls with fair skin will absolutely dazzle! Their figures are full and curvy, but the best part is that they know how to use their bodies to tantalize the men on whom their affections rest.
In a nutshell, you may come across a few plain girls, but the majority of women are gorgeous stunners!
Chilean Girls (age 18 - 29)
Santiago is an attractive city for the student population. Families from all over the continent send their kids to university in Chile because of the educational system. It matches the rest of the city in its dominance over finance, medicine, law, history and art in the whole of South America. In fact, the architectural department of Chilean universities is considered the best in the world! Thus, you can expect a lot of women between the ages of 18 and 24 – the student age. Work starts from a young age, as college is not the break in life as per western life. Most students hold a job and study at the same time.
However, a student is still a students! They make up the majority of the partyers when the weekend comes around. Furthermore, they have a natural tendency to gravitate towards casual sex. Even though Santiago is the most developed city in all of South America, the Latin culture always comes to the fore. Thus, a hookup is always on the cards. The young girls are free to explore their bodies, as the slut shaming culture does not exist in the same way in Chile.
Once the 25 year mark hits, the girls usually head out into the workforce. It is interesting to note that almost everyone stays with their parents until their early thirties. However, that does not mean that life isn't busy. The city is demanding and harsh. Atypical working day starts at 8am and ends around 7pm. Some professions require more. Young professionals tend to have down time on the weekends, but they are still keen on having fun. Sex stays alive and romance never dies If you meet these women and start a fire, nothing will put it out.
Chilean Women (age 30 - 45)
This age group is a tough one to navigate, but this is only relatively speaking. One still has every chance of finding romance in every sense of the word. Most girls in their younger thirties have a long-term relationship in mind. The life of freedom and exploration is over and the worry of not having a family is always present. If you are looking for a long-term relationship, then women between the age of 27 and 35 is a good place to search. The average age for marriage has become a lot later in Chile. The city's economy has also brought with it a sense of status, so girls do not often marry outside of their socio-economic grouping.
Those women on the older side of this age group (35 – 45) may have different reasons for seeking romance. Some have already come through a troubled marriage. Santiago has a high divorce rate. This equates lots of women who look for company. Being a major city in South America, the need and focus on sexual expression provides confidence for these women. Thus, you will find them out and about with every intention of finding romance of some sort.
Besides the divorced women, there are a number of women who cheat on tehri husbands. Long hours at the office and neglected families and spouses are common in Santiago. This leads to sexual frustration and you will find many women on social media and dating apps who have husbands. These relationships are taboo. The nation is still considered the most conservative in South America, so avoid such behaviour if possible.
Chilean Ladies (age 45+)
It is surprising how well women age in Chile. There are a few countries in South America where women may actually have a better sex appeal in their forties. Some of the women in Chile make that list. Argentina and Uruguay are also worthwhile mentions. You may be surprised at some of the women, as their figures are the same as the younger girls. It is only once you take a closer look that you see they are more experienced.
These women are not as easy to locate as the younger girls. They are around town, yes, but one needs to find them under the right circumstances. Often malls and outdoor locations do not make for the best connection point, as these women are busy and they are not looking for younger guys. However if you head online, there is a great demand for single men on dating apps.
Foreign Girls (tourists, expats, students, etc.)
The foreign girls are in great supply. Santiago may be one of the few cities where the foreign girls are not worth the chase. Local girls are by far sexier than the average international visitor. Chasing after a foreign girl while in Santiago is like going to a chocolate factory and eating bread. It simply isn't done!
However, one must leave room for the few gorgeous girls who travel from distance countries. Much of Santiago's foreign sector is comprised of citizens from other countries in South America. Thus, you may find a few incredibly sexy women who hail from all over the continent.
Approximately 2 million tourists visit Santiago each year. Thus, there is lots of potential to meet foreign girls. Again, it may not be the best choice, but you should leave room for a stunning beauty who may come from offshore. The best places to meet foreign girls in Santiago are listed below:
Santa Lucia Hill – this famous hill features a landscaped garden right in the middle of the city. Believed to be a remnant of a former volcano, the government has transformed the fertile soil into an Eden which features some fantastic Victorian era Spanish architecture.
Plaza de Armas – the place to be in all of Santiago. Crafted in 1541, this plaza includes historic buildings which are major landmarks. It is packed with a sense of history, as it houses the main cathedral of the nation as well as the most important parliamentary palaces. There has been a renovation of commerce, as restaurants and stores seek to take advantage of the many people who pass by.
Central Market – the market is the home of fresh produce and artisanal goods in Santiago. It has been around for nearly 200 years and there is always a crowd of local and international shoppers. The architecture of the building is impressive, as the metal structure owes its existence to a Scottish firm in the 19th century.
Sex
The sexual experience in South America is unlike any other place on earth. These women are confident, sexy and they know just how to use their bodies when it comes down to it. Perhaps the thing that Latin women are most famous for is their hips. They know just how to use their hips in the bedroom is a way which other women just cannot compete with – and the Chilean women are no different.
Perhaps the sexiest thing about them is their organic desire to express their sexual desires. Unlike in other Western cities, girls do not have the same level of shame attached to sex. Such a stigma usually leads to a level of reluctance, which makes connecting with a girl on a sexual level more about convincing than because of desire. Latin girls have no limits. They are keen, explorative and always to try new things.
Sex Culture
There is no doubt that the sexual culture in Chile was once the most conservative out of all South American nations. However, they have moved from that into a culture which matches the sexual freedom of its neighbours. The revolution has caught fire and there are now coffee shops who have scantily clad waitresses all over the city – perhaps something to check out. They are called café con piernas.
When it comes to the bedroom, you may be surprised at how keen women are to explore their sexual desires. As already stated, the stigma of slut shaming in western cultures does not exist in Chile, allowing for attraction to rule as the main determinant of sex.
Chileans are also extremely witty. Learning the Chilean dialect of Spanish automatically boosts your chances of meeting girls and converting introductions into bedroom time. However, they also have a thing for foreigners, especially those from the developed West. It is a point of difference which often provides a foot in the door.
The city has many motels which are designed specifically for sex. These 'love motels' can be found in the main student and party districts such as downtown Santiago and Bellavista. This only shows you how liberal the sex culture has become as Santiago draws closer to the standards of the cities around it.
One-Night Stands
Hookups are a great means of exploration in South America. It is not a place where you want to settle down straight after getting off the plane. Instead, take some time to see a few things and meet up with varieties of women. Fortunately, the city does not disappoint in the hookup department. Some have more success than others, biut it is generally considered a haven for casual sexual encounters.
The best part about the whole ordeal is that women are so free to express their desires. The re is no immature shyness. It is replaced with confident women who know what they want and how to get it. Their forwardness is refreshing. Combined with their beauty and Latin spice, a hookup in Santiago is amazing. There is great demand and the girls generally accept it as a one time thing without any questions.
Best Places to Meet Single Girls
Santiago has many different places to meet women. Discussed in greater detail below, you may want to filter your locations based on areas. The best looking girls all find their homes closer to the mountainside.
All of the listed places provide some sort of meeting spot, but the malls and night clubs are probably the best of the lot. Online sources also fuel an active singles meeting ground, so do not be afraid to get on Tinder, Badoo or even Instagram to start meeting women.
Bars, Pubs and Nightclubs
As would be expected by South America's most advanced city, the night life is truly buzzing. Latinos know how to start a party, and the presence of money and a more structured city life only adds to the scale of things. The students are especially good at creating an atmosphere which rivals any other party in the world.
Latinas are mesmerizing dancers. They use their hips to move to the beat and to be frank… it is out of this world hot! Connecting with a Latina girl at a club will change your perception of the world, and the dancing is extremely sensual so don't be afraid to get up close and personal.
The night life scene is further aided by the fact that Chileans love to drink. They have invented many different alcohols and cocktails to keep the buzz going. The most famous one, which you will find specials of throughout the city, is called Pisco Sour. This is usually used to get the party started and it isn't too expensive.
Once you are set on heading out for a night of fun, Bellavista is the district to visit. Most of the nightclubs and bars are located within its boundaries and it is a known student hotspot. Some of the more premium clubs are located in the wealthier business districts and CBD, but you can never go wrong with starting out in Bellavista. Listed below are the hottest nightclubs in Santiago
Bar Constitucion – in operation since 2008, this club has entered its second decade and has only gotten better with time. It was once a restaurant which evolved into a bar. The bar attracted a crowd hungry for late-night entertainment and thus one of the city's best clubs was born. The DJ roster is unrivalled and the amount of students who support the club should be enough to convince any single lad to give it a try.
Subterraneo – located in Providencia, the club has one of the hottest resident DJ lists in the city. However, it is the many events which make the club so popular. Its large warehouse spacing and extravagant acts make for some of the best parties the nation has to offer. There is no comparison when it comes to events, so always check their website to see what is happening next and try booking in advance.
Las Urracas – this is one of the premier dance locations which requires a collared shirt and your best trousers. The dance floor does not become fully operational until midnight, making it a great chilled environment to grab a few pre drinks before eth fun begins. You will need a fully loaded wallet, as drinks can cost as much as $18 a pop. However, the many beautiful girls who frequent the location more than make sup for the price tag.
Bunker – one of the Bellavista hotspots. They offer everything to make the night a memorable – or if you take advantage of their cheap drinks specials – a not so memorable one. The DJs are great and the atmosphere is always electric. Many people spend hours at the venue. It is known as one of the most exciting clubs in the city.
Club Chocolate – A lively club that focuses on live events more than DJs. Pay attention to their calender, as the vibe is always something special if you know when the bug bands are coming to town. It has a casual vibe about it, far more than most of the other clubs in town. It may also be one of the best dance venues in the city, as the wide open spaces allow for the party to proceed uninhibited.
Club La Rubia – located on one of the wealthier parts of the city, this club in Las Condes is one of the best party destinations in the entire city if your wallet can endure it. Once you enter the door, there is an immediate rush of Latin music and the first thing that catches the eye is probably the gorgeous women from the surrounding area. They are open from Wednesday to Sunday.
Room 09 – this is a jazz club which has made its way out of the fringes and into the main dance scene. It is always well supported. Furthermore, Room 09 is an all day venue. If you arrive in the afternoon, the menu caters for lunch and dinner, but the real action begins after the sun goes down.
Blondie – at first glance, the exterior may resemble a worn down old uilding which does not remotely compare to its neighbours in Bellavista. Upon entering, a different story is told. They have a great food menu during the day and four dance floors at night. The genres spun by the DJs range from EDM to Pop to Latin.
La Maestra Vida -This venue is as Chilean as it gets. It is basically sipping on one of the pisco-based alcoholic specials while shaking it up to Latin pop until the sun comes up. Although this may not be everyone's taste, the many local women may be enough to change anyone's mind. Before the club opens, they also provide dance lessons, which may be a non-threatening way to meet local girls.
Plaza Nunao – a chilled, lounge club which is home to Santiago's best range of craft beer. It provides a great way to explore the nightlife of the city in the earlier part of the evening as a pre drinking location. It may also be the perfect way to hangout with friends in a way that isn't too taxing.
Shopping Malls
The malls of Santiago are huge, as the city uses the amassed wealth to fund its obsession with consumption. Thus, the malls are filled to capacity with a variety of stores and entertainment businesses. Santiago puts many first world cities to shame with its retail industry. In fact, the city's tallest buildings are often malls. They are always filled with people and overflowing with the opportunity to meet gorgeous Latina women.
These are the best malls in Santiago:
Constanera Center - the largest building in all of Santiago is also the biggest mall on the continent. It is an impressive architectural marvel, as the beautiful glass-faced building stands tall in the skyline of the city centre. The mall comes fully stocked with every kind of entertainment activity, including Imax cinemas, rock climbing and more. Another tourist attraction is the viewing point at the top of the building, which provides the highest vantage point in all of South America. Besides the entertainment aspect, the mall is also home to every store one can think of, including international brands, luxury names and supermarkets. Needless to say, Constanera provides one of the best places in the city to meet women. Period.
Parque Arauco Shopping Centre – this is known as the more upmarket venue for shopping, as the multi-layered mall features every designer brand one can think of. Filled with fashion and culture, the mall is the place to go and hangout if the upper socio-economic bracket is your scene. The average girl who walks into the mall is by far prettier than on other malls. Take advantage of that fact. Besides the fashion stores, there is also a cinema and a variety of restaurants.
Mall Espacio – with over 4 levels of retail heaven, this mall attracts a lot of people due to its convenient location in the city centre. As one of the shopping beacons in the business district, it has made a name for itself due to the provision of a wide range of stores and entertainment outlets. It provides a great focal point of the busy city goers, and oen is likely to run into a lot of young professionals during its trading hours.
Vivo El Centro – this mall is another one of the cities extravagant shopping destinations. However, the management of this mall do an outstanding job of making sure that its customers spend hours – either enjoying the shopping or entertaining themselves with the many activities on hand. Many girls frequent this mall, so make sure that you are a part of the action,
Top tip: the mall is crucial in Santiago. The city has so many malls that this page probably does not have room for all of them. These are just the main ones in the city which have attracted many locals and tourists for a sustainable amount of years. IF you find yourself in a certain district of the city, head to the mall close by. The locals spend hours there, which means there are lots of women.
Outdoors
Santiago has many sites. There is much to do within the city walls and on the outskirts, as the land provides a natural beauty that also combines with man-made activities. At first glance, the city of Santiago seems like an indoor location. However, if you are willing to explore – and you know where to look – there are more outdoor places to meet single girls than you realize.
Snowboarding – The Andes are similar to the Alps, as the steep slopes are doused in thick snowfall every year. This means that thousands of locals and foreigners travel to enjoy the ski resorts in the higher altitudes. There are loads of girls here, too. Chileans partake in snowboarding as a sport of choice. There has been a massive sports industry propped up surrounding it.
La Moneda – the presidential palace which stands tall in the city centre. Its European architecture and beautiful gardens are one of the main attractions in the city. It is free to the public and is most busy during the military parades and changing of the guard. There are lots of restaurants and cafes in the immediate area and the streets are always packed with people.
Parque Forestal – located in the downtown of Chile's capital, this park is well attended by locals seeking a break from the heavy urbanization as well as tourists looking for some of the city's most breath-taking sights. It has many statues and landscaped pockets, and it is also home to the museum of Fine Arts. Other notable landmarks are the German Fountain and the Writers of Independence Monument.
Universities and Colleges
The University system in Chile is exceptional. It resembles the best of the first world in every aspect. In fact, many architecture majors choose chile as the country of choice, as the earthquakes in the city require new heights of engineering and architectural science. Thus, students from first world countries such as the US and the UK travel to Chile to learn these trades.
Furthermore, university is seen as an essential part of the Chilean education. Not many people skip the system. If people do not do well in school, they rewrite until they get into a university of choice. Graduating with a good degree is probably the single most important indicator of future wealth.
As the major city in the country, Santiago has the monopoly on higher education. People travel from all over Chile as well as South America with the hope of studying and working within the financial haven. Furthermore, the universities have been targets of exchange students over the last decade. People from all over Europe and the Americas have chosen Chile as a place of learning for a semester.
The best universities in Chile are listed below
Universidad de Chile – there are about 40,000 students currently enrolled at the university and the number is growing rapidly as the main university in South America seeks to add to its campus size and educational offering. The campus is integrated into the city, with its 5 campuses spread out within the vicinity. The main house is located in downtown Santiago One can expect a thriving student culture in the surrounds, as hostels and student housing is prevalent in these parts.
Pontificia Universidad Catolica de Chile – packed with tradition and a tradition that offers only the best learning experience, this university has long been one of the best places to study on the continent. "UC", as it is called, is located next to the city's largest lake in Villarrica, the university continues to thrive. It is a private institution so it does get a bit pricy. However, that has not stopped tens of thousands of students form studying there each year. The campus is also a great place to explore.
Universidad del Desarrollo – something of a chain university. There are four campuses located throughout the country, with the largest one in Santiago. It was founded in 1990 as an addition to the private education industry. Its location in Las Condes (one of the wealthier parts of town) is a good foundation for finding some of the prettiest girls in all of Santiago.
Relationship
The best of South America comes forth in the city of Santiago. It has every economic and luxury available to its inhabitants. This allows for relationships to flourish, as millions of people enjoy the city with their loved ones at their side. A typical relationship in Santiago is one which resembles a partnership, as people go about their lives with the goal of making it big in South America's biggest economic powerhouse.
Most men find that Latin culture is extremely good for the health of relationships rest assured that life is never boring with a Latina by your side. They are famous for their passion, fearless love and prowess in the bedroom. Many men fall in love each year and end up prolonging their stay in Santiago indefinitely.
One of the best pieces of advice that can be given to a foreigner is to get to know the language if you are going to pursue a long-term relationship in the city. The Chilean Spanish is unique. It is fast and difficult to get a grasp of. However, you will not truly understand your partner unless you can speak in the local tongue. There are many phrases, expressions and cultural elements which are only unlocked with Spanish.
Holiday Romance
As with the rest of South America, there is always great demand for a spicy fling which has no real lasting commitment Latinas are open with their sexuality and its many expressions. There is no real social stigma associated with short-term sexual relationships as opposed to some other countries, which does add to the ease of finding such an arrangement.
Once you do find a hot Latina to spend some time with, you will be blown away. Arguably, these types of arrangements are better than hookups, as they allow for a better level of sexual exploration. The women are extremely hot and you can meet many on social media and dating apps. There are a great many who would be happy with short-term romance.
Furthermore, it has an added benefit of geographical exploration. Santiago can be very difficult to navigate, as the language barrier is something special. Even if you learn Spanish, you will still have to learn the Chilean dialect which is extremely fast spoken. Thus, having a Latina show you around the city is a great idea.
Tips for Successful Relationship
Relationships are the pinnacle of happiness, yet they also have the potential for extreme misery and depression. They require a lot of effort no matter where in the world you find yourself. It takes effort and a certain amount of resolve to make it work, and that is no less true than in Santiago.
Make time – Time is perhaps the greatest barrier to a successful relationship in Santiago. Unlike the rest of South America, which is known for its easy approach to life, the demands of the Chilean culture are taxing to say the least and many couples get torn apart by the lack of free time. It is imperative, therefore, that couples make time for each other. Perhaps choose a weekly date or a shared hobby as a means of spending time together.
Support – Every girl in the city of Santiago has hopes and dreams of her own. The key in a city with so much pressure is to have a support base to fall back on. If you can provide such a haven for each other, you can be sure that the relationship will grow.
Talk – Communication is the key to relationships. It is the way people get to know each other, but by the same token, it is also the way that problems are solved. If couples cannot talk, the relationship has an expiration date no matter how much you love each other.
Control the budget – Many causes the most divorces world wide. It is statistically the most fought about topic in relationships around the world. Santiago is filled with retail outlets and international brands. Shopping is tempting. Be sure to take a budget seriously and do not spend if it is unnecessary. Debt creates pressure which is a telling sign of future problems.
Trust – It is an important factor which unites two people. It is a platform and foundation for every relationship – whether it be a business transaction or a romantic involvement. Make sure you take every opportunity to build trust and run away from all things which may destroy it. Trust is the main conduit of love and it should be treated as such.
Space – One of the most overlooked factors which plays as the role in the health of a relationship is how much space each partner has. Everyone needs their own life, so it vital that couples give each other time to do their own things. Time with friends, hobbies and other such activities must be kept distinct for sanity's sake.
Love
Love and its expressions are a huge part of the Santiago culture. It is borne out of a Spanish heritage which her merged well with the native culture. The expression of love is something that is done quite freely, so it is not difficult to find romance in the city.
Perhaps love's biggest obstacle is the time crunch of the city. People are extremely busy and the workforce operates on a very tight schedule similar to London or New York. Thus, love often takes a backseat as the pressures of life pile in with little warning. It has gotten so intense that many offices have day care centres for children.
However, Chile still presents the best opportunity for a good standard of living while still offering that famous Latin flavour. One just has to be aware that most of the younger girls do not want to get tied down too early, so make sure you get to know the girl well before throwing in the 'L-bomb'.
If you find the right woman in Santiago, love is waiting! It offers every chance of a thriving romance with access to the best cultural sites in all of South America. There is so much activity and a number of date locations to choose from. Furthermore, the economy and rising levels of wealth allow for couples to get away for a holiday at least a few times each year.
How to Make Sure She Is the One
In a city where flirting is as common as saying 'hello' and lust is shared as easily as a phone number, it can be difficult to decide which girl is the one. There are many beautiful women on the streets of Santiago, each with their unique skills, personality traits and characteristics. Sometimes, the choice may be too difficult to make – and that is perfectly okay. Give yourself time to explore before committing. When the time is right, you will know.
There is nothing better than being a single male in South America. Beautiful girls everywhere who have a love for sex and a fondness with passion would be enticing for anyone. The key ion this scenario is to enjoy it as much as possible. Attachment may actually hold you back from what you really want, building resentment and dissatisfaction. Make sure that when you meet a girl, whom you are considering for a long-term partner, you are ready to move onto a committed relationship without hope of holding onto the freedom of singleness. It is unfair on you and the girl.
If you have reached the point where you can safely say that the love has blossomed and there is nobody else for you, the consider the following points. They add some logic to back up the feelings of the heart.
Are you both in it for the long run? – the topic of commitment must come to the fore at some point. The relationship is likely to be difficult at some points, and if you do not have a partner who can weather the storm with you, the rleationhsip is doomed from the start.
Values – these are more important than some think, as they are often neglected until a clash threatens to end a relationship. Some things can be compromised, but there are those values which make up the core of a human's character. Make sure that your values are compatible and that you have spoken through beliefs beforehand.
Do you think about her often? – There is nothing more special than love. When it comes around, you will know it, as your thoughts and objectives will be completely focused on her. This grows until complete infatuation is achieved. If this sounds familiar, it is a good sign.
Compromise – Even within the city, there are many people who have different beliefs. This sis due to differences in upbringing and the fact that Santiago has a Catholic tradition which is being pushed back by a wave of modern liberals within the younger generation. Learning to compromise is essential to form a loving relationship that lasts.
Sacrifice – this is an important tool if the relationship is going to last. There are so many demands in the city and a successful career takes its toll. IF you both are not willing to sacrifice time and effort to make the relationship work, then perhaps it was not meant to be. Find a woman who puts you first and not money.
Marriage
Married life in Santiago can be absolutely blissful. THE main allure in South America is obviously the women, but the cities usually come with notable problems. Crime and poverty are usually the top of the list, with governmental corruption running what might have been an economic haven. Fortunately, Santiago has already fought through its battel of governmental oppression in the 1970s. Today, it is a thriving metropolis which many deem better than some first world cities. Therefore, settling down in the city is easy and highly enjoyable.
Marriage has within it the potential for the highest joys in life. It also has absolute misery and torment. The South American women are strong willed, but there is no reason why the Chilean girls cannot make you happy if you are willing to put in the work. That is the key word: "work"!
Life is never bland with a Latin woman at your side, as they add spice to every sector of life. One has a beautiful city to explore with every economic and entertainment extravagance at hand. The one danger in a marriage, however, is that time becomes a rare commodity. Thus, couples may live together but hardly see each other as the stress of work demands absolute sacrifice. If you can keep this in check, the city is eager to provide a fairy tale relationship, that famous happily ever after.
Wedding
Weddings are a huge deal in Chile. There is a huge industry surrounding the event and lots to choose from. Usually the whole family gets involved and it is planned for about a year in advance. It is an extravagant affair, costing no less than $10,000. The upper bound of a wedding price may be as much as $100,000, sometimes more.
As the country is governed largely by catholic tradition, the wedding is usually done with the marrying powers of the church. A priest oversees the ceremony after which people the move to a celebratory reception. The size and quality of the reception is determined by the budget of the couple.
Weddings are a time of celebration. It is considered the pinnacle of many people's lives and constitutes one of the happiest days of anyone's life. If you are invited to attend a Chilean wedding, it is also a great opportunity to meet women. There are usually a great many single women and the festive mood is a conduit for hookups or at least the potential for future romance. There is always some form of alcohol (Chileans love to drink) which never hurts the chances of scoring.
Family Life
The family life in Santiago is loser than in many western cities. Families tend to stick to each other in a way unknown to the western world. In most cities, people tend to move out of their parents' home once they attend university or shortly thereafter. However, it is normal for Chileans to live with their parents until their thirties or marriage. The men are known as 'mama's boys', which points to how co-dependant people really are.
However, one will find the city quite agreeable when it comes to standards of living. The economy is really good, as the mining sector props up every industry one can think of, including banking, law, small business owners and retail. Many people in South America move to Chile with the hope of building a better life for themselves and their families. The only downside is that the working hours are long and employment is demanding. Many people live alongside their families, but not with them, as couples see each other before going to bed and after waking up. It has led to many nervous breakdowns and broken relationships. However, if you can find your own rhythm and make time for family life, it is a great place to live.
Santiago is also a beacon of hope in a continent riddles with crime. The city is safe, as women and children can take the train at any time without fear of anything. Most people walk to their destinations if they can. The only times one needs to be aware of their surroundings is when in poorer neighbourhoods such as Las Condes or Providencia. They are the south east neighbourhoods and have a slight risk of petty crime, mostly because of all the immigrants.
See Also