Miami
From Dating Local Girls
Miami dating guide advises how to meet single girls. You just need to know the basic steps how to date Floridian women. Learn how to arrange dates with hot Floridian girls, how to take your relationship to the next level and how to find your soulmate and fall in love. Read more on how to date local women and where to meet girls in Miami, Florida, United States of America.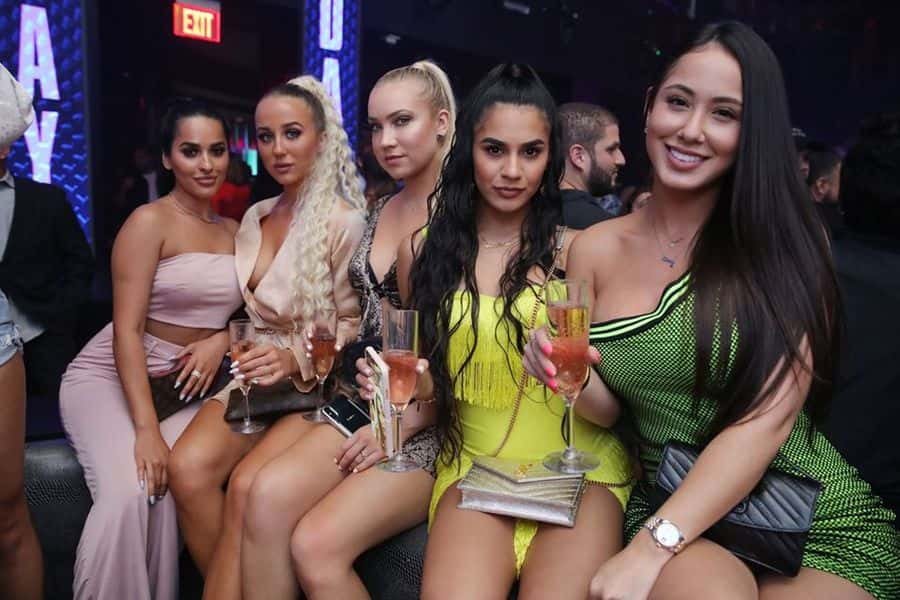 Girls in Miami:
Attitude of girls: 4.1 / 5
Education level of girls: 3.95 / 5
Dating in Miami:
Chance of arranging dates: 3.8 / 5
Casual dating culture: 3.9 / 5
Online dating popularity: 4.1 / 5
Sex in Miami:
Women's sexual activity: 4.15 / 5
One-night stands: 3.95 / 5
More about Miami:
Nightlife in general: 4.4 / 5
Locals' English level: 5 / 5
Moving around the city: 3.8 / 5
Budget per day: US$110 - $1,000
Accommodation: US$30 - $800
Dating
Local girls in Miami are indeed a unique set of human species, they're stunningly attractive and they're quite an adorable sight to behold. However, if you want to date them, there are a couple of things you should know about them. Foremost, a large number of the local girls are always after money. Please note, a large number; not necessarily all.
Most of the girls in the city will be more fascinated by the kind of car you drive, how much you earn, and how much you're ready to spend on them extravagantly. This further points to the fact that the girls are not in any way close to being low maintenance. So, if you're not rich, it's advisable not to send signals that will get the gold diggers drawn to you. And if you're rich but don't want to get hooked up with gold diggers, don't be flashy. At least, you should be lucky to find a few who would care less about material things.
Secondly, most of the girls are not that intelligent. But, they can be very smart when it comes to money and weighing their options; this is why they'd gladly accept to date a rich fat guy who can get them the opulence they crave for, while they still get to be screwing a hot, good-looking guy with a six-packs who has no money to offer but a great "company".
The point is, If you want to enjoy dating a girl from Miami, you need money to make everything go smoothly because most of the girls have these dreams of living life to its fullest, being spoilt with high-priced gifts, driven in the latest sports car, and going on an expensive vacation. And sex? It's cheap here.
Nevertheless, the local girls in Miami can be likened to be a "coat of many colours". And, this is why there are seven common stereotypes of girls you're likely to meet and date in Miami.
The first is the public relations girl. 'She's actually career-driven and very passionate about getting the job she's always been dreaming of. But, she never even gets enough time for herself because she works from 9 a.m. to 9 p.m. You can only see her when it's very late at night, and at this point, she's only interested in two things; good food and sex.
The second is the daddy's girl. This kind of girl is always ready to come to you, she's in her 20s with a real job, she's got a lot of money to spend, but she's still living with her folks. You're not the only one dating her and there are a lot of daddies taking care of her bills.
The third is the typical college chick. If you're fortunate to hook up with this kind of girl in Miami, a large portion of your conversation will be centered on her class schedule and her complaints about her mean professor. She will have her Greek Life meetings on Thursdays and you can't even see her on Monday, Wednesday, or Friday let alone plan dinner. If you want to date her, you'd better be ready to support her education finances because she might be living off a loan.
The fourth is the newly divorced lady. Dating her will make you have a feel of how it feels to be loved. With endless dinners and regular wine tastings, you both will get to bond quickly. But, you might be shocked to later found out that she already has a son that's almost your age, and those boobs that have been enticing you are a brand-new set.
The fifth is the bottle service girl.' When you meet this girl, she would probably tell you she's a model but what she does actually is to provide bottle service to Miami's VIPs. If you date this kind of girl, getting into a club will be very easy for you until you started feeling insecure when you realize that almost all the "big guys" know her.
The sixth is the gold digger. The funniest thing is, you'll always have a blast whenever you're with her but, there are three Bs that define her and they're a bitch attitude, BMW, and Berkin. She'll give you a casual shrug if you ask her what she does for a living and, she only stays because of the money. Once the money is gone, she takes her leave asap, and you wake up alone, lonely again.
The seventh is the Miley Cyrus girl. She's always down to drink, down to go out, and down to have all the fun with you. Take her to any bar to chill out and she would already be two shots ahead of you. Make sure you always have enough money to pay for the drinks when you're around but you wouldn't need to worry too much because virtually all the bartenders in the city know her.
Dating Culture
Dating in Miami is quite tough. The city is filled with a lot of beautiful, shallow people who are not ready to stick to one partner and thus, casual dating, friends with benefits, and flings are rampant in the city. Being in a serious relationship in Miami is an award-winning achievement because everyone prefers to put a lot of their attention and energy on their personal appearances.
The dating scene in Miami is more like a trying game of people who seek a peep at your implants, a ride on your boat, or a green card. Thus, it takes perseverance, persistence, and patience to find a committed lover in Miami. But the good thing is, there's a great number of single women in Miami and you have a high chance of finding a real partner. Dating in Miami is quite different from any other place in the U.S. In Miami, you'll find girls that will be interested in dating you just to spend a day on your boat, stay out with you some nights until 1 am, or date you for paperwork. Miami's dating culture can drive you absolutely insane and you need to guard your sanity jealously. Here's why:
Her Instagram will drive you nuts: Just within 48 hours of your date with her, you're very much likely to see updates of the photos she took with the opposite sex where she's scantily clad.
You need more than English: It's not advisable to visit Miami without being bilingual. Speaking English alone in the city will decrease your dating pool by at least half.
Car and breast implants are great substitutes for personality: Once you have an exotic car (as a guy) and breast implants to improve your physical appearance (as a girl), you're set!
You may date porn stars or ex-porn stars: There's a high chance that the girl sitting with you at the date was once into porn.
Strip clubs are great date spots: That's how it happens here and when the guys are engrossed with the show, the girls will fix their look on the ongoing action as well.
You probably won't know what your date does for a living: Asking a Miami girl what she does is a waste of time because you'll barely get an explicit answer. She will probably tell you "I run some businesses" and that's all but in your mind, you'll still be clouded, trying to figure out how she's able to pay for her nice two-bedroom apartment. Don't work up yourself over that, this is Miami bro.
Everyone's looking for the next best thing: If your girlfriend finds a better option; a better guy who's richer than you are, she'd leave you without thinking twice. She'll go meet another guy with a 300ft yacht and dump your 150ft yacht.
People move when they find the perfect person: If you're into children, marriage, and career after you've found a perfect person, there's a high chance you'll move - that's how it's done here anyways.
Women
Whoever wants to go into a relationship with a woman in Miami must be strong at heart because dating in Miami itself is not for those who are weak or faint-hearted. Known for their knack for enjoying life, the women in Miami are elegant, sophisticated, and dynamic. It takes a lot to handle Miami women and there are common stereotypes of women you're likely to meet and date in this city.
The first is the gold-digging groupie. Don't bother looking her way if your car didn't cost more than a small country and your salary isn't in the six figures. She has dreams of being Lil Wayne's new baby momma and she's striving to meet and hook up with a baller who will impregnate her. If you want to get her attention, all you need to do is to pop multiple bottles of Ace of Spades Champagne and the good thing is, she doesn't discriminate by age or race; It's all about the dollar.
The second is the prissy princess. She's a spoilt brat but if you want to date her, you've got to be ready to bend to her will for a lifetime because she grew up getting everything she wanted. If you want to go on a date with her, she would take hours to prep and this is actually because she likes to keep you waiting, not because she needs the time, actually.
The third is the attention whore. She wholeheartedly believes in YOLO. If you do not meet her causing a scene outside of the club, you'll find her dancing on top of an elevated surface. She's the type who will flash her vajay accidentally to the cab driver because she loves to put herself in precarious situations to tell stories and she's got no shame.
The fourth is La Plastica. Every time you see her, there's something "new" about her. Her fake tan, blonde extensions, nose job, and fake boobs will tip you off. Her body parts are as plastic as her personality and you will eventually get to a point where you'll forget what her actual face looks like. The fifth is the Cougar. She's out on the prowl looking for her own hot guy because her millionaire husband just left her for someone hotter. The sordid details of her sexual escapades will make you feel uncomfortable when you both are at dinner parties and she often acts half her age.
Women in Miami are diverse and they have unique personalities, which evinces the different kinds of dynamic women you'll get to meet and date in this city. While you'll still get to meet and date the stalker who will keep beeping you with strong, multiple messages such as "I want to see you, Can I come? You're with who? Where are you? What are you doing? ANSWER ME NOW!!!", you're also likely to meet and date a woman who wouldn't mind strangling any young lady that just tells you "hello" or wink at you. More so, you're likely to meet and date a young mom who had her kid in her early twenties or late teens and there's as well a likelihood of dating a woman who's a serial monogamist.
Regardless of all, no-one is actually perfect anyways and, Miami women are very lovely and they do know how to make you feel celestial when you're with them (even though it's for a short time). A large number of women in Miami are Hispanics and you'll still get to meet beautiful Whites, Blacks, and Asian Americans.
Floridian Girls (age 18 - 29)
The girls within this age range are usually the party lovers, the gold diggers, and the sexy young girls who just want to enjoy life. If you want to date them, you better be ready to ball them often because they won't have the time to listen to your excuses for not being able to afford the necessities for they always have too many options of guys to follow.
Floridian Women (age 30 - 45)
Usually the Miss "I Still Got It", the cougars, and the single mothers, they believe they can still do what the young girls are doing and they're always trying to steal the show wherever they are. Guys who are attractive can easily pick up these kinds of ladies because they're not usually after money but someone young and vibrant who can give good sex.
Floridian Ladies (age 45+)
These ladies are the divorced older ladies or cougars and they're usually on the prowl to hook up with attractive guys who know how to treat a lady right. They won't mind spending for you because they're usually rich but you must be classy, make a good impression, and be impressively good-looking.
Foreign Girls (tourists, expats, students, etc.)
Miami attracts a great number of tourists every year and these tourist girls are also visiting to have a taste of everything that makes Miami special, which includes getting sex from random, good-looking guys. The college girls in Miami are not difficult to get laid with. Once you've got money to spend, you're fine. There's no need for a committed relationship for they're always down for a little bump and grind.
Sex
Miami is famous for its loud music, glitzy nightlife, gorgeous people, all-year-round good weather, exotic Cuban culture, and beautiful beaches. But, another thing that rings its popularity is SEX! Recently, Miami has "attained" the feat of being the United States' sex capital. Whenever you visit Miami, you'll see a lot of beautiful people dispersed across different parts of the city living in ritzy mansions and taking pictures in their flashy sports cars. And at the same time, they're having sex with each other steadily.
In so many surveys that have been conducted to rate sex life in Miami and other cities in the U.S., Miami has always been triumphing and leading the pack. As you'll find seniors causing more squeaking of the bedsprings and wearing out their bedsheets, the young ones are also getting hot, sizzling, and scorching sex from time to time.
Reports also disclosed that the demands for condoms are always high and pharmacies in the city are always bombarded with heavy traffic requests for condoms. More so, due to the sexual activity of people in Miami, there's been an increase in bedsheets - as divulged by dry cleaners in the city. So, if you're planning to visit Miami anytime soon, make sure you come with packs of condoms.
Sex Culture
Sex in Miami is wild, wet, and hot. The local girls in Miami are always innovative and creative when it comes to sex. Gone are those days when it's all about doing the outdated missionary style now, it's all about doing it at the beach under the beautiful night sky of the city, at work, in the kitchen, in the pool, in a doggy position or with she being on top.
Tourists who visit the city are now getting lured into this wild sexual frenzy to have its feel and it's no longer a matter of natives doing it with each other. Sex is so hot in Miami because a lot of helping factors like illicit drugs, beautiful beaches, lots of sun, skimpily dressed women, and beautiful people help get people in the mood.
People in Miami are also into group sex, orgies, and having more sexual partners and, all these demonstrate their sexual freedom and liberalness. Outdoor sex is rampant in the city as well. Libraries and public parks have become special spots for engaging in hot, short sex, and to cap it all, churches and its environs are now turning to a hotspot for outdoor sex in Miami.
Big 7 Travel; an international travel company, named, ranked, and gave Miami the accolade of being the "sexiest" city in the world after it emerged first by beating other popular "sexual" cities in the world such as Los Angeles in the state of California in the United States of America, Liverpool in the United Kingdom, Dublin in Ireland, Cape Town in South Africa, and Paris in France.
However, the increase in the rate of wet, wild, and hot sex has also jacked up the rate of sexually transmitted infections in the city as STDs such as trichomonas, syphilis, chlamydia, and gonorrhea are now prevalent. So, a little and helpful tip for you is to always protect yourself with a condom before you indulge in this sexually gratifying activity.
One-Night Stands
With all said, you needn't more to understand that having one-night stands is quite easy in Miami. Whether you're rich, good with words, or have an athletic body, you'll find girls trooping to you themselves. You just need to register yourself on online dating websites and visit some nightclubs and bars.
Best Places to Meet Single Girls
Meeting single girls in Miami can be very challenging, no doubt about that. However, the numerous sexy girls visiting from nearby cities in the country, tourists from different parts of the world, college girls, and plentiful Latin Americans trooping into the city has made it a lot easier to meet and hook up with different kinds of girls in Miami. Miami is a beautiful place to be and here are some of the best places where you can meet beautiful single girls in the city:
South Beach: This spot is one of the best places to meet single girls in Miami. During the day, you'll meet a lot of hot girls in bikinis here walking up and down and you can just approach any of them to chat them up. You'll meet a lot of models here and this spot is also one of the main singles nightlife areas in the city for it is furnished with numerous trendy nightspots where you can pick up Miami girls when it's dark. Thus, it's a great spot to meet and hook up with Miami girls during the day and at nighttime. However, the downside of this spot is that most of the girls you'll meet here are usually very materialistic. You'll come across girls with tens and thousands of Instagram supporters and as you try to approach them, you'll find them busy uploading their daily bikini stories.
Lincoln Road and West Avenue: These areas are quite close to the South Beach area and they're cool places where you can meet and hook up with Miami girls during the day and at nighttime. If you spot a girl here walking alone, you can just walk up to her and offer to be her company. If she says yes, you've finally got a shot and it's left to you to bring something nice out of the "company".
Ocean Drive and Collins Avenue: Meeting hot women in Miami has been made easier with areas like these. However, the girls you'll meet here are usually shallow-minded and the only thing that might interest them is your affluence and wealth.
Mary Brickell Village bar district: This is another nice area where you can meet beautiful, single girls in Miami. This upscale area is more bustling at nighttime and it's a great spot where you can meet and hook up with professional women in Miami. However, there are often a large number of silver diggers lurking around here too so, you might want to watch out for these ladies.
The Beaches: Your visit to Miami can never be complete if you do not visit some of the city's finest beaches to have a taste of what they offer. During the day, the beaches in the city are crowded with both older and younger ladies. The Cougars are always on the prowl here and the gold diggers always have their eyes open, hunting for the richest guys to hang on to. While these beaches receive good traffic during the day, they transform to a location for sexual escapades; featuring everything from group sex to one-night stands, casual sex, and orgy. Some of the best beaches where you can meet and pick up girls in Miami are:
Fort Lauderdale Beach
Sunny Isles Beach
Hollywood Beach
The Wynwood Marketplace: This is one of the most family-friendly spots in Wynwood and being an outdoor space with free programming, great food, and music, it does receive a lot of traffic during the day. Single parents and young single females visit here to do some shopping and space here is enough to roam, meet new people, and have a little chat.
Malls/shopping districts/shopping centers: These areas are usually crowded and you can always get to meet and hook up with some of the sexiest single Miami girls here. However, it's worthy to note that these areas are often packed with a lot of tourists, single mothers, and gold diggers. Some of the best shopping areas where you can meet and hook up with Miami girls are:
Design District
The Shops at Mary Brickell Village
Midtown
Bayside Marketplace
Other places where you can meet Miami girls are:
Key Biscayne and Crandon Park
The Wynwood Art Galleries
Vizcaya Museum and Gardens
Everglades National Park
Zoo Miami
Jungle Island
Bars, Pubs and Nightclubs
The nightlife in Miami is legendary and it delivers an epic night out. From the hip warehouse scene in Downtown and Wynwood to the mega-clubs in South Beach, each neighborhood in Miami has its peculiarities and offers a distinct set of clubs and bars where you can enjoy your night out. The South Beach area is one of the city's principal area for singles nightlife. Nevertheless, the city is blessed with abundant live jazz hangouts, sophisticated cocktail bars, and high-end clubs where you can visit for a fun night out. Some of the best bars and clubs in Miami are:
Shopping Malls
From outlet stores to bargain shops and high-end boutiques, the best shopping centers and malls in Miami offer an extensive shopping opportunity coupled with varied dining options and plentiful walking and relaxation spots. Patronized by Miami's beautiful, multicultural population, these shopping malls, with their aesthetic design, offer a sight that is pleasing to the eye.
Shopping centers like Bayside Marketplace and Lincoln Road Mall are where tourists are advised to focus their sights on for they're situated in prime tourist destination spots so as not to waste money on public transit and, they as well offer live entertainment, plenty of gift ideas, and many unique shops. Locals in Miami visit luxurious malls such as the Bal Harbour shops and Aventura plus suburban spots such as Dadeland Mall and The Falls to shop. Dolphin Mall is usually busy because of its variety of entertainment options and specialty and outlet shops.
In a nutshell, here are some of the best malls in Miami:
'Lincoln Road Mall
Bal Harbour shops
Brickell City Centre
Shops at Merrick Park'
The Falls
Dadeland Mall
Shops at Sunset Place
Dolphin Mall
Aventura Mall
CocoWalk
Design District 
Miracle Mile 
Outdoors
In the whole of South Florida, Miami has gained the reputation of being a premier vacation destination due to its entertainment, sports, culture, history, great weather, and beaches. From the Miami Beach across the bay to the streets of Little Havana and museums, you'll find plenty of things to do in the city. The city offers a fun vibe and here are some of the best outdoor spots in the city:
Miami Beach: It's a mix of long stretches of soft-sand beaches, lively entertainment-focused areas, quiet neighborhoods, and it's connected to the mainland by a series of bridges. It's situated on a barrier island and there are plenty of sunbathing opportunities, hotels, shops, and numerous beachfront restaurants featured in this expensive tourist district.
Art Deco Historic District: If you do not fancy going to the beach, here is a very nice place you can visit for a fun day out. The buildings here are uniquely designed, displaying large neon signs and a range of pastel colors. The two main streets through this area are Collins Avenue and Ocean Drive.
South Beach: It's situated at the southern end of Miami Beach. In the whole of Florida, it's regarded to be one of the best beaches and it is the most popular beach in Miami. This place is often packed during summer and it's a great spot to get soaked up in the sun, escape the heat, enjoy the shallow waters, and swim.
Vizcaya Museum and Gardens: This mansion features 34 rooms and it was built in 1916. It was the luxurious winter home of James Deering who was an industrialist in the 20th century. Over 1,100 craftsmen and workers were hired to build and design this National Historic Landmark that is set on 28 acres. This Italian Renaissance-style villa is repleted with an array of decorative arts and European furniture from the 15th to 19th centuries. There are sculptures, pools, French and Italian fountains contained in the grounds and gardens.
Bayfront Park: It's adjacent to the Bayside Marketplace, it's a 32-acre green space, and it's on the east side of Biscayne Boulevard. There are numerous stunning sculptures and monuments the park has and the Pepper Fountain controlled electronically is one of its unique features. A children's playground, an amphitheater, the Light Tower, and the Challenger Memorial are some of the other highlights. You can come here to walk or run on the paved trails.
Zoo Miami: This place is different from the other traditional zoos you may have been to and it hosts 40 endangered species and over 3,000 wild animals. On the grounds, you'll find a large collection of orchids and over 1,000 species of plants and trees.
Jungle Island: It's a botanical garden, wildlife habitat, and a bird sanctuary. Some of the daily shows here feature parrots and other exotic birds and, other larger animals that are here include orangutans, monkeys, tortoises, alligators, baboons, and tigers. There are about 2,000 varieties of exotic plants such as bromeliads, orchids, bananas, and heliconias contained in the gardens.
Universities and Colleges
Colleges and universities in and around Miami are:
Barry University (private)
Carlos Albizu University (private)
Florida International University (FIU) (public)
Florida Memorial University (private)
Johnson and Wales University (private)
Keiser University (private)
Manchester Business School (satellite location, UK public)
Miami Culinary Institute (public)
Miami Dade College (public)
Miami International University of Art & Design (private)
Nova Southeastern University (private)
St. Thomas University (private)
Talmudic University (private)
University of Miami (private)
Relationship
Dating in Miami is tough and even going into a relationship with a girl in Miami can be tougher. As a matter of fact, getting to meet a girl that is worthwhile and decent in Miami can be compared to finding a needle in a haystack. And, if luck works for you and you eventually get to meet someone decent to go into a relationship with, there's no guarantee that it will last longer, because first, you might not be the only one she's dating and second, the chances are there that she may freak you out, especially when she becomes obsessive about you gradually.
Nevertheless, it's a known fact that every relationship has its challenges but if you're considering going into a serious relationship with a local girl in Miami, make sure you're earning well so that money will not be a factor that will make the whole thing go down the drain.
Holiday Romance
A lot of people visit Miami to have a taste of its renowned party scene by making plans to hit all the ultra-chic bars and sexy clubs that contribute to the popularity of the nightlife scene in the city. Even though Miami has achieved a feat of being one of the top party destinations in the world, one cannot turn a blind eye to its romantic side as it has the potentiality to inflame beautiful emotions.
Whether you're in long-term love and you want to keep the excitement alive, celebrate a milestone with your lover, or you want to keep the fire burning in your brand-new relationship, Miami offers lots of options of things to do and places to go from luxurious hotels to five-star dining and serene spas to scenic ocean views. Even if you do not have a committed lover with whom you can enjoy a holiday romance with, you'll still get to meet some local girls in Miami who would love to escape with you to go enjoy a weekend getaway in some of the city's best spots.
For a romantic weekend in Miami, lovebirds will find a lot of nice places to stay for the weekend as Miami offers great options of accommodations to choose from boutique-style hotels to the eclectic ones and opulent resorts. You'll definitely find something that matches your taste in the city and for a five-star experience, here are some of the city's best hotels we recommend:
Faena Hotel Miami Beach
The St. Regis Bal Harbour 
The Mandarin Oriental Miami
Some of Miami's top-rated restaurants where you can enjoy a five-star meal are:
Cecconi's Miami
Café Roval
Komodo
The Lido Bayside Grill at The Standard
You can also go unwind, relax, rediscover the best versions of yourselves, and enjoy being pampered at any of Miami's best spas:
The Spa at Carillon Miami
Esencia Wellness 
The Palms Spa AVEDA
If you need a spot where you can enjoy strolling hand-in-hand, you'll find a lot of scenic spots in Miami where you can admire lush landscaping, vibrant tropical flowers, and reconnect with nature:
Fairchild Tropical Botanic Garden
Miami Beach Botanical Garden  
Vizcaya
Other romantic things to do in Miami are:
Drift on a Private Sailboat
Enjoy a magical cruise on Biscayne Bay
Meet adventure with speedboat tour of Miami
Parasail off the coast of Miami
Explore South Beach by foot
See Oleta State Park
Explore Miami's World Erotic Art Museum
Visit the nearby paradise of Key West
Go paddleboarding in the Miami waters
Visit the Miami Seaquarium; one of the world's most famous marine parks
Take a private helicopter tour of Miami
Take a romantic seaplane tour of Miami at sunset
Enjoy scenic views of the water from South Pointe Park Pier
Get stunned with panoramic water views at the lighthouse at Bill Baggs Cape Florida State Park
Tips for Successful Relationship
Going into a relationship in Miami may be tricky but if fortune is on your side and you meet a lady who's ready to have a committed relationship with you, here are four good tips that can help you to have a successful relationship:
Know what you want, know what she wants: In the duration of your relationship, the two of you should clearly define what you want in the relationship. Do you both want the relationship to lead to a marriage? do you plan to have kids? These are some of the questions you should ask each other.
Be Content: Contentment is very important if you want your relationship to grow into a successful one. You need to be able to take your eyes away from all the La Plasticas, the gold-digging groupie, and other stereotypes of women you may find out there. Miami is usually bustling with scantily clad women and it won't be nice going out with your partner while your eyes are busy scanning all the sexy ladies.
Make her feel special: You do not need too much to do this. Miami has already given you all the opportunities; the numerous outdoor and romantic spots, it's now up to you to utilize them to your advantage.
Have a good income: The need to have a good income cannot be underemphasized in Miami. Everything is expensive in the city, from renting an apartment to many other things and if you do not have a good source of income, things may not go smoothly.
Love
The search for love in Miami can be strenuous. It's never easy to navigate relationships, sex, and love whether you're single and ready to mingle or have a boo. When it comes to finding love, Miami doesn't have a great reputation. And, the modern dating world, social media, and technology also add grease to this love complications.
How to Make Sure She Is the One
In a city like this rife with ladies with excessive desire for pleasure and obsessiveness, one of the things that will make you know if she's the one is if she's totally honest with you and doesn't mount pressure on you or compare you with another person who's doing better than you are.
Marriage
For you to get married in Miami, you'll need to procure a Florida marriage license which usually costs $93.50. Nevertheless, it's possible to get a reduced marriage license fee of $61.00 if you and your significant other complete an approved premarital course.
Wedding
Miami is one of the nicest places in Florida to hold nuptials as it's furnished with many outdoor venues and lush, botanical gardens. You can make a reservation to tie the knot at a park or public beach and, all you'll have to do is to pay a little sum. Couples who want to combine their honeymoon and wedding will find Miami to be a great spot due to its amenities and beautiful weather. Howbeit, Miami Beach and South Beach have come to be a haven for tropical destination weddings.
Family Life
Most people who live here, once they find someone serious to hold on to, tend to leave the city. However, despite the city's wild sex and party atmosphere, it could be a very nice place for a family vacation.
See Also