Caracas
Guide for dating in Caracas helps you to meet the best girls. This dating guide gives you tips how to date Venezuelan women. You will learn rules where and how to flirt with local Venezuelan girls. We advise how to move from casual dating to the relationship and find the real love. We also tell the best dating sites in Caracas. In this article below you will find more information where to meet and date girls in Caracas, South America.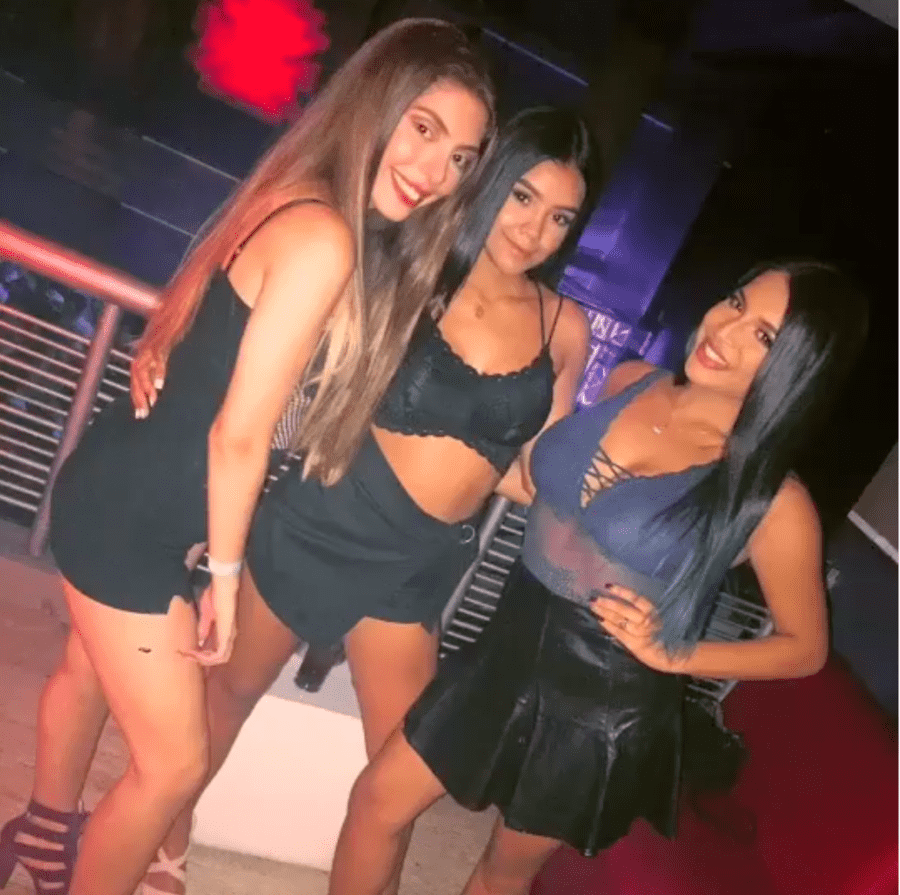 Girls in Caracas:
Education level of girls: 3 / 5
Dating in Caracas:
Chance of arranging dates: 4 / 5
Casual dating culture: 4 / 5
Online dating popularity: 4 / 5
Sex in Caracas:
Women's sexual activity: 4 / 5
More about Caracas:
Nightlife in general: 3 / 5
Locals' English level: 3 / 5
Moving around the city: 3 / 5
Budget per day: US$40 - $100
Accommodation: US$100 - $200
Dating
Caracas is the capital of Venezuela and also the most populous city in the country. It offers a very active and enthralling nightlife, concentrated in some areas of the capital, such as Las Mercedes, La Castellana, and Altamira. However, in almost any area of the city you will find places to hangout, have a drink, and even dance with girls, often with live music.
Caracas is a dangerous city, with political, economic and social problems. However, girls in Caracas love to go out. And, if you are very careful, you can enjoy the night, and meet beautiful girls without much risk.
Venezuelan women are famous for being the most beautiful women in the world. However, they are also well determined, independent, and hard-working women. They really like to party, dance and drink. They go out with their friends to fashionable places every weekend, from Thursday to Saturday, to have fun, celebrate and flirt. It is very easy to meet these women in those places, but you will have to put in some effort to catch their attention.
Venezuela has a very diverse population, coming up from indigenous inhabitants combined with foreigners -especially Spanish, Italian and Portuguese- who settled in over the past times. Part of the beauty of the Venezuelan women is due to the diversity and genetic mix, which makes them attractively unique. But, the other part is due to the cult of beauty and the cultural construction of the country of beautiful women.
Besides being pretty, local women in the city are very happy and optimistic people, with a high level or humour. If you add to that the exotic and wild surrounds of Caracas and the pleasant climate, you are bound to be attracted towards women in the city.
Dating Culture
Venezuelans love foreigners, especially Americans and Europeans, so it won't be difficult for you to strike up a conversation with any Venezuelan girl. After a while, you will find her making fun of your accent, willing to know much more about you, your country and offering to show you the city.
These women usually go out with a few close friends. So, in the beginning, you'll need to approach them all, and it will be only after the group's approval, that you'll be able to focus on the one you like. If the group accepts you, you will be able to meet her a second time. They all will help you and you'll feel grateful.
Local women in Caracas are very flirtatious. They also like to look good, so they pay great attention and spend a lot of time putting their makeup on, hairstyling and clothing. In the same way, they like men who smell good, take good care of their appearance and have good manners.
Single Venezuelan women usually live with their parents until they get married. It is also common for divorced women to return to their parents' house with their children after divorce. This is mainly due to culture, but also for economic reasons, given the sustained deterioration of the economy in the past years. For that same reason, Venezuelan women like it when their drinks are being paid for someone who is trying to grab her attention. You'll earn many points if you not only invite her drinks but also those of her friends'.
Venezuelan women carry the Caribbean in their blood, and that means they love to dance and shake their hips. They love music and dancing, so you'd better dance. They also love the sea and to be perfectly tanned. There are many different styles and multifaceted women in Caracas. One of them will fulfill your expectations!
Online Dating
Dating in Caracas can be a bit tricky due to not knowing if you have a solid connection, so your best bet is to sign up for a dating site before you venture to the night club or bar, so you can meet a few locals ahead of time. AdultFriendFinder.com lets you meet local members in Caracas and get to know them on a personal basis before you meet in person. Take advantage of site features like live chat and member to member webcams so you can begin flirting before arranging a face-to-face meeting.
Women
Venezuelan women have always be regarded as elegant and for being well dressed or in fashion. They are known in the world for winning beauty contests since the vast majority of them consists of beautiful, very attractive women with exotic looks.
You'll see them as stunning and radiant, wearing high heels and tight clothing when going out at night. They are obsessed with maintaining perfect body figures and, on top of that, they are Latinas, so they know how to move. They walk in a way that would make you look twice at them. They are the perfect women to date.
Venezuelan Girls (age 18 - 29)
Most of the girls between the age of 18 and 29 just finished high school and are probably enrolled in college. They usually know how to speak English fairly well. Given the economic situation, they might also be interested in continuing their graduate studies or working abroad.
You'll find them walking the city every day with a backpack in hand, and filled with energy. They are active girls, motivated to make something out of themselves. Girls of this age are mostly the ones go to the nightclubs and other party places. They like to go out very late at night -after 11- and party until dawn.
They are very pretty and sexy. They work out a lot and have well-defined, strong and seductive bodies. They love going to gyms, but they will never stop doing outdoor activities, like going to the city parks to do yoga, run or climb the hills of the Ávila - the mountain that surrounds the city.
They dress casually and trendy. They are loose and cheerful. They have little or no experience in love, but are well-disposed and usually jump into relationships without a second thought. They like men who are older than them, so they can pay their bills, as they usually don't work yet.
Venezuelan Women (age 30 - 45)
Women in this age group are mostly already married and have children or are looking for someone to get married. They most likely have already finished school and started their jobs, but they'll be earning very low wages. Perhaps this is the group of women that would be most willing to establish a long-term relationship.
These are women who still look young and great, they are probably also working out, dieting, and trying to look like if they were 20. They still enjoy partying and going out at night but they also love doing the grown up activities like working and strolling through the galleries, bookstores, and museums. They will certainly like to talk to you about politics, economics, or the book they are reading. They are very attractive and fascinating women, honest and without any prejudgment.
Venezuelan Ladies (age 45+)
These women are mature, but they still look fairly good. They color their hair to look better and it is very likely that they have had some type of cosmetic surgery that makes them look younger than they really are.
They are probably divorced and have children living abroad, while they stay in the country as their family members and friends do. They might own the apartment where they live and have enough savings to support themselves.
Surely they are already retired and do not work, or work from home. They may have grandchildren and spend long periods of time abroad visiting their children and them.
These women will probably love to go to movies and theatres and stroll through the fine art areas. They would also like to have lunch or dinner with their friends while enjoying a glass of wine and sharing interesting conversations.
They might be willing to establish a mature, long-term relationship, in which respect and understanding prevails. They will still be very active, sexually speaking.
Foreign Girls (tourists, expats, students, etc.)
There are not many foreign girls in Caracas, given the country's economic situation, and the few that there are, are probably more interested in having a new and exciting sexual experience or relationship with a local, rather than with a foreigner.
But if you are lucky enough to run into one of them, you'll probably find out that they are open to casual relationships and don't mind a quick hookup with no strings attached.
Sex
Sex in Caracas is not a frowned upon activity. Venezuelan women are attractive and they know it. That's why they dress seductively by wearing tight clothes allowing them to highlight their curves, or very short skirts and necklines, which invite sex and lust.
If you want to have sex in Caracas, the nightlife will be the best opportunity you'll have. Girls who go out at night will be very open to casual hookups, one-night stands and sex in general.
It is not usual to see couples expressing their love out in the open, however, at certain certain hotspots that people frequent during the night, public display of affection is quite common are more common and you'll find couples making out or having any other sexual demonstrations.
Although, once in bed, you can expect a Venezuelan woman to show all her passion and make you experience the best sex you've ever had in your entire life.
Sex Culture
In any interaction with Venezuelan women, they will be very suggestive of sex. The way these women talk, walk, and dance, always invites sex. Venezuelan women are very open to sex and express this possibility in all their actions.
Like any other woman, they are romantic and getting flowers, chocolates and being courted in an old-fashioned way makes them really happy. However, it is not necessary to follow all these steps to have sex. If you seduce them properly, you'll probably be able to get laid the first night.
Random hookups are more usual in the youngest group, aged 18 to 29. And although the second group (from 30 to 45) will be as open and liberal as the first group, they'll probably prefer more serious relationships than temporary ones. 
One-Night Stands
Caracas' nightlife is intense, with lots of drinks and lots of fun. Venezuelan women are liberal-minded and like to have fun, so they will be open to one-night stand. If you make the right moves, you can easily hookup with a woman at night in a bar, club or disco and have sex that same night. The sex will be spectacular.
Apart from that, you should also try online dating platforms like Tinder, Tag, Twoo, Badoo, Match, etc. There you will always find several women who will match your preferences, and all you have to do is to arrange to meet them and see how the evening unfolds. If it works out, a local woman in Caracas won't have any problems indulging in a one-night stand with you.
It would also be a good idea to book a hotel room close to the city centre and near to all the party places, so if things go right you will know where to go before the woman changes her mind.
Best Places to Meet Single Girls
The best places to meet women in Caracas are in nightspots, like bars, pubs, nightclubs and discos. On weekends you can see and meet many girls in these places. Venezuelan girls are easily impressionable and they love foreigners, thus they will be happy to give you a chance if you're gallant enough and treat them kindly.
The probabilities of meeting girls from the first group (age 18 – 29) at places like nightclubs and bars are very high. Although, there are some other places in Caracas where you can also meet women, such as bars near theaters, cinemas, live shows, festivals or concerts, where women often gather with their friends to have drinks before or after a play. These will be ideal places to engage women mostly from the second group (age 30 – 45) with whom you can have an interesting conversation around the play or movie you just sow or are about to see, as a means to establish the first approach.
There might also be the chance to meet women of the second or third age brackets (age 45 and more) at terraces and cafes around the city and at malls. Women will sit down on those cafes and terraces to chat or rest between buys. At malls, there are also restaurants and bars, some of them with live music, where women gather to have lunch or dinner, and enjoy a glass of wine while listening to the music in a pleasant atmosphere.
Bars, Pubs and Nightclubs
Some of the best bars, nightclubs, and discotheques in Caracas are located at the east side of the city, in Las Mercedes, La Castellana, and Altamira. There are nightclubs and bars all over the city but located in more dangerous places, where foreigners could be easy targets.
The eastern side of Caracas is the safest, however, you should always be cautious. It is not recommended that you leave your drink at the table, or anywhere else. You will also have to be mindful of scam artists and prostitutes, in order to make sure that they are just hanging out and not looking for victims.
Finally, you should be cautious when entering and leaving a nightspot. Perhaps the safest thing to do is to take out the services of a taxi driver at the hotel.
The most popular nightspots in Caracas are:
Juan Sebastián Bar- It is a place where you can dance and enjoy live jazz and salsa music. Women over 40 love to go to this place. The place is also known for its tropical drinks and delicious food.
The Theatre Bar- It's a place where you can enjoy live theater while having a drink and grabbing something to eat. After the play, there's music and the party goes on. It's frequented by women over 35.
360 Rooftop Bar- It is a very elegant and distinguished place, where you can listen to electronic music from the most famous DJs. It is a place to have drinks and dinner. It's visited by women over 30. The bar is at the top of a building and from there you'll have a 360 degrees view of the city of Caracas.
Tequilibrio- It is a Mexican place, where you can eat Mexican food, have drinks, dance, and enjoy live music, including typical Mexican music. It's frequented by women 35 and up.
Sawu Caracas- It is one of the most popular discos in Caracas. It gets crowded after 11 at night, with young people -from 18 to 40- interested in dancing, drinking, and flirting. It is probably one of the best places to find someone to hang out with.
Loyalty Discotheque- It is also among the most fashionable discos in Caracas, where young people gather to enjoy great music and drinks. It also gets crowded around midnight. The DJ plays wonderful music until down. You might get a good chance to meet someone and even to have her in your bed after the party.
Bar Caracas- It is one of the fanciest and trendy discos in the city, where young people go dancing, drink, and flirt. It is the coolest place to hang out.
Sótano Siete- It is a terrace where young people go for drinking and chatting while listening to background music. It is a perfect place to meet new people and hang out with friends. 
The Pista Bar- It's a terrace where young people get together to have a drink. You can meet girls there, and have an awesome night.
Birras Night- It is a terrace where young people meet to have a beer. It is cheaper, especially at the happy hours, where you are offered to buy one and get one free. It is a place you can go if you like youth and beautiful girls.
Shopping Malls
Caracas has many shopping malls of different sizes. They have the most known American and European brand shops. They also have restaurant chains where you can take fast food and drinks.
Most malls have entertainment areas, where friends gather to play games. They also have movies and theatres where you can see the newly released movies and plays. Some malls have a floor – usually the 5th floor- with a few well-ranked restaurants where you can have delicious meals accompanied by a variety of cocktails.
But most important to your purposes, is that girls and women in general, love to go to the malls, so you will have great chances to meet someone in those places. In the malls, you must keep an eye out, as you can be a victim of theft. If you're cautious, you can go to the following malls to try your luck:
Sambil
Tolon Fashion Mall
San Ignacio Center
Leader
CCCT
Paseo Las Mercedes
Outdoors
If you are interested in spending a day outdoors, Caracas has several options. You have to be very careful in those places if you don't want to get mugged.
If you like to walk or run through the parks, Parque del Este is the best option. You better go early in the morning, stay near to groups of people, and be alert at all times. Nevertheless, the risk is worth it because there you will find beautiful girls working out.
If you like the beach and want to spend a few hours bathing, tanging, and looking at the spectacular bodies of Caracas girls in their little bathing suits, then the best place to go is La Guaira, at just one hour from Caracas. You could go to Marina Grande, where you can enjoy a day in the sun for a low price, and without taking any security risks. In La Guaira, there are some hotels as well where you could pay for spending the day. At the beach, you could approach some beautiful girls who would be enjoying their day too and, if you're lucky enough, you might even get a ride back to the city.
Another excellent option is to climb by cable car to the top of Cerro El Ávila, in a 3.5-kilometer journey. At the top, you will find cafes and restaurants where you can have a snack. There is the Humboldt Hotel that has a fancy restaurant, and even an ice skating rink. But this is a very expensive place.
Up there you can also take a jeep to Galipán where there are some restaurants specialised in Spanish, Italian, French, and even Venezuelan food. These restaurants are also quite expensive, but they are suitable to take someone special. The weather is cold, typical of a mountain, and the atmosphere is very romantic. From Galipán you can see the sea.
Another stunning place that you cannot miss is El Hatillo, which is a beautiful town that has maintained its architectural tradition and customs throughout the years. Walking through its streets, at a very pleasant climate, you will find many restaurants where you can enjoy typical Venezuelan meals, with a homemade flavor, as well as the most diverse international gastronomy. There are also bars and nightclubs where you can spend the night hanging out with your friends, have a drink and listen to live music. The restaurants and nightspots are a little bit cheaper than in Caracas, so they are one of the favorite places of young women.
Near Caracas, heading west you will find La Colonia Tovar, a piece of Germany nestled in the Venezuelan mountains. Indeed, the first Germans came to Venezuela in 1843 and settled in this beautiful place. For many years they were isolated from the rest of the country, so they preserved many of their ancestral traditions, such as their language, food, clothing, dancing, etc.
Walking through its beautiful landscapes, with its privileged climate of around 16º centigrade, you will find excellent restaurants, where we can flavor the exquisite dishes of German cuisine, accompanying them with an excellent craft beer, produced in the colony itself, and taste its desserts, as the typical strawberries with cream and apple strudel.
There are many outdoor activities at the Colonia Tovar, such as horseback riding, target shooting and paragliding. You can also take a 30-minute walk through a path uphill and at the top, you will have the monumental panoramic view of Colonia Tovar and the Caribbean Sea. If you like, you can stay with your girlfriend in comfortable and varied hotels, inns and motels, at reasonable prices.
Universities and Colleges
In Caracas, there are several universities and colleges to which mainly go girls from the capital. Most girls that go to private colleges are upper-middle class, given that the lower-class cannot afford the cost of colleges. In many cases, girls will go abroad to do their graduate studies, mainly to the USA and Europe.
Girls who attend the universities will be mostly living with their parents and supported by them. The main universities of the city are:
Catholic University
Metropolitan University
Monteavila University
Santa Maria University
Central University of Venezuela
Simon Bolivar University
Perhaps the best way to approach girls who go to colleges is to attend one of the events that the college organizes, such as concerts, book fairs, forums, etc.
Relationship
Caracas' women, like women from anyone else in the world, hope to have a boyfriend with whom they could settle down, have children, share projects, and old age. However, depending a lot on how old she is, you will find women willing to have only short term relationships, and women just interested in long-term relationships.
In general, if you run into girls under 30, you'll find out that they'll only be concerned about going out, enjoying, eating, drinking, having safe sex and not committing to serious relationships. Still, everyone under 30 will want to have a friend to hang out with.
Over the age of 30, Venezuelans women are probably looking for someone to establish a more serious relationship, get married and to have children. Women this old may also be trying to evolve their careers.
Women in their 40s and up are probably divorced and looking for a partner to settle down again with. Or they are simply looking for someone to share common interests, without getting married or living together. These women are more light-hearted and still would like to go out and enjoy life.
In general, Venezuelan women are open and modern and will be willing to establish any type of relationship, depending on their interests, their degree of maturity, and their education.
Holiday Romance
Any woman in Venezuela will be familiar with a holiday romance, and with the promise that the time she will spend with you will be interesting, exciting and filled with adventure, she would gladly agree to a short-termed relationship with you. They will have to be really festive days where she can eat, drink, and have sex, without developing any kind of affection for you.
Having a holiday romance with a Venezuelan girl will be the best thing that can happen to you. You will fully enjoy her company, her beauty and sex appeal, while you get to know more about the city. Perhaps the only risk you will take is that you fall in love with her.
Tips for Successful Relationship
As has been said in the above sections, Venezuelans love foreigners, and that is already a point in your favour. And, if you look like a foreigner, that is, if you have green/blue eyes and white skin, the faster they will be hooked.
Venezuelan women are very direct, thus you will have to be honest with them and express your intentions quite frankly, without turns or detours. They are also joyful and loud, so if you are boring or dull you will not have a happy ending.
If your goal is to flirt, you will have to use all your charisma, so that you can convince her that at the end of the day and in privacy, you will be equally committed and engaged. Tell her meaningful, emotional stories full of humor, so you can get her attention and interest.
If you are trying to establish a long-term relationship, you must tell her so, and you should act like the heartthrob of her dreams, in an old-fashioned way. Make her feel that she is the only person on the planet. Focus your eyes, ears, and soul on her. Make her laugh, make her feel heard, make her feel special and interesting. Invite her out every day, call her on the phone many times a day, and give her gifts.
Perhaps it is a good idea to show interest in knowing about her past and her desires, as well as showing some interest for her family and friends and for the country.
Love
Finding love in Caracas seems like an easy task. You just have to look in the right place and avoid interacting with girls whose only interest is money. The city, with all the nightspots and beautiful women, is waiting for you.
To find the love you just have to have the right attitude, always being honest and showing sincerity in your actions. You also need to show maturity, financial stability, and commitment.
If you can make a Venezuelan woman fall in love with you, you will have reached paradise on earth. These women are astonishing and hardworking and are willing to sacrifice a lot to make a relationship work.
How to Make Sure She Is the One
If you can't take your eyes off her and can't stop thinking of her for a second, she is probably be the one. And you'll know it within a few days after meeting a Venezuelan woman.
You will know if she is in love with you, by her laugh, by the way, she looks at you, and by the way, she leans towards you.
When you make sure of your feelings, then it will be the right moment to open up, be honest with her and talk about your expectations, as well as listen to hers. But don't worry, most of the time, love is reciprocal!
Marriage
Venezuelan women like to share the household duties and parenting with her husband. They love to welcome her family and friends at their homes for drinks and food. They are used to carrying the family budget. They like to be fashionable and go to the hairdresser and like to wear branded clothes and shoes. They spend a considerable amount of money on herself.
They like to discuss and reach agreements about everything: what to do on weekends, where to go on vacation, how much money to, etc. Once the itinerary of vacations has been agreed, she will fully focus on planning the trip down to the last detail, so that everything turns out perfect.
Venezuelans are neat and orderly women, who like to have their homes equally clean and tidy. Most of them are faithful, passionate, and romantic women. If they are unfaithful, it will be after several years of marriage. In such a case, they will be so discreet that it will be difficult for you to realize it.
Wedding
Venezuelan weddings are civil and church. First occurs the civil wedding ceremony that should be performed by the mayor or the civil registrar. Then, usually, a week later, the church wedding takes place. Church weddings are a great celebration. Much of the Venezuelan population is Catholic and weddings are in churches in white dresses, followed by big parties until dawn, in the best Hollywood style.
Weddings must be planned well in advance since they involve many expenses in terms of venues, large rooms or hotels, catering and decoration, photography sessions, and music.
Now, it is customary to go to the beach the day after the wedding, dressed in a white dress, but barefoot for a photo session. Then, the photos and videos are edited and posted in the cloud inviting everyone to see and comment on them.
After establishing a strong relationship with a Venezuelan woman, marriage will be the next logical step to take.
Family Life
So far we have been describing the Venezuelan upper middle class, the one that can get an education, go to nightspots, and establish healthy relationships with foreigners or Venezuelans because they have no economic problem to solve.
In most of these homes, both parents work and are very concerned about providing a good education for their children. Families are very close, so grandparents, uncles and all relatives are always present and contribute greatly to the children's education.
The upper-middle-class earns such an income that allows it to hire the services of a person who helps to run the house, and take care of the children while the parents return from work. In more than a few cases these people become part of the family.
As it was said earlier, children remain in the parents' homes until they get married.
Most of the upper-middle-class families own a private car that they use as a means of transportation since public transportation is really bad. In most cases, they have two cars, one for the wife and one for the husband, and when the children graduate from college, the first thing they do is to buy a car.
The upper-middle-class usually owns the apartment or house where it lives. In recent years, due to the economic crisis, the price of apartments in the best areas of Caracas has dropped considerably.
Life in Caracas is very cheap for people who earn dollars or euros. And although public services have very poor quality, if you have enough money you can -to a great extent- enjoy the city and everything it can offer you.
And of course, you must be careful not to show what you have, so as not to be a victim of thieves or kidnappers. 
To end, you should know that most Venezuelans women would be interested in leaving the country, so if you did not like Caracas, propose her to move abroad, you can be surprising!
See Also