Australia
Guide for dating in Australia helps you to meet the best girls. This dating guide gives you tips how to date Aussie women. You will learn rules where and how to flirt with local Australian girls. We advise how to move from casual dating to the relationship and find the real love. We also tell the best dating sites in Australia. In this article below you will find more information where to meet and date girls in Australia, Oceania.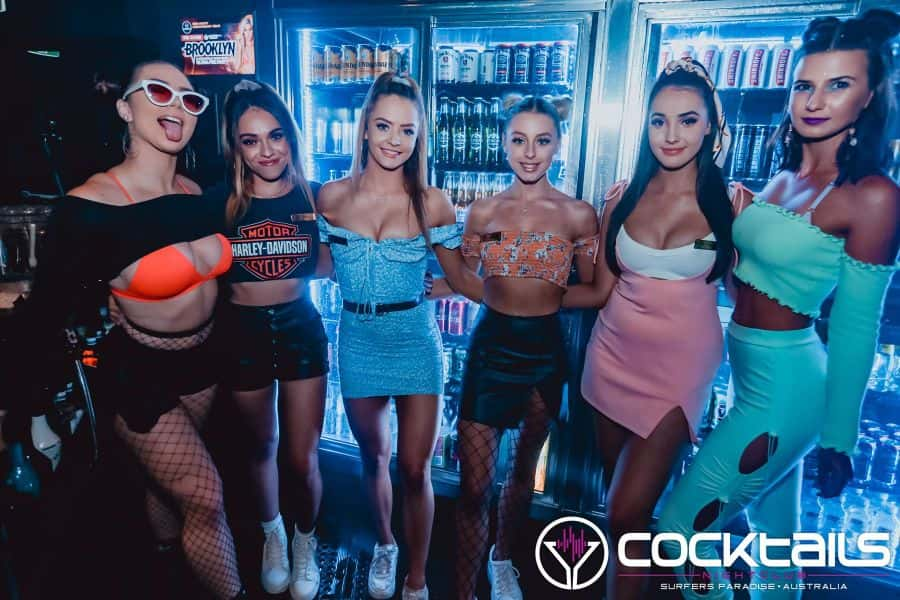 Girls in Australia:
Education level of girls: 5 / 5
Dating in Australia:
Chance of arranging dates: 4 / 5
Casual dating culture: 4 / 5
Online dating popularity: 4 / 5
Sex in Australia:
Women's sexual activity: 4.5 / 5
More about Australia:
Nightlife in general: 4.5 / 5
Locals' English level: 5 / 5
Budget per day: US$60 - $600
Accommodation: US$30 - $300
Dating
Australia has a vast mix of ladies to choose from, free spirited nature lovers to the sophisticated businesswomen. They are all found down under. The typical Australian girl is incredibly laid back and down to earth, they all prefer to look as natural as possible and you won't find too many that are covered in makeup.
With the massive influx of immigrants post world war 2 you are going to find beautiful girls with Russian Italian and British heritage just to list a few, thus there is little to no cultural prejudice with aussie girls. They are but a simple people as well…a good cup of coffee and a decent meal at one of the many top rank restaurants will warrant a classy date with them.
As well as the born and bred Australian you will encounter plenty of hotties from various parts of the globe. Countries such as England, south Africa, India, china, and new Zealand contribute massively to the expat population in the country continent that is Australia. Australia is something of a single young man's playground.
Dating Culture
There is no general dating culture in Australia, the way people date out here is based solely on the couple involved and what they are looking for at the time. That said, if you do find a girl that is interested in going on a date instead of the standard hang out with a group of mutual friends then this is there are a few things you should know. Firstly, girls in Australia usually sit back and let the man initiate, from the first greeting all the way to the first kiss and beyond. Australia can be quite a pricy place to go on a date but luckily for the cash strapped lad the ladies down under are often keen to split the bill.
As mentioned before, the entire country is very laid back and with the dozens of quality restaurants and cafes around, a date can range anywhere from a meal to a simple drink or the day time version of a drink which will be a good cup of coffee. There are multiple student towns around the country, Sydney, Melbourne and Canberra and only a few of these. With Sydney being the prime spot for students both from Australia and across the globe odds of finding a beautiful and intelligent girl are high.
The online dating scene is also booming in the country, in a social structure where groups of guys and girls hanging out together are far more common than one on one meets, using the internet to find a date has become a totally acceptable alternative. Apps like Tinder, zoosk, plenty of fish and eharmony are some of the more popular in Australia.
The important thing to remember is to chill! The aussie girls aren't likely to be impressed by overly flashy guys who like to show off, they prefer a more genuine down to earth approach. Good luck out there gents.
Sugar Dating
Sugar dating is one of the best ways to find a date in 2023. Men who are willing to buy gifts for sugar babies, will get physical or emotional pleasure for a return. Take a look of the wide selection of girls from SecretBenefits.
Online Dating
Dating in Australia can be a bit tricky due to not knowing if you have a solid connection, so your best bet is to sign up for a dating site before you venture to the night club or bar, so you can meet a few locals ahead of time. AdultFriendFinder.com lets you meet local members in Australia and get to know them on a personal basis before you meet in person. Take advantage of site features like live chat and member to member webcams so you can begin flirting before arranging a face-to-face meeting.
Webcam Dating
Feeling lonely in Australia? Arrange a virtual date with your favorite webcam girl right now! We have thousands of hot girls online waiting for you. Visit DatingLocalGirlsLive.com!
Women
Much has already been said about how chilled out the girls are down under, and yes this is true but the spectrum is still broad in terms of who and what you might encounter when out meeting new people. In places like Sydney and Melbourne where there is big focus on financial and economic activity the women are most likely to be quite independent in comparison to the ladies living in the suburbs. The women in Australia can be split into different categories; in the following sections, we'll take a closer look.
Aussie Girls (age 18 - 29)
Girls in this age bracket include the students and the young professionals in the country. They can be further divided into two categories described below.
The first category includes girls aged between the ages of 18 and 23. Australia has some of the most vibrant student towns in the world. Sydney, Melbourne and Brisbane are at the forefront. With top educational facilities like the University of New South Wales, the University of Sydney and the University of Queensland drawing attention of students in and around Australia, there are plenty of hot locals eager to get in the thick of it with a view towards furthering their careers but while they are still young they are always looking to let their hair down on the weekends in the pubs and clubs. Student bars are often cheaper and will always be full.
The second category includes girls aged between 24 and 29. These are ladies who have just finished their tertiary education and are now looking to climb the corporate ladder. Again, most of them will be found in the most urbanised parts of the country like Sydney, Perth and Melbourne. These ladies are just becoming financially independent and are approaching that age where the thoughts of settling down start to form in the back of their minds. They will be looking out for guys who have the drive and ambition in terms of the professional world but they all still like to have fun. At this age, the ladies start to develop a type and can be quite harsh, so if you get shot down…chin up and on to the next mate.
It can be said that since girls from this age bracket are young, they are beautiful and hot. You will come across a number of them showing off their sexy bodies in the trendiest outfits at different places throughout the country. You are bound to be enticed with their perfect figures and smoking hot bodies.
Australian Women (age 30 - 45)
Most of the women from this age bracket are either settled or well on their way to settling down, but what makes this age group so interesting is that there are a few women who might have recently gotten divorced or split from long term partners so they are looking for a bit of fun. All this being said, the divorce rate in Australia is invariably low with only 2 divorces per 1000 people since 2017. All of this points to a relaxed culture of people who don't conform to the normal trend of midlife crises. If you do manage to get into a relationship with a lady of this age just be totally sure that is not an extra marital one.
You will be delighted to know that women from this age bracket are also quite beautiful and would appeal to anyone who is interested. The benefit of being in a relationship with them is that most of them are established in their careers and are emotionally mature, so you will not be dealing with the typical clingy partner.
Aussie Ladies (age 45+)
This category of women can be called the Milf category. With Australia being so vast in terms of geography, the ladies of this age group who are single are set for life, they will have been working for more than 10 years and will probably own their own houses.
In 2018 it was discovered that there are now more Australians over the age of 45 than there are under the age of 30, meaning that there are plenty of gorgeous mature ladies out there. They come with the bedroom experience that every 20 year old girl dreams she had and they are almost always in the relationship purely for the physical aspect. With the advancements made in online dating you can now refine your search to specify that you are looking for an older woman. Just browse through some of the most popular dating sites specifically dedicated to dating older women and you are sure to find the woman of your liking. One thing to note here would be that these women would not be as hot as the younger ones, but that does not apply to all. It is still possible for you to find a smoking hot milf in Australia who would be willing to show you a good time.
Foreign Girls (tourists, expats, students, etc.)
With Australia having a massive amount of foreign nationals, tourists and second generation expats there is a foreign girl for every fantasy. In 2019 as much as 30% of the population in Australia was born overseas. England, South Africa, India, China and New Zealand are the 5 largest contributors to the foreign population in Australia. With over a million migrant ladies in the country in 2019, the international playing field is filled to the brim. South African girls are just as friendly, if not more than the local girls, the British girls will no doubt be looking for someone exciting as their home grown males tend to be a bit boring, and there are invariably a few sexy Asian girls around who are always up for some fun. Be sure to check out Perth which has the largest foreign contingent.
Australia being one of the most beautiful countries in the world, has many excellent tourist spots where you could try to pick up girls who would be interested in having a holiday fling. With such a vast variety of things to do there will certainly be a few different types of touring hotties to pick up. Here are some of the best places to try work your magic.
If you mention Sydney, the first thing that most people think about is the great Sydney Opera House, this piece of architectural magic is one of the worlds most visited places, people will travel to Australia specifically just to see it.
The Great Barrier Reef Marine Park is one of the biggest living structures on the planet; in fact it is so vast that it can be seen from outer space! Popular with tourists who are seeking some adventure
Uluru-Kata Tjuta National Park is home to the iconic and unmistakable Uluru (formerly Ayers Rock), this geographical wonder is one of the most photographed natural wonders of the world.
Bondi beach, the most visited beach in all of Australia will be the perfect place to court your pick of sun kissed beauties. You will find a number of smoking hot tourist girls here showing off their sexy bodies in tight bikinis.
Australia has a well-documented variety of women, the onus is on you to figure out what and who it is you're looking for and then to go out there and get her. With any luck you'll have the time of your life.
Sex
By all accounts the Aussies have a fairly relaxed view on sex. Sex is considered as a very casual thing around the globe in present times and so is the case in Australia. Many couples in the country live together before getting married without any judgement so this opens the door to many pre-marital encounters. There is a lot to enjoy in the city and the gorgeous girls combined with a more liberal view of sex in recent years, makes for a highly enjoyable sexual experience.
Sex Culture
Australian girls are not expecting you to put a ring on it before they sleep with you. With the way the dating scene has evolved and the relative lack of one on one dates many are turning to casual sexual relationships to scratch their collective itch.
With some of the most populated student towns in the southern hemisphere the opportunity for a casual sexual relationship is always present in Australia. There is no set number of dates to determine when the right time is, some will sleep with you on the 1st date while others might wait till the 3rd or 4th and then on the other hand some will just not. The sheer number of beautiful women in Australia, both local and international will stir any man. It is important to remember that women, like men have needs and are often just as sexually attracted to you as you are to them. Aim high when approaching girls, as there is such a high number of good looking girls your expected strike rate wills automatically rise. Hot girls like confidence in a man. Bonus points if you can make them laugh.
One way to ensure you have the opportunity to meet new single girls is to make friends with as many girls as possible, this will ensure that you get invited on nights out and to all the parties, which would mean that you will eventually get laid with some of them. Every group of girlfriends is bound to have one or two hotties and the longer you spend with them the more they will like you, simply put proximity promotes feeling.
Apps and dating sites also make it super easy to meet new people and establish a relationship which could potentially lead to sex. It obviously depends on the person you meet but many people young and old are using internet dating purely for sex. Tinder, Badoo, plenty of fish and E harmony are the most popular down under so give them a try.
One-Night Stands
With the liberal view on sex in Australia, your chances of a once of casual encounter are quite high. There are a large number of students (the most likely to engage) in Australia with no less than 43 universities there are going to be plenty of sexy students looking to have unlimited fun at the weekend. The most important thing to remember with a one night stand is to always wrap your little buddy up!
Generally, women are less likely to be interested in hook-ups than guys but at the end of the day everyone has needs that need to be fulfilled. So while they might not be lining up at every bar waiting to go back to your place, with some luck you might well end up having a bit of 'one night only' fun. Having casual sex is easier emotionally for guys than it is for girls so they might want to continue seeing you and if she was any good then you can easily find yourself in a relationship as a result.
Best Places to Meet Single Girls
This country is immensely beautiful. With a crazy variety and range of climates and landscapes there are plenty of places indoors and outdoors to meet hot local and international girls. There are also girls of every kind ranging from sporty and athletic to intelligent and posh. Here we'll look at some of the hot spots to meet them all.
Bars, Pubs and Nightclubs
The Aussies love a drink and a dance. The bars, pubs and clubs in Australia are filled to the brim with attractive single ladies. When people have a drink they relax and loosen up and this is always a good thing for the single guy looking to meet someone new. If a bit of dutch courage is what you need to engage the fairer sex then be sure to check out a few of these spots.
• Big Poppa's, Sydney- If casual drinks, some good hip hop and a classic Italian kitchen is your vibe then big poppas is the place to be. The cosy upstairs area is where you can order some of the best food in Sydney and then the downstairs area is where you can let loose a little on the dance floor. Don't worry about being on time either the place is open till 3am.
Boilermaker House, Melbourne- This classic pub and grill house is famous for its 850 malt whiskeys and also for excellent craft beer. The interior will attract your slightly more sophisticated lady if that's what gets your engine going (that and a whiskey of course) then check it out.
• The Gresham], Brisbane- Filled to the brim with as much history as whiskey , The Gresham holds the only Heritage Bar License in Queensland. Serving some of the finest wine, run and whiskey in the land this beautifully designed bar also boasts some of the best handcrafted cocktails around.
Kittyhawk, Sydney- A homage to France with a wine list as vast as the outback the Kittyhawk in Sydney is a must see and also a great place to pick up french girls. The exceptional french food and cocktails will keep you a happy camper for as long as you like. The decor also covers anything you could want, an excellent city wide view from the windows or a more intimate setting in a leather booth this would be a great place for a date.
The Baxter Inn, Sydney- Truly a hidden gem, this bar dedicated to serving the finest whiskeys available. With nearly 800 whiskeys on their list there is an exclusive whiskey cellar where you can try some of the best whiskey in the world. Alongside their staple spirit you can also find a range of other drinks like vodka rum and a variety of cocktails.
Mechanics Institute, Perth- Patrons are after a break from the everyday hustle and bustle of city life. A relaxing craft beer or an exciting new cocktail can always be found here alongside some of the best artisanal wine in Australia. This split level bar is sat right on top of flipside burgers so you can also grab a good meal to soak of some the delicious drinks.
Shady Pines Saloon, Sydney- A local favourite. You can expect to hear some of the finest country music and to see some of the most lifelike stuffed animals you've ever laid eyes on. Serving cocktails, spirits and craft beers all-round the shady pines Saloon is always packed come the weekend.
• Ramblin' Rascal Tavern, Sydney- One of the most authentically Australian bars in the country this laid back chill spot is popular among the most patriotic drinkers in town. Serving only locally sourced beer and wine here you will most likely meet the aussie shiela of your dreams.
The clubbing scene is Australia is vibrant. Some of the best electronic DJs in the world can be found playing in a number of the clubs on any given weekend. The younger demographic frequent the many nightclubs scattered around the country. Sydney and Melbourne boasting the biggest club scene in the country as a result of the amount of students in the cities. Clubs are always full of groups of sexy singles. Get a group of your most game mates together and hit some of these most popular clubs
Oxford Art Company, Sydney - One of the few places still showing live music in the CBD this two room live venue offers a capacity of 5000. Serving a variety of cocktails and household names as far as beer goes this place is jam packed with old fashioned music enthusiasts.
Chinese Laundry, Sydney- One of the longest running clubs in Sydney and also one of the biggest. With 3 indoor dance floors and an outside terrace there is something for everyone. Even though it's one of the most popular clubs in the city and there is a massive number of people there it never seems over crowded.
Prohibition, Brisbane – located in the buzzing fortitude valley ( Brisbane's nightlife district) old school design with a slick modern twist to it. Massive LED lights hang above a central dance floor that lights up the party like you've never seen before.
• The Sub Club, Melbourne- This one is for the techno lovers. As mentioned in the name the sub club is an edgy underground venue with a huge sound system that just keeps going to the early hours of the morning.
Fat Controller, Adelaide- Another one of the underground favourites in Australia, the exposed concrete dance floor added to the cage style barriers around the dance floor make this place look a lot more rock and roll than electronic dance club. Hosting a mix of live music gigs and trendy club nights the controller is always a good night out.
Home The Venue, Sydney - the so called super club in Sydney, overlooking Darling harbour has an amazing 3 dance floors and a waterfront terrace. Like most of the clubs in Australia the spectrum of music is broad, ranging from electro to techno and pop and everything in between. A good tip is to check what's on before heading out it will help you pick your targeted type of girl.
Revolver upstairs, Melbourne – This bar and restaurant by day transforms into one of the most hip club spaces every Friday night. Playing to mostly a techno audience that are looking for a big night out. The revolver also caters for anyone looking for a club that stays open till late, the infamous Sunday sessions that go until 5am Monday morning is always a highlight.
• Cocktails Nightclub, Surfers Paradise, QLD- After a stunning refurbishment, Cocktails is now one of the largest dance clubs in Surfers Paradise. Fitted with three separate rooms including its most popular R&B room it caters to all tastes. There's also a secluded pool table area, for people who need a break from the dance floor or that chance to chat up a cutie in private.
• Sin City Nightclub, Queensland – A slice of Vegas on the gold coast of Australia. This up market club is especially popular due to the fact that all the waiters and bar staff are always wearing next to nothing. Hiring one of the famed VIP booths at Sin City will get you a personal server for the entire evening and your own bottle service. This place is definitely one to check out.
It isn't always the easiest thing to do, picking up a single girl in a club that is but with some sound tactics and the right amount of confidence (and maybe a few double vodkas) anything can be achieved my good man. Chin up and give it a go.
Shopping Malls
Being one of the most developed nations in the southern half of the globe naturally Australia has some of the best and most modernized shopping centres. As is well known with the entire world women love to shop and they tend to do this in groups if they're single. These malls attract tonnes of local and foreign ladies on the daily and it is always a good idea to put in some graft there, check out some of the following places
Chadstone Shopping Centre- The largest of the malls in the country at a staggering 2 million square feet. The chadstone centre is one of the most beautifully designed malls worldwide. Weather you're looking for fashion wear, homeware, health, beauty or any other lifestyle and luxury needs, this is your one stop destination. Drawing thousands of locals and tourists it's not only the biggest but also the most popular.
Westfield Fountain Gate- The second biggest mall in the country this has been a local staple since 1970. With over 500 brands in the centre this retail hotspot holds something for everyone. Not as many tourists but you will definitely find plenty of locals.
• Pacific fair- An architectural masterpiece the pacific fair located on the iconic gold coast in Queensland this centre that has over 400 stores is famous not just for all the retail outlets but there are also options for dining and entertainment, with cinemas and an outdoor entertainment area. What makes it so popular as well is the fact that it is a hub for public transport including a bus and rail link. So getting to the mall and heading out from here is sorted.
Westfield Sydney- The largest mall in Sydney this hub for buying local and international designer brands is located in the shadow of the Sydney tower. with nearly 300 stores spread out over the 6 floors as well as having 2 of those floors designated to food joints this centre attracts a large amount of local and foreign customers.
Highpoint Shopping Centre- With everything the modern day shopping centre has to offer and more the aptly named highpoint shopping centre should be near the top of your list of places to visit. Over 500 stores boasting internationally famous designer brands like David jones, Zara and target will draw a large amount of shopaholics. Kitted out with a variety of eating spots as well as a cinema this place is a crowd pleaser.
Rundle Mall- One of the busiest malls in Adelaide as well as the entire country. This centre opens its doors at 9am. This mall is famous for being the venue of many a brand launch. Come the weekend you can expect one or another brand to take over the space with one of their new offerings.
Brisbane Arcade- Probably the best place to get jewellery in the country, hosting renowned brands such as Pandora, Hostway's, and James Tylor Jewellers. The beautifully designed arcade has many other specialty stores like the tea centre and the model shoppe.
Robina Town Centre- The most popular contemporary centre on the gold coast. The town centre has an incredible amount of foot traffic generated by the famous fashion brands, sports outlets and culinary experiences. Robina has something for everyone.
Outdoors
Australia is a dream destination for the outdoor enthusiast. Beautiful beaches, a variety of natural landmarks and notorious wild life are just a few of things you can expect to encounter down under. These places are likely to attract to finest and fittest of the girls in the country both local and touring. Australia is filled with sunshine and beautiful bodies, be sure to check out some of these
The Great Barrier Reef- This needs no introduction. Arguably the most famous landmark in the country, this massive underwater eco system is even visible from outer space. Visitors can swim, snorkel, dive and even sail this living wonder. With approximately 2 million tourists visiting each year the great barrier reef is not only one of the most famous tourist destinations in aus but in the entire world as well. Get your beach bod out and hit up the reef!
Bondi Beach- Considered the top day game spot in Sydney, this iconic aussie beach is always jam packed with sexy girls. If the sun is out you can count on hundreds of girls being out at the beach. Hot girls in bikinis will be strolling around or laying out in the sand, and many tourists will be there every day.
Byron Bay- Known as the bohemian capital of Australia many who live in the busy cities of Australia flock to Byron bay to unwind. Beaches, surfing and scuba diving are the top activities in Byron bay. If the hot hippy is what you're looking for you will most certainly find her here. As we know these naturists are often prone to nudity. Half the job is already done.
Melbourne Zoo – With more than 5000 animals and over 300 species this 22 hectare animal paradise is an ideal gaming ground. The animals will put the local and touring girls in a good mood and all you'll have to do is muster up the confidence to chat to them.
Kings Park and Botanic Garden- Free entry every day of the week this is a very inexpensive way to meet new people, this 400 hectare park overlooks Perth water on the swan river, one of the most visited places in western Australia with over 5 million visitors a year.
Hyde Park, Sydney – Located in the CBD it is the oldest public parkland in Australia, with the centrepiece the Archibald fountain, attracting many visitors who are looking to see a piece of war history. The park also has well-manicured gardens so it acts as the ideal place for a mid-day picnic.
Australia is an outdoor paradise. You could go to any beach, mall or club and find a few stunning girls, it's just a matter of picking the right place at the right time. The friendly aussie girls are some of the easiest to talk to so your chance of success is quite high.
Universities and Colleges
With a total of 43 universities in Australia you will be spoiled for choice when it comes to students. All the major cities in Australia have at least one tertiary learning facility and with uni and college comes a new found freedom that allows for a certain loss of inhibition.
With a little over 700 000 foreign students choosing to study in Australia by 2019 the universities and colleges will be full of hotties from around the globe, once again namely Asian, African and British.
Try working your game in and around a few of these
University of Melbourne- Second oldest university in the country and also one of the busiest with a total of 47000 students enrolled. Melbourne has one of the most diverse economies in the country so allowing many of the students to live in the city.
University of Sydney- The oldest in the country and in the popular city of Sydney there is so much to do in Sydney. All the cities with the bigger universities will have a couple of student bars with cheap drinks and merry students who are always up for it.
University of New South Wales- With some 50000 international students this is a very diverse university based in Sydney. The quality of the education here is what draws so many foreign students. Students who study farther from home are more likely to let loose and tend to be more outgoing
University of Queensland- The university of Queensland is another melting pot of cultures and nationalities with a whopping 200 nationalities and over 220 languages being spoke the best bet here is to link up with a more exotic babe.
Australian National University- the leading university in the country, the national university is the top rated academic school in the country thus attracting the best and brightest that the land has to offer. Along with the pressure of being a student at the country's top school comes the need to blow off a bit of steam so here would be a good place to pick up a frustrated genius.
University of Western Australia- Perth has consistently been ranked one of the best cities in the world to live in and that means that the university of WA can't possibly be too bad. The surrounding city is also more affordable to live in than Adelaide, Brisbane, Melbourne and Sydney, so the students will definitely have cash for a drink.
Australia is full of quality universities and colleges that offer excellent education and the vibrant surrounding cities will always encourage them to indulge in a good time, they key to finding single girls here is to stay on the lookout for the local student bars and restaurants.
Relationship
Australians are a very social people and thus couples usually meet through mutual friends and social groups. Being as socially active as they are it is not uncommon for Australians to date multiple people without committing to one relationship; if feelings develop they will stop meeting new people and cut ties with any other existing suiters.
So this fairly relaxed view on relationships does mean that it would be fairly easy to get into one without it getting too serious which is essentially what most young single guys are after anyway. The key is to be clear when communicating with your partner, if you are on the same page about the relationship it makes it much easier to define also this way nobody gets hurt.
Australia is full of opportunity for a young single lad to pursue any relationship he desires, just remember that a long term relationship requires commitment and sacrifice on both parts otherwise its doomed from the start. Remain confident and there should be no worries.
Holiday Romance
The various beautiful holiday destinations in Australia will always present one with the chance of a holiday romance or a summer fling if you want to call it that. We've already established that the local girls are beautiful, outgoing and friendly and with their naturally laid back personality will mean that if you are just fleetingly visiting the country you won't break her heart as they seldom expect too much.
Holiday romances can be exclusively physical or they can entail a little more than that but seeing as though they generally only last for a few weeks they rarely develop into more. If they do develop into more it's not hard to imagine living in Australia on a permanent basis, it truly is a really pretty place to live.
Your holiday fling is often a great way to get around and see sights that the average tourist normally wouldn't know about, so if you do manage to find yourself in one of these take full advantage and immerse yourself in the local culture.
Tips for Successful Relationship
The major cities in Australia fit the stereotype of hustle and bustle and generally living past one another. There are quieter suburbs and more rural areas but no matter where you are a successful relationship often requires mostly the same things, remember the following:
Trust – the core of every thriving relationship. Life is a combination of tasks, travel and chores. You will likely both be working full time jobs, which leaves very little room for suspicion. Make sure that you build trust with one another through conversation and time spent with one another. Without trust, no relationship would survive.
Communicate well – probably the second most important aspect of the relationship. If you have a problem it will never be solved in your head, make sure your partner is aware of any and everything you feel. With the busyness of life, taking time out to communicate is key.
Support – we live in a time of revolution, females are looking to stake their claim in the workplace and with many of the top brass still male this can be rather difficult thus the need for a supportive and understanding man cannot be stressed enough.
Financial Stress – the oldest worry between couples, the cost of living in Australia varies from city to city so careful financial planning and limited unnecessary spending can help prevent any arguments about cash.
Find a hobby which you can do together or at least set aside time for one another – Aussies are naturally busy; they enjoy many different sports and outdoor activity. To ensure the relationship doesn't lose its spark engage in one of the many things that males and females can take part in and help each other grow as people.
Allow Space – before you met you both had lives before. Allow one another to carry on with these lives. Visit friends and family as often as you can, resentment can start to build among your friends if they feel you are keeping their friend away from them.
Love
A very passionate people are the Australians, it might not be a love at first sight situation but once that special bond is formed it is very strong. Most people live their entire lives looking to form this special connection with somebody else and it can often lead to frustration. It is important not to force things, you could scare off the ladies is you show that you catch the feels early on in the relationship.
Everyone is different and the way the define love can also differ and therefore it is important to keep in mind that the girl you might think will be the love of your life might only see you as the boy best friend. A good way to go about it is to let her be the first one to use the big L word.
How to Make Sure She Is the One
Are you introducing her to all your mates as your girlfriend or just as a friend? If it's the later then she might be the one, generally you start to feel that she might be the one for you if you start do any of the following:
Planning a future- No guy is going to waste the time and effort into putting things in place to further his life with a girl if he isn't serious about her so if you start thinking about good neighbourhoods and a good schooling district then well she could be
You still find her attractive- After a few months many guys will start to get a little bored with looking at the same girl day in and day out which often leads to infidelity, however if you cannot get enough of your better half then you're on the right track
You would rather hang with her than anyone else- You'll know that this girl is your soulmate if you would rather spend time with her hearing about her day or listening to which one of her girlfriend is being stupid etc. than to head down to the pub with the boys. Remember that balancing your time with your partner and your friends is important.
You want the same things out of life- Being on the same page is usually a good sign that your relationship is destined to work out, the last thing you need is her wanting to be one of the girls and going out clubbing with her mates every weekend and you're ready to settle down.
You trust her- If your lady is the one you confide in then were halfway there, as we covered earlier trust in the relationship is key, if you find yourself keeping secrets from her then that's a good sign that you should probably let her go.
She gets along with your friends and family- Your mother will very seldom like your girlfriend, if your girl gets along with all of your mates and your family then you better put a ring on it as in yesterday.
To recap, knowing that a girl is the "one" is no exact science you will just know it in your gut. Some girls will only be in your life for a brief period and that's okay, but when you have the one you're going to spend your life with the only one who can really know is you.
Marriage
Many Australian couples live together before getting married; this can be attributed to forward thinking nature of the younger generation of people. Previously if you lived with a woman it was seen as highly improper if you weren't married. As the world moves forward and people become more open minded more and more couples are even going as far as having children before getting married.
Marriage is a massive step in anyones life, it is still considered as one of the most sacred unions between human beings. With such a big commitment people are often hesitant to tie the knot. In the world we live in today it is also very easy to get divorced and these can often get messy if there are kids involved. 1 in 3 marriages in Australia end in divorce as of 2017 and although that rate is declining many still don't like these odds.
If you are going to get married the onus is on you to make every effort to make things work out between you and your missus. A loving, caring and supportive husband is what most girls are looking for at the end of the day and if you fit that bill then you have what it takes to be considered marriage material.
Wedding
The wedding sets the tone for the marriage. Ladies think about their weddings far more often than men do and there is good reason for it. Ladies are dreaming about the perfect dress, cake, entourage, venue etc. all the guys are thinking about is consummating the marriage.
Weddings can be stressful, traditionally the father of the groom pays for the whole affair but as times go one not everyone is in the position to do so. With this in mind it is important to make sure that you are in a healthy financial position if you are going to get married. If you have a budget stick to it, one tip that modern couples are using is that they cut costs wherever they can for the actual wedding and they use the money they save to spend on a honeymoon.
Australians love a traditional church wedding with the bride in an elegant gown and the groom in a tuxedo. You can also expect some of the more typically Australian idiosyncrasies such as the smoking ceremony where the bride and groom are fanned with the smoke of burning plants or herbs. Australians also traditionally have lamingtons at the wedding instead of a cake.
Weddings usually depend on the couple however many will follow traditions either that are part of their heritage or bloodline. Whichever you choose come your special day make sure it's what you want.
Family Life
Australians are quite family orientated, especially is they come from the rural areas of the country. They will often have large families with plenty of siblings as most of them will have grown up on a farm of some kind which allows for larger families because of the vast spaces available. If you get into a relationship with an aussie you will have to measure up to her dad and all her older bothers as they can be quite a competitive people.
Extended family plays a large role in the lives of many Aussies as their family provide a support network that friends simply cannot match, there are lifelong bonds that have been forged and cousins, nieces and nephews will often be the go to for advice, if you can fit in and get along with the family this will hold you in good stead.
Research has shown that more Australians are waiting until later in life to start their own families (marriage and children) so there is no immediate pressure to meet the extended family. New relationships are often kept from families unless both parties are absolutely certain that it is going to work out.
In conclusion Australia is one of the most fertile gaming grounds on the planet and it has some of the most beautiful beautiful girls with exceptional personalities. Some say that dating in aus can be quite slow however if you are smart, charming and confident you can enjoy the single life in Australia. If you get shot down by one girl don't let it define you, on to the next.
Australia has no formal set of dating rules, this makes for a pretty fun and flexible experience which forces people to get to know each other in a very casual manner, get out there and have some fun.
Regions
New South Wales and Australian Capital Territory (Canberra) (NSW) & (ACT)
New South Wales is Australia's most populous state. The Harbour City of Sydney is Australia's largest city. The coast of New South Wales is lined with beach side communities, each one offering experiences for the traveller. A little inland are the mountain ranges of the Blue Mountains and Snowy Mountains, as well as the purpose built capital city of Canberra, excised from New South Wales. Further inland still expect sweeping plains, turning from agriculture to desert the further inland you venture.
Northern Territory (NT)
From the red deserts surrounding Uluru and Alice Springs up to the tropics of Darwin and Kakadu National Park, the Northern Territory is stunningly beautiful, and easier to access than you might think.
Queensland (QLD)
Famous for its sunny warm weather, Queensland offers coastal exploration from the vibe of the Gold Coast to the tropics of the Great Barrier Reef to the bustling city of Brisbane. It is also home to tropical rainforests of the Daintree National Park, and the island resorts of the Whitsundays. Inland lies the ranges of the hinterland, and further on the vast expanses and beauty of outback Australia.
South Australia (SA)
Renowned for the fine wines of the Barossa Valley, the beauty of the Flinders Ranges and the outback, and the beaches and events and culture of the City of Churches, Adelaide.
Tasmania (TAS)
Separated from the mainland by Bass Strait, Tasmania has rugged beauty of Cradle Mountain and the west, the beaches of the east, and the complete wilderness of the south. Hobart was the site of the second European settlement in Australia, and many historic sites are well preserved. The island has well developed facilities for travellers.
Victoria (VIC)
Small, vibrant and with something for everyone, Victoria has dramatic surf beaches along the southwest and central coast, green rolling farmland and photogenic national parks. The diversity of rural Victoria is very easy to access due in part to its size and well maintained roads. Australia and Victoria's sporting, shopping, fashion and food capital is Melbourne.
Western Australia (WA)
A vast state. The south-west contains the state capital and major city of Perth closely surrounded by the wildflower, wine growing and scenic destinations of Margaret River and Albany. In the far north are the tropics and the beach side destination of Broome. Small townships, roadhouses, mining communities and national parks scattered around the long distances between.
Cities
See Also