Djibouti
Guide for dating in Djibouti helps you to meet the best girls. This dating guide gives you tips how to date Djiboutian women. You will learn rules where and how to flirt with local Djiboutian girls. We advise how to move from casual dating to the relationship and find the real love. We also tell the best dating sites in Djibouti. In this article below you will find more information where to meet and date girls in Djibouti, Africa.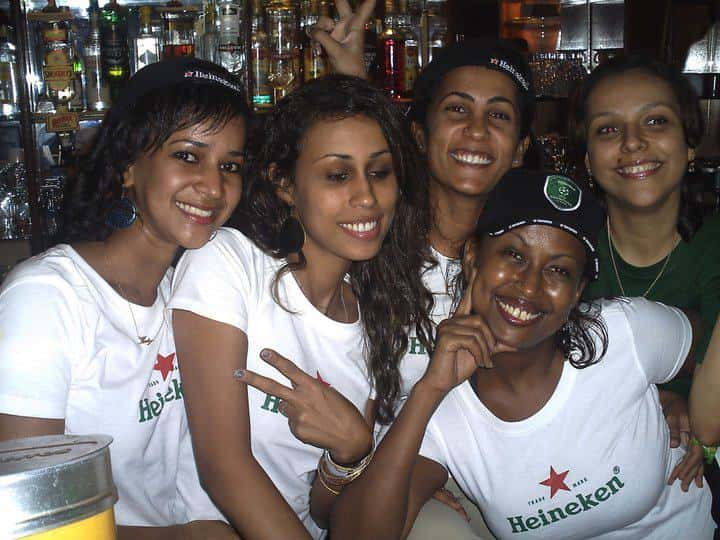 Girls in Djibouti:
Education level of girls: 3 / 5
Dating in Djibouti:
Chance of arranging dates: 3 / 5
Casual dating culture: 3 / 5
Online dating popularity: 3.5 / 5
Sex in Djibouti:
Women's sexual activity: 2.5 / 5
More about Djibouti:
Nightlife in general: 2.5 / 5
Locals' English level: 1.5 / 5
Budget per day: US$50 - $500
Accommodation: US$20 - $200
Dating
Djibouti is located in what is known as the Horn of Africa. The country borders Somalia to the south, Ethiopia to the west, Eritrea to the north and the Red Sea to the east. The country occupies an area of 23,000 square kilometers and a population of 950,000 people. The official languages spoken are French and Arabic while the national indigenous languages are Somali and Afar. Islam is the state religion of Djibouti with 94% of the country's citizens being Muslims. It is home to one of the saltiest bodies of water in the world, the low-lying Lake Assal, in the Danakil Desert. At 155m below sea level, Lac Assal is the lowest point in Africa and the third-lowest point in the world after the Dead Sea and the Sea of Galilee. With a population of over 600,000, the capital Djibouti accounts for 76% of the country's total population.
Dating Djibouti girls is quite exciting. The girls are beautiful with a light complexion as is common with Arab girls. The girls are well-behaved and cultured as the Islam traditions which are prominent in the country make them polite and loyal. Some girls may be shy to approach at first because of this culture but once you get along with one, she will stick with you.
Dating Culture
Just like many other African countries, the dating culture is a mix of traditional African and modernism. The two main ethnic groups in Djibouti are the Somali and the Afar. Both groups practice Islam. This has a great influence on the dating scene. Online dating is popular in the country. This is because of the privacy that it offers as socialization between young men and women who are not married is bound to receive a backlash from conservative adults. The increased access to mobile phones has increased the chances of young people dating without being noticed by their parents or other adults.
Online Dating
Dating in Djibouti can be a bit tricky due to not knowing if you have a solid connection, so your best bet is to sign up for a dating site before you venture to the night club or bar, so you can meet a few locals ahead of time. AdultFriendFinder.com lets you meet local members in Djibouti and get to know them on a personal basis before you meet in person. Take advantage of site features like live chat and member to member webcams so you can begin flirting before arranging a face-to-face meeting.
Women
The law dictates that men and women in Djibouti have equal rights. The law goes on to dictate that both married and unmarried women can apply for a passport, apply for an ID card, travel outside of the country, travel outside their home, and choose where to live, the same way as men. However, and as is the case in many Islam-dominated countries, the reality is that women face discrimination under customary practices related to inheritance and other property matters, divorce, and freedom of movement. In marriage, the wife is subject to her husband in all aspects of life and must obey him; the husband can limit her freedom of movement. According to Islamic law, women in Djibouti "are not allowed to travel abroad without the permission of an adult male relative."
Traditions and stereotypes continue to shape the roles of women in Djiboutian society. One of the traditions states that a single woman cannot live alone. Data from the 2009 census indicated that up to 70% of women in Djibouti are unemployed. Women are underrepresented in positions of responsibility. As of February 2019, 26.2% of parliament seats are held by women. Sources reported that most women work little or no wages in the informal sector and have no social protection.
Djibouti is still faced with the challenge of the education of girls; nine girls for every ten boys go to primary school, below the regional average, which is already low. The priority, in terms of education, is given to boys, particularly because they are considered to be the future heads of households. To promote the education of girls, the government of Djibouti has taken various measures, including distributing food supplies to families who educate their girls, re-initiating school feeding, and building girl dormitories, especially in rural areas. In 2008, the government created a ministry for the promotion of women, family and social affairs.
Djiboutian Girls (age 18 - 29)
The law states that the minimum legal age of marriage at 18 years but article 14 says that: "Marriage of minors who have not reached the legal age of majority is subject to the consent of their guardians". According to recent data, 5% of girls in Djibouti are married before the age of 18 and 2% are married before their 15th birthday. Child marriage is slightly more prevalent in rural parts of Djibouti and districts outside the capital. From this statistic, Djibouti fares better than many African and Islam countries.
Most girls and women in Djibouti adhere to the Islam traditions in manners of dressing. Unmarried or young women, however, do not always cover their heads. Traditional Arabian garb such as the male jellabiya (jellabiyaad in Somali) is also commonly worn. For some occasions such as festivals, women may adorn themselves with specialized jewelry and head-dresses similar to those worn by the Berber tribes of the Maghreb.
As the girls at this age are finishing their education, it is generally accepted that the next phase is marriage and so some may end up getting married straight away. The manner of married may be either consensual between the girl and the man or it can be arranged. Though they are less common nowadays, arranged marriages are favored by wealthy families who seek to establish connections with each other.
Djiboutian Women (age 30 - 45)
Almost all the women at this age are married and have children. Only 19% of women are employed as compared to 81% of men.
The primary role of these women is to take care of the family and homestead. Some women may be lucky and be employed through most Djiboutian woman do not go beyond high school and so they end up as housewives. Several obstacles stand in the way of women's entrepreneurship and access to markets, such as social norms, family care duties, and transportation issues. Not being able to physically access markets to sell their goods or to participate in international trade fairs to market their products is also a challenge.
Women typically wear the dirac, which is a long, light, diaphanous voile dress made of cotton or polyester that is worn over a full-length half-slip and a bra. Married women tend to sport head-scarves referred to as shash, and also often cover their upper body with a shawl known as garbasaar.
Djiboutian Ladies (age 45+)
By the time they are 45 years old; many women in Djibouti are settled down in families with children. The ones not yet are desperately in search of spouses if only to ease the pressure exerted on them.
Age soon starts catching with them and their features such as the breasts become saggy and the bum shrinks. These women do look good because of the peace that they enjoy in their homes and are happily taking care of their families. The most common traditional clothing is a single-strapped dress that both Afar and Somali women wear. Somali women in antiquity wore it in white or red although today Somali women wear it in red and orange. Afar women today seem to wear it in red and black although sometimes some women wear a red and black skirt instead with a white, silky tunic.
Foreign Girls (tourists, expats, students, etc.)
Djibouti is known for being the country with the most foreign military bases. The rent for use of these bases contributes up to 5% of the GDP of the country. This has seen many foreign soldiers in the country many of them being women. Another group of foreign women in Djibouti is tourists. Tourism is one of the growing economic sectors of the country and is an industry that generates 53,000 and 73,000 arrivals per year. A large portion of these tourists come from France.
Sex
While having sex with Muslim girls is generally hard, Djibouti girls are relatively easier than most girls in the Arab world. A large influence on this has been the presence of foreign military officers in the country. This has made the girls relatively open to having sex, especially with foreigners. However, this requires a level of discretion.
Sex Culture
Given that Morocco is 95% Muslim and much of their culture and way of life influenced by Islamic laws, the Djiboutians are relatively conservative just like many other Arabic countries. The presence of many foreigners in the country, however, has led to a relaxation in tradition.
One-Night Stands
One-night stands are some of the easiest ways for you to engage in sex without a lot of commitment and investment. In many African countries, one-night stands are generally a new concept as many cultures are loudly against sex before marriage. This has led to a slower uptake in one-night stands and casual sexual affairs. However, the uptake of online dating sites has seen many young Djiboutians engaging in one night stands.
Best Places to Meet Single Girls
Nestled in the Horn of Africa, Djibouti is a little piece of heaven for nature and history lovers, food enthusiasts, and anyone intrigued by the ethnic composition of this small country.
Bars, Pubs and Nightclubs
An incredible country with many amazing cities, Djibouti combines a historical view of Africa along with a modern glimpse into African nightlife that includes its nightclubs and bars. In many nightclubs and bars located in the country, there are a lot of prostitutes that make themselves available. Be aware of this and steer clear of the prostitutes when you encounter them.
Club Menelik: In this buzzing nightclub on the ground floor of the eponymous three-star hotel in the city of Djibouti, the party runs nonstop, even at midnight on a Monday. On the dance floor, men and women, old and young, twirl happily all night long to Nigerian and French pop hits. The regulars are Djiboutians, Ethiopians, Americans and from across Europe; on occasion, there are visitors with Arabic and Hispanic roots.
Le Palmier en Zinc: This smart-looking pub in Djibouti City has a respectably long list of beers and cocktails, including excellent mojitos, served with popcorn and veggie dips. It also offers karaoke on selected evenings.
Association de la Communauté Ethiopienne de Djibouti: This down-to-earth bar, with its large outdoor courtyard, is a pleasant place to enjoy a very cheap beer. Also known as 'Club Éthiopien', this simple establishment also serves good Ethiopian fare at economical prices.
L'Historil: Popularly considered to be Djibouti City's most esteemed bar, L'Historil has an appealing terrace that offers excellent people-watching opportunities.
Club Hermes: An underground club in Djibouti City, low key with good security at the door. The prices are affordable.
Le Maries: Nice place with a dance floor in the front alongside a bar. In the back are some couches for sitting and smoking Sheesha.
Le Scotch: One of Djibouti City's hot spots. Cozy seats, red lights and the odd full-length mirror surround the dance floor.
Caf Mask: Caf Mask is a very clean bar in Djibouti City with a more upscale clientele. Drink prices, including the beer, tend to be on the expensive side. The nightclub also serves Italian food and the club features a dance floor with world music that includes tribal masks as décor.
Grand Barra: Grand Barra is located within the five-star Djibouti Palace Kempinski Hotel, which is located on a private beach amid palm trees and flowers. The club features fine wines and cigars from around the world. Live music is played in the evenings. The lounge includes views of the Red Sea and is a popular sunset viewing destination. The lounge is popular before or after dinner spot, featuring classic cocktails and appetizers. The crowd is generally upscale.
Sky Bar: The Sky Bar is also located on the roof of Djibouti Palace Kempinski, and it is the highest bar in Djibouti. It provides panoramic views of the country, the Red Sea, the Gulf of Tadjourah and the Tadjourah Mountains. This romantic spot is perfect for watching the sunset over the sea. This club attracts the happy-hour or after-work crowd and specializes in appetizers. Crowds are mixed. Drinks can be expensive.
Shopping Malls
Some of the malls in Djibouti include:
Géant Hypermarché Djibouti
Ets Quincaillerie Abdoulbasset
Logicom Bureautique & Meuble SARL
Samex International Trading
Outdoors
Djibouti falls into the category of small things that have a big pay-off. Though it occupies a tiny corner in eastern Africa, it has copious amounts of beauty and sites that you really can't believe unless you've seen them for yourself. Few places have such a variety of landscapes – like volcanoes, sinking plains, limestone chimneys with steam coming from the top, salt lakes, grand canyons, and gorgeous plateaus.
Lake Assal or "Honey Lake" is a crater lake at the western end of the Gulf of Tadjoura. It is 155 meters below sea level, making it one of the lowest land depressions on Earth. Lake Assal is the largest salt reserve and the locals consider it to be a national treasure. It is in the process of becoming a UNESCO World Heritage site and the views around the lake are unbelievable.
Tadjoura is one of the oldest towns on the east coast of African and dates back at least to the 12th century. Governed by a sultan, Tadjoura was once a great port for goods between Djibouti and Ethiopia – including, unfortunately, the slave trade. Often called La Ville Blanche, or White Town, because of the many lovely whitewashed homes in town, it's a great town for walking as there are many great views of the waterfront. In the late afternoons, you'll find all the locals out and about. There are several nice mosques to see and you'll love relaxing and soaking up the atmosphere of this quieter and less chaotic version of Djibouti City.
Near the border of Somalia and Ethiopia, Ali Sabieh is surrounded by awe-inspiring desert on all sides. Inside the city, you'll find plenty of great markets, food stalls, and narrow alleys. This is rustic and rugged Africa at its best. Surprisingly, there are spots of natural beauty nearby and very little tourist development to take away from it. To see the desert at its best, check out Grand Bara and Petit Bara. It's also worth trying some windsurfing while there, or any of the many sport adventure activities. The entire area is famous for its challenging walking trails.
Wonderfully surrounded by the lush Goda Mountains which reach heights of up to 1300 meters, the Gulf of Tadjoura is considered by those that have been there to be the perfect spot for diving and snorkeling with whale sharks. The two towns that tend to, rightfully, attract the most tourist attention are Obock and Tadjoura. In the latter, you'll find beautiful sea vistas and seven nationally important mosques.
Goba'ad Plain located between Lake Abhe and the Hanle Plain is a great place for bird watchers. Goba'ad is the only place in Djibouti with an active breeding ostrich population. You'll also spot Black Crown Sparrows, Arabian Bustard, Sand grouses, Crombec, and so many more. This lowland area is covered with shallow wadis, large sand flats, and acacia scrub.
Doralé and Khor Ambado beaches are located about 15 km from Djibouti City. Here you will find great swimming and black lava cliffs that border the beach. There are great local sightseeing tours that leave from here and you can also take part in any number of water sports. The sunsets from Khor Ambado are some of the best in the country. If you're looking to relax and unwind for a couple of days of sand and surf, you can't go wrong here.
Universities and Colleges
Djibouti has only one institution of tertiary education:
Relationship
The majority of the population of Djibouti is made up of two main groups, the Somali make up 60% while the Afar makes up 35%. These two groups have many similar characteristics and shared beliefs. This significant majority means that much of the way of life if based on this larger group. These groups have lived in the country for a long time and so their culture has found root in the region. It has however been mentioned that the way of life in the country has been to an extent influenced by the former colonial masters, the French.
Largely, the Muslim traditions of relationships courtships and marriage are still in effect. It is expected that a girl preserves her virginity until marriage and two people of the opposite sex whether married, dating, or even if not in any form of relationship should carry themselves with dignity and class while in public so as not to display any form of inappropriate behavior.
Holiday Romance
The current world system often pushes us to get into a cycle of going to work every morning and going home every evening with limited time in between for anything else. Inevitably, our life falls into a life of routine and soon we lose out on our social life as we seek to make ends meet. If you are not careful, you may live a structured life that may lack any happiness. This is where the holidays come in. many jobs allow their employees time out of active duty with the awareness that we need to get away from routine life and have some fun while at it. While the conservative Islamic traditions in Djibouti may limit the amount of fun that you can have, there are still many opportunities for you to have fun as you enjoy your holiday romance.
Tips for Successful Relationship
Building a solid relationship is what everybody craves for. But having a successful relationship seems to be difficult for most people in society. Falling in love is the easy part. The challenge for couples is how to rekindle the fires of romance from time to time and cultivate the mature, trusting love that is the hallmark of a lasting relationship.
Understanding what makes your partner feel loved can help you navigate conflict and put the romance back into your relationship. A lot of conflicts in relationships occur when we are not sure of what our partners want. Even though it may not be possible to fully know the thoughts of your girlfriend, you should make an effort to have a general understanding of what makes her happy. Once you know this, you will know when to apply it especially to calm any tension.
In our daily activities, we are bound across other ladies who may seem to be better than your wife or girlfriend. In the same breath, your spouse is bound to meet potentially better men than you. Although it is a human characteristic to compare and have wishful thoughts, you need to protect your relationship from infidelity. The best way to protect it is to avoid any opportunity to cheat that may present itself. Your best chance at fidelity is to limit opportunities that might allow you to stray.
Every couple has disagreements, but how two people argue and resolve conflict has a big effect on both their relationships and their health. Many people try their best to avoid conflict, but relationship researchers say every conflict presents an opportunity to improve a relationship. The key is to learn to fight constructively in a way that leaves you feeling better about your partner.
Trust is the bedrock of love which matures with time. You need to be patient to accomplish trust. The truth is that trust makes you open and not hesitant in sharing your dreams, achievement, fears, and worries to help your partner understand the real you better. That is what trust does in building a stable, successful relationship.
To gain happiness and satisfaction in your relationship, you need to work on something that can increase your bond like board games, watching movies, hiking or even cooking. As you do these, talk to your spouse about your expectations and requirements in a relationship. Ask your partner questions jokingly in a calm tone if there is any area he or she needs to see an adjustment or improvement. Questions and activities like this go a long way in making your bond stronger.
There is an ego in every human likewise a child. Every individual needs some alone time or needs to grab a drink with a friend to reminisce about the good old days. As partners, for you to have a successful relationship, you should respect your spouse's feelings. Do not try to put an end to your partner's friendship with other people.
The keyword to winning the heart of your partner is the ability to say I am sorry every single moment you falter in action and character. If you made a mistake or did wrong, and require you to say "I am sorry", say it from the bottom of your heart and release yourself from that burden.
This is one of the reasons, many homes are broken today, that the other earns higher shouldn't bring silly quarrels and contempt. There should be humility as money can bring disagreements between couples. Stop the attitude and work on yourself. Do not ruin your relationship with receipt and records of who paid for what.
How thoughtfully couples make decisions can have a lasting effect on the quality of their romantic relationships. Couples who are decisive before marriage such as intentionally defining their relationships, living together and planning a wedding appear to have better marriages than couples who simply let things carry them along.
To strengthen a marriage, consider asking less of it. That means leaning on other family members and friends for emotional support from time to time other than your partner. Support your partner's outside friendships and enjoy the respite from the demands of marriage when you're not together.
Love
Falling in love is one of the best feelings ever. From birth and throughout, we are born with an innate longing to love and to be loved. At times, falling in love may be seen from a distance. However, most times you will never know how things happen but you will find yourself being attracted and later attached to someone who a while back was a stranger. The fact that someone whom you have hitherto never met can move and occupy your heart and mind is hard to understand. Falling in love in Djibouti especially with a Djiboutian girl is a good thing. The girls are beautiful, well-mannered and loyal. Once she falls in love with you, she will always strive to please you just have to remember that the society in which you are in is conservative so some displays of affection may be frowned upon.
How to Make Sure She Is the One
Even before you begin dating her, you can tell a good woman from the way she treats those around her. While a lady may be all smiles and kind when she is with you, her true nature is clear when she is dealing with other people around her. It is often said that the best people to bring out someone's true nature is a security guard and a waitress in a restaurant. If the girl is polite and patient to these and other people of a seemingly lower group, she is the one.
In addition to how she treats these strangers, a good girl will be kind to the people around you. As the two of you get into a relationship and later get married, she will inevitably get to interact with the people who have been in your life before you came in. These may be your immediate family, relatives and friends. A girl coming into your life will not compel you to drop off everyone else in your life but will try to get along with these people.
As the two of you get along and begin spending time together, a good girl will allow you to have your own space at times. Before the two of you came together, both of you had your separate lives with your activities and moments. Even as your girl will come in and try to blend into your life, she will understand that at times we all need time away from each other to do other things. She will not feel insecure or worried that you left her alone for a few hours.
The girl that you seek to marry should show compassion and support towards others and their struggles, including yours. You will have down days and you will feel upset, and your partner should be able to support you and relate to you during these times. Even though she may show this support to you out of obligation, she must extend the same to those around her.
One of the biggest setbacks in a relationship is the lack of improvement. Making yourself better will always help the relationship thrive. Love depends on two people being willing to grow, change, and become better. When you're willing and committed to becoming a better man for the person you love – it's a big sign that you could be happy marrying. Love takes work and if you are both interested in improving then you are that much more likely to have a relationship that makes you both happy.
When you get married to someone, you not only marry them but you are her family and she is joining your family. Before the two of you get married, you need to have this knowledge in mind. Your girl should be willing to join your family as this relationship will play a very big role in your marriage. If your spouse is constantly fighting with your immediate family, this will put a strain on you as you will be called to always support her against your own family. Likewise, you should be ready to marry into her family with its strengths and flaws.
The girl that you plan to marry should be your best friend. A friend is someone you always look forward to spending time with even when there is nothing to do. She will be ready to drop whatever she is doing and be by your side when you need them. She will understand your fears, joys, doubts and will be ready to listen to you even when you don't have much to say. If your partner is someone you love spending time with then you can rest confident that she'll be someone you want to commit to.
Marriage
The Djibouti constitution sets the minimum legal age of marriage at 18 years but goes further to say that marriage of minors who have not reached the legal age of majority is subject to the consent of their guardians. In case of refusal of the guardians and persistence of the two future spouses, the marriage can be authorized by the judge.
In Islam, marriage is considered a crucial and important part of organizing society. Djiboutians marry relatively young, and it is considered an achievement for the family and the bride. As such, the wedding is celebrated festively. In line with the precepts of the religion, polygamy is not unusual in Djibouti among Somali Muslims. A man may marry as many as four women, as long as he can afford it.
The following are required for registration of marriage in Djibouti:
• Copy of the passport with a visa of 3 months (visa of 1 to 2 months is acceptable in some cases);
• Extract of the birth certificate;
• Copy of the birth certificate of fewer than three months;
• Copy of the residence permit for other nationalities;
• Certificate of celibacy, except for spouses of French nationality;
• Prenuptial certificate;
• Photocopies of the identity card(s) of the witness(es);
• Marriage contract (to be mentioned on the marriage certificate), if applicable;
• Copy of proof of address (invoice for rent, electricity, water, taxes or other). For French nationals residing in France, the Certificate of Marriage Capacity of the future spouse will serve as a certificate of celibacy issued by the French Embassy in Djibouti.
According to the Djibouti wedding traditions, a couple that intends to marry should visit the parents of the groom first, followed by a trip to the lady's house. After being introduced, the couple organizes a meeting for their parents' to meet and discuss dowry payments. According to the Djibouti culture, the groom pays a dowry to the girl's family as a way of appreciating them. The dowry payments are usually in the form of cattle or sheep.
Wedding
A Djibouti wedding ceremony involves dancing to traditional wedding songs and singing them as well. The Djibouti culture considers several things before allowing a couple to get married. These include circumcision, family background and fertility of both the man and woman that are to be joined.
The Djibouti wedding Ceremony takes place during the day and may go on late into the night. Before the wedding day, the bride pierces her nose and wears a small stud as a way of enhancing her beauty. During the wedding ceremony, the bride is dressed in the traditional wedding attire, which includes wearing a light lapel over her head, which she will now wear during her marriage. The bride should physically begin to prepare for the wedding three months ahead. A day before the wedding, the bride's assistants apply henna on the bride's feet and hands, which they believe makes the bride more beautiful.
According to the Djibouti culture, the groom dresses in Arabic wedding garments made out of rich fabrics; in addition to this, the groom should tie a cloth on his head as the Djibouti wedding tradition demands. Because the main religion in Djibouti is Islam, an Imam may conduct the marriage ceremony in the Arabic language. During the Djibouti wedding ceremony, the groom makes the vows when holding the bride's right hand and holds up the left hand as a way of making an oath; afterward, the bride makes an oath when kneeling facing the groom. After making the vows, the guests shower the bride and groom with gifts in the form of cooking pots, money, sheep or goats, beddings and furniture.
Family Life
The Djiboutian family averages six or seven children. A marriage is considered as much a union of two families as of two individuals. Divorce is an accepted and common part of the culture. Traditionally, Muslim men may marry up to four women. Each wife raises her children, and her household is in charge of a specific task, such as agricultural work or tending to livestock. Polygamy is common among the Issa people, but Afar men usually have only one wife. Adult status for the Afars and Issas requires a genital operation, with or without ceremony, usually in childhood. For Afars and Issas, boys are circumcised and girls undergo clitoridectomy, a practice designed to ensure virginity.
Djiboutians respect their elders and the dignity of others. With their nomadic tradition, Djiboutians do not forge strong relationships with neighbors. Clan membership determines individual social relationships and social standing. Courage in combat also determines status for men.
Regions
Cities
See Also