Tunis
Guide for dating in Tunis helps you to meet the best girls. This dating guide gives you tips how to date Tunisian women. You will learn rules where and how to flirt with local Tunisian girls. We advise how to move from casual dating to the relationship and find the real love. We also tell the best dating sites in Tunis. In this article below you will find more information where to meet and date girls in Tunis, Tunisia.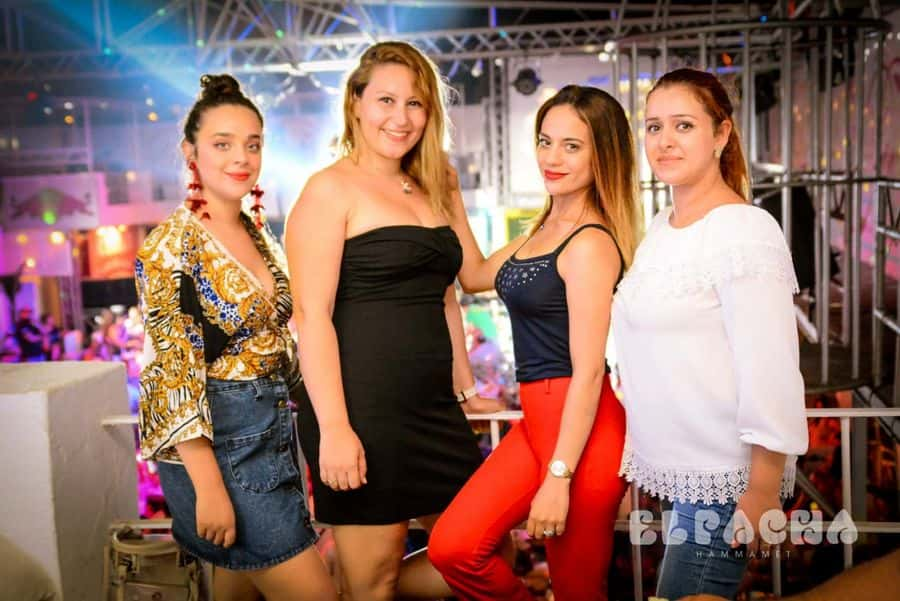 Girls in Tunis:
Education level of girls: 4 / 5
Dating in Tunis:
Chance of arranging dates: 3 / 5
Casual dating culture: 3 / 5
Online dating popularity: 4 / 5
Sex in Tunis:
Women's sexual activity: 3.5 / 5
More about Tunis:
Nightlife in general: 3 / 5
Locals' English level: 3.5 / 5
Moving around the city: 4 / 5
Budget per day: US$10 - $60
Accommodation: US$60 - $1600
Dating
Tunis, also known as Tunūs, is the capital of Tunisia. It is the country's largest city and home to over 3 million people. Places such as the Bardo National Museum, the ruins of Byrsa, Lake of Tunis, Dar Hussein, and so on serve as centers of tourism in the city.
Did I mention that the city is also home to a couple of models and actresses? Beauty in Tunis is defined by the architecture of the city and the women. The city is home to thousands of striking and romantic Arab women sure to take your breath away.
Constitutionally, Islam is the official religion of the country. You should expect that some of these women are devout and cautious in their ways to keep their sanctity and follow the rules that guide the very essence of their religion.
The women of Tunis, just like the city, are mysteriously beautiful. They possess alluring feminine figures, olive skin, dark flowing hair, and big, jet black, almond-shaped eyeballs- typical features of Arab women.
The natural curves and slender body of a woman from Tunis may send some men into the ER because they can be so sexy and hot without even making an effort. These women possess natural beauty like no other, so much that a good number of them hardly use cosmetics to amp their looks.
Due to the nature of their religion, some of the women in this city usually cover their bodies. They cloak all that exquisite beauty. Sad right? However, some of them who have been exposed to European education, lifestyle, and have built professional careers may wear body-revealing clothes.
The women that do not leave certain parts of their bodies revealed still make efforts to beautify exposed parts such as their hands. They make use of natural dyes like Henna, to paint their hands in an elegant fashion that attracts a lot of people, especially foreign men.
Their other stunning features such as the oval shape of their faces, extended nose with wide nostrils, full lips, well-defined jawlines, and full cheeks amongst others leave men in awe and completely stupefied, longing for more. The official language in Tunis is Arabic, but a good percentage of the women you will come across are English-savvy. They understand English and can speak the language fluently, so communication should not be a barrier,
Unlike the defective cultures in some other Arab countries, the women from Tunis are usually given equal opportunities in society. Patriarchy does not entirely rule the system as much as it does in some other regions, and this gives the women a sense of confidence and protection.
They get equal treatment as men when it comes to education and securing jobs, and this has contributed to the outspokenness of these women in the society. They have a say in the way the city is run, and they can take control of situations. Despite all this, these women remain loyal and cultured. They are not a rude bunch, and the idea of raising a family and working hard is not strange to them.
The majority of these women from their young ages dream of becoming models and actresses. A handful of them usually do.
Dating Culture
The topic of dating and hooking up is a very sensitive one in this city. The women are conservative, and they usually go out to have fun without planning on hooking up with anyone. In some cases, you may have to wait till marriage before getting laid, so don't even try if your stay within the city is a short one. If you are eager to get laid, try the single foreign women in the city. You are more likely to get a score with one of them early.
Tunis is a beautiful place to have fun and go sight-seeing but not so grand for hookups. With patience and persistence, however, you may be lucky to get laid. For some of them, sex and dating are topics that should not be discussed. They believe that marriage is the only feasible relationship they can be involved in as a result of their religious beliefs and standards. Call it a vintage culture, but it might as well be the only way of life they know.
A handful of them exposed to the Western lifestyle may be open to dating, but this does not mean they will be easy to get laid. These women are bold and confident enough to go out with who they want to without caring about the backlash from their friends and family.
There are, however, a few of them who do not really care about love or relationships. They go out with the intent of getting laid with strange men, no strings attached. Meeting with any of these women, however, requires you to go out to certain places such as parks, theatres, bars, nightclubs, and shopping malls. You can try to woo them at these spots and see where it takes you.
Sugar Dating
Sugar dating is one of the best ways to find a date in 2023. Men who are willing to buy gifts for sugar babies, will get physical or emotional pleasure for a return. Take a look of the wide selection of girls from SecretBenefits.
Online Dating
Dating in Tunis can be a bit tricky due to not knowing if you have a solid connection, so your best bet is to sign up for a dating site before you venture to the night club or bar, so you can meet a few locals ahead of time. AdultFriendFinder.com lets you meet local members in Tunis and get to know them on a personal basis before you meet in person. Take advantage of site features like live chat and member to member webcams so you can begin flirting before arranging a face-to-face meeting.
Webcam Dating
Feeling lonely in Tunis? Arrange a virtual date with your favorite webcam girl right now! We have thousands of hot girls online waiting for you. Visit DatingLocalGirlsLive.com!
Women
As a tourist and foreigner in the city, you carry an inexplicable and mystifying aura that is sure to get these women curious and somewhat interested in you. There are a lot of single women in Tunis, and they will undoubtedly want to go out with you.
Trying to get laid on the first date with these women will end in disappointment because these women are not cheap, and they will not be treated as sluts. Getting them to go out with you should not be hard, but you have to show them a good time for them to like you and possibly get down with you.
Tunisian women are smart and intelligent, they attend outstanding schools, and only a few of them are uneducated. These women aim to become independent of any man or family early in life. They strive from an early age to make an honest, comfortable living for themselves through modeling, acting, career jobs, trades, and so on.
As a man coming into their lives, you have to offer them something more. It could be stability, orgasm, or any other thing they cannot achieve on their own or don't possess. If you cannot offer this, they will most likely not be interested in you. These women, like many other women in the world, cherish their comfort and peace of mind, so they tend to filter out men based on the way they react to certain things.
It may not seem like it, but these women analyze the men they come across. They also talk at length with their friends about the men they meet. To get her to like you enough to get laid with you, her friends have to like you too. Try to start a conversation with them about exciting but straightforward topics. They are savvy, and will most likely go with the flow.
Getting them to go out with you on a date isn't much of a big deal, so try to go out on multiple dates with them before bringing up the topic of sex or a relationship.
Tunisian Girls (age 18 - 29)
It won't be amiss to describe this group of women as those still in school and institutions of learning like colleges and universities. These women are new in an age of independence, and they will most likely want to explore unknown terrains – one of which may include dating and sex.
Being with friends and other foreign schoolmates may influence this bunch into trying out new stuff like going out with boys. Despite this, they may still show some indifference to having sex. Some of these women may yet have their virginities intact, so the idea of sex is not just new to them but may also be terrifying, and that's where you come in. You cannot afford to come off as inexperienced, so talk confidently and maturely. Let her assured that she will be safe in your arms. Be her knight in shining armor.
They are susceptible to fall in love and go out with you at this young age, so use that opportunity to CATCH THEM YOUNG. They are prone to go out with men older than them because that gives them greater assurance of experience and maturity, when compared to men their age.
Relationships with them may be tentative. Some may suddenly decide not to be with you anymore, maybe because of peer and family pressure or for no reason at all. They may even choose to see multiple men weigh their choices, so don't expect any significant commitment from this bunch. Some, however, may be loyal and willing to be your ride or die. Cute right?
With their young bodies comes the advantage of flexibility, agility, and emotional power when it comes to sex. These women may be stern and motivated when it comes to their careers and education, so they may be distracted and not have enough time to spend with you. It's up to you to put in the effort to make it work, or you risk the chance of losing them to someone who will.
Tunisian Women (age 30 - 45)
In Tunis, with an increase in age, comes the urgency to be in a relationship most likely to lead to marriage in single women. The majority of women within this age group are either married or betrothed, so the chances of meeting a single woman within this age group are slim. Married women in this city are committed and true-hearted to their husbands and family.
They are usually busy working or taking care of their families, so they will most likely not have any time for irrelevancies. They will not commit any form of infidelity with another man, so don't even bother.
At this age, the majority of the single ones are ready to have a family. Depending on the type of woman you come across, some may be interested in casual flings, one-night stands, and whatnot. In contrast, others want a serious relationship, and anything other than that with them is not feasible.
Women in Tunis age like fine wine. Even at this age, they still don't need heavy cosmetics to look stunning. They wear fashionable designer clothes, footwear, and accessories, making them look sexy and classy.
Of course, they are more independent than women of the lower age group, and this makes them immune to societal and family pressure. They are women who are financially, physically, and mentally mature enough to take care of themselves and be in stable relationships.
These women are not shy when it comes to sex; neither are they newbies. Unlike the lower age group, this group of women knows about all there is to sex, and they do not hold back when it comes to the act.
Tunisian Ladies (age 45+)
In some cases, women at this age don't even look like it. As a result of cautious dietary habits and exercise sessions, these women look youthful and agile. There are various reasons why women in this age group may still be single. Still, it's a blessing in disguise for the foreign men in the city looking for relationships with women this age.
These women offer stability as a result of their levels of maturity. They are very open to casual flings, and they hardly ask for material things and money, because they are also groomed to become financially independent.
With the women in this city, an increase in age signifies an increase in their mysterious beauty. You will hardly find these women at nightclubs or bars; they're too old and mature for that. Shopping malls, classy events, and parties like galas, theatres, and tourist sites of monumental importance, are popular areas where you will find women like these.
You don't need to be scared of rejection when it comes to these women, even those that decline will do so without making you feel any less of a man. They are really gentle and kind, and with a little bit of charm and good vibes, you'll get them in bed in no time.
Foreign Girls (tourists, expats, students, etc.)
The vibrant African and Arabian heritage in the city of Tunis beckons to people from all over the world, with a substantial amount of these people being women. Women, by nature, love sight-seeing, traveling, and thrilling adventures. Tunis offers all these, and more so, it's no surprise that the city is always filled with hot single foreign women looking for some excitement.
These women are more often than not, interested in daring escapades and drama, one of which could be hooking up with other men in the city. Some of these foreign women may have found it difficult to express themselves in their home countries as a result of restricting laws or fear of being seen. In this new city, however, they are free to unleash the beasts in them and try out things they could not do before.
These women are free birds, and they hardly look for serious, long-lasting relationships. They understand that their visits are transient, and they have to make the most of it while they're in the city. Although the majority of these women love to hook up with the local men of the city, you can work your way through some of them and get them in your bed in no time.
You may find some of these women at museums like the Bardo National Museum, ancient remains like Byrsa, cafes, and art deco buildings like the Avenue Habib Bourguiba, parks like the Belvedere Park, and dozens of other beautiful places. These women also love the nightlife, so you will most likely come across them at bars and nightclubs.
Sex
Tunis is a place of different cultural and family backgrounds. Here you will find women who are open and confident enough to talk about views and thoughts about sex, and women who are really conservative about the topic. Virginity is held very sacred in some parts of Tunisia. Here, women have lost their virginities before their marriage are seen as incomplete and unclean.
Remember to respect the wishes this set of women, they may see passes at them as rude and an insult to their beliefs.
Male tourists have often narrated experiences about young hot Tunisian women groping them at the crouch or asking for kisses during their stay in the city. This is the nature of things in some parts of the city. The women do not care about the cultural backlash they receive from society, they are liberal women, and free to do whatever.
These women tend to try unorthodox and experimental techniques of having sex, so get ready to have a very kinky and freaky experience with these wonderful women. These women may casually kiss or make out with foreign men at clubs or parties, but they are not likely to allow them to have sex with them on the first time out together.
Getting these women to lay with you, the local women especially may prove challenging to achieve. Do not feel angry or rejected, they just love to play games and watch you fight for their love. They usually come around sooner or later.
Sex Culture
The government of Tunisia is steadily abolishing the laws which kept young women and girls oblivious of what sex stands for. The introduction of sex education in schools to enlighten these women is changing how they address and see the topic. The younger generation especially is becoming bold and confident about the topic, and they sometimes love to experiment with what they see and what they've learned.
The fact that Western culture is starting to spread and gain ground in the city exposes these young women to things that are sex-inclined. Gradually, sex is becoming less of a taboo, and in the next few years, there will be an increased percentage of free women in the city.
Despite this, there are locations in the town that requires sanctity, and the talk of sex could trigger a cascade of events that will be unfavorable. Places like their mosques are holy places given the highest regard, so freely talking about the topic of sex may come out as offensive to the locals.
Some of the women prefer being direct about the topic instead of beating about the bush. They hate it when men pretend to be interested in something other than sex. It's easy with women like these because they want what you want, and there's no hassle of trying to convince them.
As much as they are free about the topic, they do not like being labeled as hoes. So do not think it will be in any way easy to get laid with anyone of these women, especially the locals. Sex between foreign men and local women occurs occasionally, and it is not much of a big deal in this city, so be ready for a wild ride. No laws are preventing premarital relations in the city, meaning you can hook up with any woman who is willing without any fear of going against the law.
One-Night Stands
It is imperative to know that Tunisian women generally are not likely to have one night stands. You have a better chance of swimming through the Mediterranean Sea and making it out alive and dry than getting a Tunisian woman to sleep with you on the first time of meeting her. You have a better chance of trying the single women that come to the city as tourists. Foreign women are free-spirited people that are more likely to engage in "sexcapades."
It may be easy to make out with the local women due to the mood nightclubs set. However, getting them to go back to your place that same night is usually a Herculean task, even with the most vivacious of them. A lot of them prefer getting to know you by going out on multiple dates before getting down with you. They definitely will not make it easy for you.
You will hardly find women above the age of 30 at nightclubs and bars during weekday nights. These women turn up at weekend nights and are more likely to get down with you than the younger ladies. Your main target should be the older ladies. An added advantage is that the older women usually have their own apartments, meaning you could just head to their place to have some of the most fabulous nights of your life.
Best Places to Meet Single Girls
Wondering where the best locations to meet hot, single women in the city of Tunis are? Well, it's almost the same as every beautiful city in the world – nightclubs, bars, and shopping malls. Nightclubs and bars, of course, are the nightlife of the city. They are places where you will meet the most romantic and sensual women in the city.
These women are usually there to have fun, so you can also tap into their fun realms and vibe with them, add a little bit of charm, and maybe they will go out with you a second time and afterward get laid with you. It's worth a try.
When a foreign man tries to talk to a Tunisian lady during the day, it shows a boatload of confidence on the part of the man. Actions like that turn these women on. They are suddenly intrigued and interested in what you have to say to them. It's up to you to be calm and be on your best form to get her permanently captivated. The ball's in your court. Don't drop it! You will find places where you can find single Tunisian women during the day and night in the sections below.
Bars, Pubs and Nightclubs
The influx of hot women into nightclubs and bars is unprecedented, and the turn-up peaks during weekends. Both local and foreign women from all corners of the city troop into nightclubs to unwind and be free to express themselves in an environment where they will not be judged. Discotheques (nightclubs) provide the perfect conditions for intimate and sexual relations between men and women, and they are the ideal place to visit to meet sensual women.
Some of these bars and nightclubs will be discussed below:
Kino Club: It is the maiden ciné-café in the whole of Tunisia, and the club is known to attract artistic young men and women. Here, you are likely to come across eccentric and classy women with a tinge of cryptic characters that are sure to catch your eye. The nightclub offers regular comedy shows, live band performances, karaoke nights, drinks, and some other side attractions. It is definitely worth the hype.
Le Plaza: This a restaurant/bar located in La Marsa, Tunis. It is a sure place to attract a lot of women because of the simplicity of its architecture. They provide tasty food and good drinks at unbelievable prices. You should definitely check it out.
Le Boeuf Sur le Toit: A lively venue bubbling with both local and foreign women from the city. They offer live band and DJ music, dim lights, and dance floors for people to showcase their dancing steps. They also provide traditional Tunisian cuisines with drinks to go along.
Bar Jamaica: Strategically placed on the 10th floor of the El-Hana Hotel, this exquisite bar offers a casual atmosphere with soothing pop music playing in the background. You are sure to come across a lot of single women here, so keep your eyes peeled.
JFK Bar: This bar holds the reputation of being one of the loveliest places to have drinks and eat good food in the city. Single women come here to buy food, especially in the evenings. You may approach politely by offering to pay for a meal for the both of you.
Marenga Club: Located in downtown Tunis, is this casual bar that offers a pure atmosphere, one which is sure to attract women. This bar/club is one of many places where you are sure to come across hot, sexy women in Tunis.
Bar L'Avenue: This is a major hosting center for parties and events, making it a giant magnet for foreign and local women. Without a doubt, Bar L'Avenue is one of the places in Tunis to find the best single women.
Bar Lido: Looking for one of the best spots to relax and meet hot single women near Rue Charle de Gaulle in Tunis? Look no further as Bar Lido has you covered. This popular pub provides live music, great food and of course, sensual women that are sure to blow your mind.
Le Carpe Diem: Famous for its serene and peaceful vibes, Le Capre Diem is one of those spots in Tunis where you can talk to women at length with no distractions. They offer sushi as one of their special offers as well as drinks and live music.
Le Comptoire de Tunis: Here, we have a restaurant/bar that offers late-night food and exotic cocktails. As a result of its elegant architecture and design, this spot attracts mainly the rich foreign women of the city. You are definitely in luck if you get to score one with a woman from this spot.
Fridar Bar: This fancy spot near Kasbah square combines the functions of a bar and a restaurant. They specialize in live music and tapas – small Spanish tasty dishes, usually served with exotic drinks and alcohol.
Shopping Malls
If you play your cards right, you may find shopping malls to be a comfortable place to find single hot women in the city of Tunis during the day. Women usually visit shopping malls to pick up groceries, or to shop for their personal accessories.
Many women who go shopping in Tunis do so by themselves, making it easier to approach them and create an excellent relationship. Caution must be applied while doing this, though, because some of these women may be uninterested, and pestering them could lead to public embarrassment for you. Learn to respect their wishes and boundaries.
An added advantage is that being a man in a shopping mall where there are mostly women makes you stand out. This makes them notice you and check you out even before you approach them.
Examples of popular shopping malls where you may find hot, single women in Tunis include:
Outdoors
Apart from the nightclubs, bars, and shopping malls, there are other locations where foreign men may randomly come across single women in the city of Tunis. Streets in Tunis such as Avenue Habib Bourgiba, Esplanade Gambetta, and Avenue Mohammed V (Tunis) are renowned spots of relaxation. Women are known to visit these places to enjoy scenic beauty, which is a standard feature of these places. In the evenings, the calm atmosphere combined with the yellowish-red sunset and the cool gentle breeze set an atmosphere of love and passion. Cupid probably resides in one of these places.
The Tunis Nippon Garden is also a likely area to find single women. It is regarded as a legendary garden and one of the best places to visit in Tunis. It is a clean, beautiful, calm, and romantic domain sure to set the right mood for taking shots at the women. A lot of people visit this garden/park to de-stress and take long evening walks.
Other places like the Tunis port, Dar Hussein, and the National Museum of Art are likely places to meet single women of your desires. To be able to catch the attention of the local and foreign women in Tunis, create relationships with the local men of the city. Once these women identify you as a free bird and someone willing to talk, they might even walk up to you and offer to speak with you first. Jackpot!
The aura of familiarity with other people in the city is a very potent charm in getting these women to let down their sometimes uptight nature, so put it into maximum use. Just don't make them think you're a serial killer, megalomaniac, or anyone with the potential to hurt them.
Being in close contact with the local men of Tunis has to be done with utmost care and caution because a certain number of them do not like foreign men. They believe foreign men do not deserve to live within the city because they lust and defile their women. Just don't make them think you're a serial killer, megalomaniac, or anyone with the potential to hurt them.
Resonate with friendly vibes to the people of the city, show these women that you are a cheerful soul, and they will have no reason to be scared to be around you.
Take a tour of the land, there's more to it than what meets the eye. Look in the right places, and you will surely find women who are willing to do your bidding.
Universities and Colleges
These are the two most likely places to find young, alluring, and single women in Tunis. As much as these women love to party and enjoy life, they also cherish their education. Universities and colleges in Tunis provide a diversity of women to choose from. Here, you will find both young and mature single women, ready for casual flings or serious relationships. You will not only find students here, but you will also find lecturers and other non-academic female staff of the institutions.
Universities and Colleges usually have hotspots like gardens, parks, and cafeterias where you can easily find young girls and start interesting conversations with them. For the ladies that are students, their education is the most essential thing for them at the moment. Any other stuff, such as relationships, might be deemed temporary, so expect some loyalty issues.
A norm in these institutions is the organization of parties and hangouts where they all get to have fun, meet new people, and create new friends. This is the perfect avenue for you to shoot your shot. Attend any of these events, blend in perfectly, and make your move. Try it out, and you won't regret that you did.
Knowing when and how to approach this unique set of ladies is very important in getting them to start to like you. As educated ladies, they will not give their time to a man they perceive as crude and barbaric. So choose your words and clothes carefully before approaching them because women in these institutions will treat you according to the way you look and talk.
Do not completely rule out any of the stated universities, we often find what we are looking for in the most unlikely places.
Some of the renowned universities and colleges where you can find young, single ladies in Tunis include:
Ez-Zitouna University, Tunis
Université Tunis Carthage
Tunisia Private University
Mahmoud el Materi University, Tunis
Relationship
The relationship experience in Tunis may vary based on the cultural and family background of the woman you're planning to be with. Conservative and traditional women love to take their men to their families for them to give consent; however, relationships in this case frown at premarital sex.
For the more liberal and free women in Tunis, they love to show off their men to their friends. They discuss relationships and sex a lot with their friends, seeking insights and crazy advice. These friends play a vital role in your relationships because they influence your woman. Offer to take them all out, pay for a ladies-only night out, be courteous, and treat them properly.
For your relationship to bloom like a Marigold flower all summer, you have to be friendly with her friends. Although this sounds very unconventional, it is what it is. Because these women love to show their men off to the world, they make sure that they choose the best. To keep a relationship with a woman in Tunis, you have to be charming and presentable in your words, looks, and personality generally.
Another tip to make relationships work with these women is to give them experiences that they will never forget. Take them hiking, boat riding, eat at fancy restaurants and go to the beach. Both foreign and local women in this city love adventures, and as their partners, you cannot afford to be boring. Let them know that whenever they are with you, they usually have great and unforgettable moments, and this will surely get them to come back to you for more.
It is usual practice for couples in serious relationships within the city to live in the same apartments. This fosters better knowledge and understanding between couples, and it is an excellent prescription for creating solid relationships in the city. The experience also prepares them for family life in case they decide to get married and have kids.
Holiday Romance
This form of relationship is typical in the foreign women that visit the city. They are only in the town for a short time to catch a cruise, have fun, participate in daring escapades, and of course, try out other men in the city. You can use this to your advantage. In cases like these, you can be direct about your intentions. It's probably what they're also interested in, so why not just make an attempt. Who knows? You might run into some luck.
Holiday romance in the city of Tunis is an experience that will be embroidered into your persona. If you're not careful, you may find yourself unable to part with the experience. Sometimes the city is mysterious, other times, simple and in some cases, the state of the town is inexplicable. This sort of environment creates an incomparable tenderness that you simply just can't explain, and it makes Tunis one of the best cities to experience holiday romance.
For holiday romance with the local women, try online dating sites. Yes! Online dating sites. These platforms make holiday romance easy to come by. Create a profile that states you're up for only short-time love or find other women interested in the same, and BOOM! You're already in business. Here, even the conservative women become free to express themselves without restrictions, and from there, you can make arrangements to meet up and hook up. It's that simple.
You can never go wrong with holiday romance. This is because you can either end up having the best transient relationship of your life or develop genuine feelings for your partner and decide to remain together forever. The perfect fantasy!
Tips for Successful Relationship
Craving and wanting to build a stable, successful relationship is one thing that almost every living thing on earth feels. Plants, insects, animals, and even microorganisms feel the need to have relations to grow, survive, and procreate. However, the dynamics of having a stable relationship are not so simple, and in some cases, may take extra effort from both parties.
A successful relationship is not necessarily one that is full of only happiness, parties, and joyful moments but one that has lasted through thick and thin. Successful relationships are built on the premise of honesty, trust, and of course, patience. Success in relationships is not easily achieved in most cases. Still, when it is eventually attained, the feeling is the best in the world.
The following are some tips on how to foster a good relationship and build a solid one that will stand the test of time:
Be a good listener: Listening begets understanding between couples. Don't talk all the time. Let your partner also pour out her feelings, stress, and happy moments to you, over time, you will learn to understand.
Be engaging: Women are intrigued by interesting men. These men tend to have more experience or know more than them, so they love to learn from them. They also like to have adventures, so be adventurous too. Do not be unimaginative with your relationship. Have surprise date nights, serve her breakfast in bed. Women love all those stuff, and it makes them stay.
Be supportive: You cannot allow another man to be your woman's biggest fan. Motivate and stand by her in her weakest moments. Appreciate them when they achieve something no matter how small. Be her strength.
Love
Tunis is the home of romance; the cradle of exciting and sensual feelings between men and women with apparently intertwined destinies. It is the haven of pleasure and attraction amid great music, pleasant atmosphere, stunning women, and of course, beautiful spots to romance.
If you're on a quest for love, romance, sex, and pleasure, then the city is the best place to find it. You may find love in the stylish cafes and restaurants, on the beautifully decorated streets or at exclusive parties. Here, love does not feel like self-immolation. Relationships aren't going to hold you back in the quest to enjoy your short visit to the city, and dating is not an awful experience. Instead, it is an ecstatic feeling, one that will last you a lifetime.
How to Make Sure She Is the One
When humans fall in love, we start feeling what our beloved feels. Their sadness becomes ours, the same as their happiness. Loving someone means wanting to understand and know her. It means trying to make her laugh by cracking jokes or making funny faces. If you genuinely love her, you become interested in what makes her happy, how her day goes, how well she sleeps, and so on. You suddenly find yourself forgetting about your previous love episodes because, with this particular person, no one else matters, and no one else is comparable.
Her boring jokes make you laugh, you think about her, want to spend more time with her, and even make silly excuses for her shortcomings. The most shocking thing is that while reading this section, a particular name has been ringing in your head. Well, I'm here to tell you that your heart has been stolen, and you've been smitten by Cupid, the god of desire, attraction, and affection.
Marriage
Until 2017, any non-Muslim foreigner interested in marrying a Muslim Tunisian had to convert to Islam and submit a certificate of conversion before they could get married. But now, that condition has been constitutionally abolished by the government. The marriage process is now a smooth one, even for marriages involving foreigners.
Wedding
In Tunisia, weddings are regarded as a paramount occasion in an individual's life, and their preparation usually takes an extended period. This is because traditionally, a marriage lasts for a whopping 7 days in Tunisia. Yes! You read it right the first time; 7 good days.
Today, young couples are tending to bring a fresh touch to their wedding, but they still continue to be fond of this tradition. For each day of the week of the wedding, there's a special ceremony which will be about love birds. Years ago, the bride had to wear 7 different attires and accessories, the story has changed now.
For the first day, all the women of the family prepare the bride's trousseau and iron all her clothes. On the next day, the women unpack all the bride's trousseau in her new house and help her take care of it.
The third day is wholly dedicated to the bride, and it's what is called the "hammam" day. The mother, sisters, and friends of the bride form a musical procession on their way to the hammam. On this big day, all the ladies tend to the bride amidst the festive and joyful atmosphere. At the end of the day, the bride looks pretty with her glowing and glossy skin, prepared for the most fulfilling day of her life.
The fourth day is a momentous day; the henna ceremony. According to the Tunisian tradition, Henna brings luck and happiness to the bride in her new life. During the ceremony, a member of the family (typically an old woman) puts some henna paste on different parts of the bride's body. Afterward comes the "harkous" ceremony, the day after. During this ceremony, the same old woman decorates the bride's body with different beautiful designs (flowers, butterflies, etc.).
On the sixth day, the bride is finally ready for her "outia"; an official Tunisian ceremony dedicated to the bride. During this ceremony, the bride and her guests wear their beautiful oriental and traditional outfits. Although it's a women's party, in some cases the groom and a few members of his family join the bride. The seventh day is clearly the most important. After an entire week of festivities, the bride and the groom get married. This is marked with a huge celebration where all family and friends receive invitations to share the couple's happiness.
Family Life
Typical households in Tunis comprises parents and their children only. Finding grandparents, aunts, uncles, or cousins living in the same house is a once in a blue moon occurrence unless the family lives in the countryside. Families in Tunisia tend to designate household responsibilities along gender lines in which most mothers are skilled for the household, and fathers are more responsible for the finances of the home. Fathers usually have the authority on most occasions, but mothers do intervene if necessary. Families typically eat their meals together and consider this valuable family time.
See Also