Johannesburg
Guide for dating in Johannesburg helps you to meet the best girls. This dating guide gives you tips how to date South African women. You will learn rules where and how to flirt with local South African girls. We advise how to move from casual dating to the relationship and find the real love. We also tell the best dating sites in Johannesburg. In this article below you will find more information where to meet and date girls in Johannesburg, South Africa.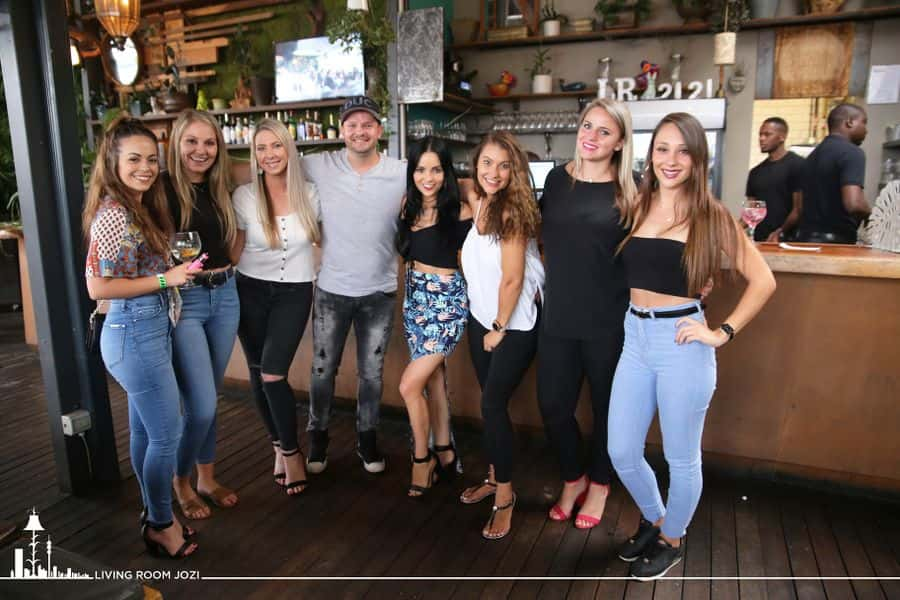 Girls in Johannesburg:
Attitude of girls: 3.5 / 5
Education level of girls: 4 / 5
Dating in Johannesburg:
Chance of arranging dates: 3 / 5
Casual dating culture: 3 / 5
Online dating popularity: 3.5 / 5
Sex in Johannesburg:
Women's sexual activity: 3 / 5
More about Johannesburg:
Nightlife in general: 4 / 5
Locals' English level: 4.5 / 5
Moving around the city: 4 / 5
Budget per day: US$50 - $500
Accommodation: US$30 - $XX400
Dating
South African girls are extremely pretty. Perhaps the thing that allures most men is the variety on offer. You have a multitude of ethnicities crammed into one city, allowing one to taste the rainbow without travelling too much. If a steady relationship is what you're after, most people would agree that South African women are about as homely as they come.
The culture centres around family. Even with the hustle and bustle of Africa's richest city, people still enjoy getting together and the prospects of finding love. Besides that, once the holidays come around, the beaches of Cape Town or Durban are only a short flight away.
Johannesburg is probably the most western city in all of Africa. Parts of Cape Town rival, but there is no beating the growing economic aspect of the city. It is a major export hub, home to many multi-national firms as well as impressive schools and universities.
Dating Culture
Western influence and media have changed the culture quite a bit over the last twenty years or so. South Africa has remained a mostly Christian nation with many conservative values governing the way people interact with each other.
It was once expected for a girl not to date liberally, rather only courting at a time when she wants to get married. Sex outside of marriage was extremely taboo. It still is in a couple of cultures, such as the more rural Afrikaans.
With that being said, most people now allow for casual dating and the culture has moved more in line of any other western cities. Most young people look for casual relationships and look to settle down sometime closer to their thirties.
Online Dating
Dating in Johannesburg can be a bit tricky due to not knowing if you have a solid connection, so your best bet is to sign up for a dating site before you venture to the night club or bar, so you can meet a few locals ahead of time. AdultFriendFinder.com lets you meet local members in Johannesburg and get to know them on a personal basis before you meet in person. Take advantage of site features like live chat and member to member webcams so you can begin flirting before arranging a face-to-face meeting.
Women
The general culture is both shifting and converging, as business forces most people to connect. Thus, English is becoming more of a norm across cultures. The shift is taking place as South Africa moves further towards a liberal worldview. More people are open to leaving behind the conservative nature of their parents with matters such as dressing, family and, most importantly in this case, sex.
In the past, short-term relationships were looked at with disgust. Furthermore, women were viewed as houseworkers and bearers of children. Today, many women proudly enter the workforce as South Africa moves towards more and more women resisting controlling values.
This does mean that many women are busy. Whether in the workforce or at university, you may have to be on the lookout during the weekend, as most people fall into the fast-paced lifestyle that the city demands. However, this has not changed the fact that most South African women are gems. It is a culture that loves to laugh, enjoys the glass of wine and the company of friends.
Women also tend to take the relationship seriously, as family remains a cornerstone of the South African society. If you find the right one, she may definitely be marriage material.
South African Girls (age 18 - 29)
This segment is the one that is usually considered the most attractive part of females. Johannesburg has a lot of these girls, as the amount of young students and professionals continues to grow thanks to two great universities and a city with high-paying jobs to match.
This also happens to be the age range most likely to get involved in flings or short-term relationships, especially university girls who go out partying every weekend. These girls are also more liberal when it comes to sex. The older ranges still have a more conservative viewpoint – generally speaking – making sex a taboo topic.
By the time women reach the age of 25/26, they are usually looking to enter a serious relationship. Younger girls tend to be looking for short-term fun, which is often a complaint of South African men. Many brothers get played around each year by a university girl who doesn't quite know what she wants. However, if you are looking to settle down with a partner, girls over the age of 25 are the most likely options.
South African Women (age 30 - 45)
This is a tricky age range to deal with. You are either going for a career woman who hasn't married yet or a divorced woman. Some woman are even looking for extra-marital affairs – not something you should get involved in. It may be fun, but it's a hassle.
There are upsides in such a scenario. Most women in this range come with experience, a thing her younger counterparts may lack. It can be fun for a fling or a hookup, and there is more than enough demand for it.
South African Ladies (age 45+)
Divorce due to a variety of reasons is common. However, these women will probably want to be discreet about their operations, since their immediate friendship and family circles may not approve of it. Your relationship will most likely be a secret and short term.
You may have to deal with a number of old-fashioned traditions, but in many ways a relationship with an older woman may be the most stress-free arrangement you can find. Most of them know exactly what they want, so you get the benefits without the game of some of the younger girls.
Head to Tinder, Bumble or Badoo. It's probably the easiest way to meet single older women in Johannesburg. Trust me, it's way better than walking up to a woman in the mall and getting a punch from her husband.
Foreign Girls (tourists, expats, students, etc.)
Johannesburg is not the number one destination for foreigners in South Africa. Cape Town and Durban are usually busier during tourist season because of the ocean and other natural sights. However, there are still a few around. Some even come for business reasons or an exchange programme at one of the universities. Tinder is probably a good first bet. Otherwise take your chances at malls, pubs, bars and clubs.
Sex
Due to the many cultural differences in the city, it isn't always easy to give a simple answer on the matter. Race, religion and area of residence change the experience completely. Sometimes, it's like having sex with a different nationality entirely. However, there are still a few generalizations to be made. There are exceptions to these, but for the most part, they tend to be true.
Mixed Race (coloured) girls – You never know what you are going to get. Coloured girls are well known to be the best in bed. They are passionate lovers who can get pretty kinky behind closed doors. However, they can also be crazy. Furthermore, there doesn't seem to be an average coloured girl; you either get them really pretty or downright manly.
White Girls – White girls are descended from two nations, Brits and Dutch. Those who speak English as their first language are more than likely the former and Afrikaans girls make up the latter. English girls are known to be a bit boring in the sack, while Afrikaans girls are considered right up there. Generally speaking. Afrikaans girls are known to be the hotter of the two as well.
Black Girls – Black girls in Johannesburg are the hottest in the country. In other cities, there is a huge clash in culture which makes relating quite difficult most of the time. However, Johannesburg is home to smart, Beyoncé-looking who are keen on a good time – especially the students.
Indian Girls – Johannesburg, much like Durban although not as densely populated – is also home to a large Indian community. To be fair, many of these girls are below the 5/10 mark, not to mention some crazy cultural differences. However, you do get some real stunners who usually come from well off families.
Sex Culture
Sex was once an extremely taboo topic due to a largely Christian heritage. However, the last twenty years has seen a more liberal revolution of thought, where most people are pretty open about their sexuality and the expressions thereof.
You may still find that some girls will take time warming up to you, and you may have to play the long game. This will be particularly true if she has religious views. However, most girls enjoy sex and the natural outworking of attraction. Be open about your expectations and patient with her if she says that she wants to take it slowly. Experience dictates that less pressure often means that you get to the bedroom sooner.
One-Night Stands
Hookups have become increasingly popular for younger generations; however, it is still considered a bit taboo in some circles. The nation has a long history of Christian influence, and with that comes the expectation that girls are supposed to remain virgins until they are married. This has created a lot of societal pressure, which is why most girls wait for at least 3 – 4 dates before having such.
Despite this, you will probably have some luck with hookups, especially if you go out clubbing and rent a place close by. It's all about making the girl feel comfortable and riding the attraction all the way to the bedroom.
If that still doesn't work, you can probably find a girl online through a popular dating up such as Tinder. Just be careful you don't get scammed and always, always wrap it up. HIV is no joke in Africa!
Best Places to Meet Single Girls
Johannesburg is a heavily urbanized destination, which has some pros and cons for you to look out for. The first rule when looking to approach a girl is to ensure that it is in a safe environment. As many muggings and crime occurs on the streets, you should probably choose indoor environments as your target location. This leaves some obvious conclusions to be drawn.
Malls are great for meeting girls during the day. For the average Joe, there is not much to do outdoors. Thus, once the weekend comes around and people get off from University/ work, the malls are usually ripe locations for meeting people. If you approach it with a bit of tact, girls are open to having conversations with strangers. However, almost all of them will not just go off with you for a date (again, a crime thing). Be happy with getting numbers and move from there. Arrange a date sometimes thereafter over the phone.
Bars and Clubs – Probably the best physical place to meet girls. A night out presents a heap of opportunity if you have the charm to do it. Ensure that you dress well. It is something that may put you ahead of the competition, as lots of girls actually complain that the local men underdress. A nice shirt and trousers will do you good. Make eye contact. Smile These two actions unlock the door. You can't go around the club talking to every girl, but you can smile in their direction. If you receive a smile back, it may be time to approach. See the list of clubs for the best ones.
Online dating is a huge thing in Johannesburg, especially amongst the younger generations. It is still probably the best bet for meeting single girls in the area. Tinder, Badoo and Bumble are the most popular in Johannesburg. Adult friend finder is worth a try for a hookup, but it can be dodgy due to all the weirdos. Step up your swiping game, get some matches and go for a date as soon as possible.
Bars, Pubs and Nightclubs
South Africans love alcohol and the party culture is very much alive. The locals, 'Joburgers' as they are called, always look to blow off some steam. As a result, the clubs and bars are usually packed. The weekend starts on Thursdays. You probably won't find much life on other days of the week. However once the weekend rolls around, students start coming out of their shells on a Thursday night and young professionals only start the party on Friday or Saturday night. Needless to say, there is more than enough party to keep the vibe going until early morning.
Best bars in Johannesburg:
Sir James Van Der Merwe – Decorated with a 1950s retro charm, this bar is packed to capacity. It is a great gaming ground, as young people from all over use it as a social gathering point. It isn't too pricy and single people have been known to gravitate towards the 'watering hole'. Sadly, it is only open on a Wednesday night. Don't miss out!
Living Room – Socialization is the word that comes to mind when thinking about this bar. It is an easy, laidback location where people come to relax and have a good time with their friends. Introductions are never difficult to make, as most girls tend to be in a pretty chilled mood.
Churchill's Bar – Churchill's bar is an upmarket lounge, dining destination and bar. It can be found in the upmarket Sandton, where many people look to grab a tasty cocktail before heading out. The scenery is superb, but not really the place you would go to meet girls, more of a date location.
Great Dane - located in the inner city, this bar has long been a staple of the local's alcoholic diet. The food is decent and when night time comes around, there is usually a DJ. It isn't really a clubby location, so you would probably use it as a great pre-drinks spot or a way to meet women in a chilled environment.
Crafter's Rooftop Bar – South Africa has many niche brands of beer, resulting from microbrewers and a sheer will to create new and innovative flavours. Crafter's is a great place to try something different, which is why it has become a local favourite.
Skye Bar – Upmarket with gorgeous décor and sparkling chandeliers. As would be expected, this top-of-the-range bar is located in the skyline of Sandton. While their cocktails may be a bit pricy, the flavours will blow you away.
Best Clubs in Johannesburg:
Soiree – An electric atmosphere combined with pumping EDM numbers and a crowd that is always ready to rave.
Booth – Another favourite of the Sandton faithful. This club is always full when tit comes to the weekend. The drinks specials aren't bad, which means that it targets students. If you are keen on a night of hooking up, this is the club for you.
Taboo - Party central. Taboo is a multi-levelled night club in the heart of the financial district. It features famous DJs on occasion and the resident DJ sets are always spectacular. Needless to say that the owners really splash out on the décor, speakers and lighting. It is a great club, but it does get a bit pricy at times.
Randlords – only open for events. Landlords is one of the most exclusive clubs in the city, and a great addition to the wealthy Sandton skyline. Be on the lookout for advertisements. This club only opens once a fortnight or so.
Madison Avenue – one of the best night club chains in the country. The Madison management have studied the science of party and the results have been successful. Each weekend is a festival indoors, as thousands of students and young professionals flock to the dance floor. In terms of mass opportunity, Madison may be the best bet. It isn't outrageously expensive like some of the Sandton hotspots but still offers every bit of fun.
A few other clubs worthy of mention:
Top Tip: The first Thursday of every month is known as 'First Thursdays'. During First Thursdays, most bars and clubs offer drinks specials, sometimes as little as 50c a shot. The more upmarket clubs are likely to have two-for-one drink specials or one free drink with entry.
Shopping Malls
As already explained, people seem to love the mall. It provides a meeting point as well as a shopping venue. The malls in Johannesburg are much like any first world city, but they have the added benefit of a captivated audience since there isn't much else for the locals to do during the day. Thus, you want to use the mall to your advantage. It's a place to expand your network, talk to a few girls and start taking down numbers. If you rely on charm and making a good impression in person rather than through the phone, the mall is probably the best place bar clubs and bars.
Try the following malls the next time you are in Johannesburg:
Sandon City Mall – Sandton has a reputation as a playground for the wealthy. It is the richest square mile in Africa, and you will find upmarket apartments scattered between law firms and investment banks. Think of it as South Africa's Wall Street, as it is the physical location of the stock market and a place for the wealthy to flaunt their cash. Well, such a place would need a mall to match – a place to see and be seen. Sandton City Mall fulfils this role. It's a great place to meet local and foreign girls, of all ages too. The restaurants are great. Plus, crime is not as much of a worry, so feel free to walk outside and take in the hustle and bustle.
Westgate Mall – One of the largest malls in the whole of Africa. You can find pretty much anything here, and many of the locals visit the mall as a form of pastime. There is even an arena where international artists perform. Besides the restaurants, sports stars and supermarkets, you can get an ice cream, go ice skating, visit a world-class cinema and more. These attractions provide the perfect platform to scout out girls and at least bag a number or two.
Eastgate Mall – Same experience and Westgate Mall, but just on the other side of town. Again, the sheer size of the mall and the pastimes on offer bring a large crowd, especially when the weekend comes around. Use your game, approach girls, remain respectful and whatever you do… don't stare. If you find a girl attractive, make eye contact and if the result is positive, start talking to her.
Northgate Mall – While it may not be as large as its cousins, Northgate does have the advantage of being in a more upmarket area. This often means better shops and, at least in South Africa, better looking girls. You will find more expensive stores at Northgate Mall, including designer clothing and extravagant restaurants.
Cresta Shopping Centre – Located in the North-West suburbs, most people actually find Cresta to be surprisingly classy. It doesn't draw as much feet as the rest of the big malls, but it is still in the top ten largest malls on the continent and it has a lot to offer. From casinos, hotels nearby, restaurants and a plethora of chain stores, Cresta does get the traffic in. If you happen to be on the hunt for women aged 30+, this mall is not a bad choice at all.
Gold Reef City – More than a mall: casino, amusement park, concert arena, hotel, water park and golf destination. Gold Reef city attracts thousands of tourists and locals each year looking for a day off or an extended holiday. This can be a gold mine for meeting girls if you play your cards right. There is even an artificial beach with a wave machine. The best time to game is when the other person is relaxed.
Outdoors
Johannesburg is a bustling city. Most people tend to stick to indoor activities such as going to the mall or restaurants. However, if you are willing to drive for half an hour, you have access to heaps of fun. The main reason why people tend to stay indoors is because of the crime. Bar super safe, wealthy areas such as Sandton, you will rarely see people jogging or walking. Fear not! Here is a list of activities to get rid of the cabin fever and maybe a few interesting date ideas, too.
Safaris – One of the more popular thing for any tourist to do. As Johannesburg is just a few hours away from the famous Kruger National Park, there are lots of safari options. You do not have to pay to travel far; most safari companies will offer a day package, and you can see lions, lots of buck, zebra, cheetahs, elephants, rhinos and more in just one day.
Hot air Balloon – Although a bit pricy, these trips are special. It becomes even more magical when you travel over a wildlife reserve, turning a hot air balloon into a first-class National Geographic viewing.
Ziplines – This can be a fun first date idea, depending on whether your date has a love for adrenaline or not. If not for a date, it is still well worth the money, as there are a few companies who have managed to build a few extreme zip lines.
Gardens – Due to the dense urbanization, the government has built a few parks around the city. Stick to the parks in Sandton and the surrounding northern part of the city. Not only is it safer, but these parks are ten times better.
Soweto Tours – The historical significance of these tours is something that can be felt within the soul. Discover the very house where Nelson Mandela grew up whilst experiencing South Africa's fight for freedom through the lens of the oppressed during the apartheid era. Soweto is a large informal settlement, where many of the current heroes of the nation grew up. It's not to be missed.
Golf – South Africa has produced a few champion golfers, none more famed than Gary Player himself. It's not difficult to see why, as Johannesburg is home to a few famous courses, which would enthral any lover of the sport.
Sports Matches – South Africans love sport and there is an immense amount of pride for all athletes (well except football). Experience the hype by visiting a rugby, cricket or tennis match. Stadiums like Loftus or the Wanderers always have good food and alcohol in abundance. They aren't bad places to scout for girls, too.
Universities and Colleges
Johannesburg is one of the sources of pride in the nation when it comes to academics. It has two universities which have trained some of the most powerful names in Africa, including Nelson Mandela, Oliver Tambo and Aaron Klug (the first South African to win a Nobel Prize). Both of these universities have a fantastic reputation, which means that there are thousands of students on campus each day – an opportunity to meet women, some may say…
Wits University – located in the more affluent northern parts of Johannesburg, Wits has over 40,000 students. It is widely considered the best business school in the country, so it attracts many foreign exchange students as well as local learners. The campus is really picturesque, and you can stroll around the area without interference. Wits has created something of a town around its main campus, making it an ideal spot to meet women. Student girls are probably the most friendly and open to new experiences. Use this to your advantage.
University of Johannesburg - It is one of the top universities in the city. You will find plenty of foreign students studying here as well. You can hang around the plenty of cafes around the area.
Relationship
South Africa as a whole has many beautiful girls. One trip to the mall and you will find yourself spellbound with the amount of talent on offer. Not only that, but each ethnic group seems to have 10s within them. For example, mixed race girls have the light-eyed, curvaceous bombshell, black woman have light-skinned curvy goddess and white women have the Afrikaans girls. Even Indian and Arab women have hot varieties.
As just stated, South Africa is a melting pot of cultures, where each brings a different flavour to the table. Thus, you cannot take a blanket approach to the matter of dating. It's more of a learning process, where you take things step by step with your partner.
With that being said, there is enough resemblance to a western life in the economy. Overall, the lifestyle is pretty adjacent to most western cities, thanks to a huge influence from British and Dutch colonists. Career does take a priority in the lifestyle of most people. This, unfortunately, includes things like sitting in traffic and less time for family.
Entering into a new culture is strange at first, but one thing that helps most South Africans, especially those couples who come from different backgrounds, is the ability to form a distinct culture within their relationship. Again, this starts with open communication and a willingness to make the love work.
Holiday Romance
Holiday romances are to be found if you know where to look. More often than not, it is reserved for the younger demographic but there are a few milfs around who are also looking for a no-strings-attached holiday rumpus.
The first thing to do is to get online. Dating apps such as Tinder and Bumble offer enough women to chat up before you connect one that piques your interest. This is a model followed by hundreds of holiday makers every year. Just be sure to include the university regions in your radius.
Alternatively, you can head to a club or bar and proceed with pickup gaming. Looking for a one night stand may lead to attractions that extend beyond one night. Besides, it isn't like it's not fun. As always, keep the communication open regarding exactly what you both want out of the relationship.
Tips for Successful Relationship
Firstly, you will have to make sure to account for differences in culture. This guide is littered with explanations on culture, but it cannot be overstated. Your experience of the country can be completely different depending on which cultural lens you view it through. To solve this potential problem, you will need open lines of communication.
Second, South Africa is still a relatively conservative nation. A factor where this plays out is in the family structure of most households. Never, never neglect her family. Getting her family to like you is an important step in the early stages of your relationship, as both the mom and dad usually have a lot of respect in the eyes of their children. This is true for every culture in South Africa. Some cultures may take it a bit far, not allowing their daughters to date until a certain age. Also, these parents may require that you speak to them before asking their daughter out. Be sure to bring this up with the girl if you are thinking about making things official.
As will be seen in other sections, finances play a huge role in determining your quality of life. In south Africa, there is still a fair amount of classism. People tend to stick to their socio-economic brackets. While it may be a bad thing, it does have very real consequences. Physical safety is directly tied with the neighbourhood you live in. This doesn't refer to petty crime. Rather it is the difference between getting caught in the crossfires of a gang war and living in a lush suburb with kids riding their bicycles while horse riders gallop by. Thus, relationships are often broken by a lack of finances and money is the leading cause of divorce in the country.
Lastly, any South African woman loves being paid attention in the form of time. The city life can be fast paced at times and it can lead to life rushing by before you even know it. Be sure to plan out dates in advance. Sometimes, it is as simple as going for a coffee date once in a while.
Love
There is a great variety that exists in South Africa. Many different views concerning love are out there in the city. It all depends on who you speak to and the particular culture and upbringing of that person.
Christianity has a strong presence in the country, making a lot of women conservative in nature. A large percentage of women look forward to raising a family while the husband provides. This very traditional view of gender roles is decreasing in stature but is still present. To them, love is playing the role of a housewife and serving a husband. This is particularly strong in the religious sector, including Muslims, Hindus and more conservative Christians.
On the other hand, a more liberal strain of thought has emerged among the younger generations. Women in this category seek a life-long partnership instead of cleaning the dishes and making dinner. It resembles something more like two people chasing careers side by side, while still prioritizing each other - a more western ideology.
In more native cultures (traditional African cultures) love can be a bit difficult to identify with. Far from western thought, love is considered determining what is best for the community as a whole. It's called 'ubuntu'. Thus, love may also mean you have to sacrifice for other members of the family and community as well as your wife and kids.
In a nutshell, finding love in Johannesburg is very possible. Most people find the economic climate agreeable and building a lasting relationship is something quite enjoyable. Just make sure to keep the communication lines open, especially if there are cultural differences to begin with.
How to Make Sure She Is the One
In South Africa, loyalty is an extremely important factor when it comes to any relationship. One way to tell how interested a girl is in you is the way she interacts with other guys. If she is more reserved around the and shows you a level of respect by appropriately distancing herself from guy friends, she is probably keen on a long-term relationship.
While you do not have the same level of gold diggers as Asian countries – for example – they are still out there. However, the middle class and upper class communities would have too much pride to think of such a thing, but you may find this in the poorer communities. There are ways to spot if a girl is only interested in your cash. Does she treat you differently based on the value of your gifts? Does she appreciate the non-financial gits? Is he overly flashy on social media? These may not always indicate a gold digger, but you should start asking questions at some point.
When it all comes down to it, there really is no way to intellectually filter out whether she is the one or not. There isn't a check list. Discovering whether you are right for each other starts with open communication, asking one another what you want out of the relationship. Furthermore, ask yourself whether she is really the person you want to settle down with. It should be something that just springs from within.
Marriage
Life in Johannesburg, depending on which area you choose to reside in, is not that much different from most western cities. The banking sector competes with first world countries, as South Africa is known for its export market as well as finance into the rest of the third world. There is also a strong economy surrounding the financial services world, which means that you can live quite comfortably if you have a degree in a useful field.
However, poverty is a real worry in South Africa. Those who fail to get some form of higher education beyond high school are likely to struggle through life. The minimum wage is not enough to support anyone beyond their basic needs in a ghetto – and the ghettos are rough places. Many people live below the $2 per day poverty line. In order to have a successful marriage and a liveable lifestyle, you will require a decent job. It is also a thing of cultural acceptance and respect. Due to the traditional, conservative values, men are expected to provide for the family and often become a point of humour if they cannot.
South Africa has a good schooling system for those who can afford it. The state-run schools are known to be a bit dicey, but you will find one or two good ones. Private schools are expensive, but they are the best way to ensure that your kids end up in university and have prospects of a respectable career. Again, the quality of your life goes up in direct correlation with your earning capacity.
Extended families in south Africa are a huge deal. In some cultures, it is a thing of pride to take care of those family members around you. In others it is expected – such as the native cultures who will move into your home if they come under financial worry. This can sometimes be a blessing and at other times a curse. Prepare for a loving community, but also meddling in-laws and aunties and uncles.
As for the marriage itself, you will find that most South African women are loyal and extremely focused on making a family successful. There are also a lot of things to do; however, most couples save up to get away to the coast in the school holidays. The city life is fast-paced and often requires long working hours, but if you can balance it, there is no reason why you cannot make a marriage work.
Wedding
A wedding is a huge deal. What you must understand, as I am sure you do by now, is that South Africa is home to a plethora of cultures. There is no one size fits all, but what would you expect from a nation with eleven official languages. Thus, the wedding will differ greatly depending on which culture your spouse is from.
For the native cultures, there is usually some kind of western ceremony followed by a feast. This feast can last for any number of days and is usually on the expense of the groom. Furthermore, it is usually a community thing, meaning you'll end up paying for a minimum of hundreds of people – neighbours, family and friends included. There's also the small matter of a dowry!
The more western cultures, such as the mixed race and white community are likely to have a budget-related ceremony followed by a reception. It's a normal western wedding with an invitation-only attendance.
Due to a complicated history, Johannesburg is also home to Indian and Muslim races. Some of these women are extremely beautiful, and the many permutations and ethnic mixes have created unique girls who will take your breath away. However, when it come to weddings – that's where things get complicated. Muslim weddings are done in two stages. First, you would need some form of dowry followed by a religious ceremony. Thereafter, you would have a more western ceremony for friends and family. Indian weddings are a whole different scenario, so expect a traditional Indian wedding rather than a western one.
Family Life
The South African family is extremely closely knit. All in all, it isn't a bad place to develop a bussing relationship. Johannesburg is the centre of economic activity in all of Africa, as it holds the Johannesburg stock exchange and many exporters who have purchased goods from all of Africa. Thus, it is not difficult to find a career, and areas such as Sandton offer first-world city lifestyles.
Crime is a worry, as Johannesburg is home to many organized crime operations as well as a lot of petty crime. Much of South Africa's population lives below the poverty line of $2 per day, which means that people resort to theft – sometimes violently so. It is probably the biggest concern in the country when it comes to raising a family.
Besides the crime, the lifestyle does not differ too much from a first-world city. Shopping malls, parks, gyms and sporting arenas are to be found throughout and a bustling economy keeps everyone hooked on their financial dreams. There are also a few good schools in the district, including both American and British International Schools. More traditional boarding schools are the pride of the province, becoming a filtration system for the University of Johannesburg and Wits University.
The family system is healthy, as the culture seems to centre around the model, nuclear family. Rest assured that if you end up in a long-term relationship with a South African you will be invited into her extended family, too.
See Also