Amman
From Dating Local Girls
Amman dating guide advises how to meet single girls. You just need to know the basic steps how to date Jordanian women. Learn how to arrange dates with hot Jordanian girls, how to take your relationship to the next level and how to find your soulmate and fall in love. Read more on how to date local women and where to meet girls in Amman, Jordan.
Girls in Amman:
Attitude of girls: 4.5 / 5
Education level of girls: 3.5 / 5
Dating in Amman:
Chance of arranging dates: 2.5 / 5
Casual dating culture: 3 / 5
Online dating popularity: 3.5 / 5
Sex in Amman:
Women's sexual activity: 3 / 5
One-night stands: 2.5 / 5
More about Amman:
Nightlife in general: 4 / 5
Locals' English level: 3.5 / 5
Moving around the city: 4 / 5
Budget per day: US$70 - $400
Accommodation: US$30 - $200
Dating
It is no secret that having a partner in life makes everything feel better. Indeed, humans are social creatures and thus, everything runs back to that factor. Whether it is friendship or dating, people enjoy having someone to spend their time with, especially at a new place. Truly, it adds a sense of excitement into your life and for most people, that's what they enjoy best.
However, this world is huge and the people different, and so is their culture and what they believe in. You need to understand that in the places that you are going to, and that is especially applicable in Amman. After all, the country is not too open to the outward display of feelings, and you might have problems adjusting.
The girls in this place are not open to romance publicly , because of their culture and religion. To put it simply, you would have a hard time dating someone openly in Amman, but it is not impossible. These Jordanian women are very strong-minded and smart, and you would enjoy their company.
While sex is not an openly discussed concept, it's still quite prevalent behind doors. But most of the population in Amman are Muslims, and the dating liberties for these women are very limited. Thus, you need to talk to them and try to understand their point of view. However, most of these women would not talk directly with unknown men, which makes communication difficult.
Many Jordanian women in Amman are very dedicated to their relationships and are very family-oriented. Indeed, they are waiting for their married life to begin and do not want to waste time dating. Although, that is not the case for all women here, and you can recognize the difference easily. Either way, you have to treat them with respect and realize that you need to work on some things.
Dating Culture
To put it simply, the dating culture in Amman is complicated and you need to understand their society better beforehand. Most of the population has an old-fashioned mindset, with not a lot of independence for the women. Of course, this is not the case for many, although most people have an antiquated mindset.
In fact, women cannot openly profess their thoughts and feelings, and in most cases, their family controls their lifestyles. Marriage is the main endgame for many and thus, they do not date. Therefore, if you want to date a Jordanian lady in Amman, you cannot openly ask them out. Furthermore, their upbringing makes them quiet and submissive, but they open up when they feel comfortable with someone.
Thus, if you are looking for a more casual relationship, these women are not easily available. However, Amman is far more progressive in comparison to other cities in Jordan, and the culture there is a lot more modern. Many women here are okay with dating casually, and you can meet them at parties and bars.
Furthermore, there are girls from other countries and nationalities who have moved here for different reasons. If you want to, you can give dating them a chance and you would surely enjoy a lot together. However, while you are in Amman, you should take care of respecting their dignity and keep your private life, private.
Women
Despite all the restrictions and the obstacles, getting to date the women in Amman is worth the effort. Indeed, these women are very nice and strong-minded, and overall, extremely interesting to talk to. Not only do they have a solid personality, but they are also very gorgeous!
Truly, middle-eastern women are known for their exotic beauty, and most of the local ladies here are Arabian. From the fair doe eyed beauties to exotic olive-toned sensuality, the looks of these girls are simply breathtaking. Additionally, they have gorgeous dark eyes and dark locks, and they stay quite groomed.
Physically, these women are curvy and svelte, and they maintain their physique very well. However, in Jordanian society, neither men nor women can show a lot of skin, and many traditional women wear hijabs. They hide their features from strangers and stay very modest yet classy. But you will see many girls in western clothes too, and they flaunt their looks well.
Of course, how they choose to carry themselves depends on how they were brought up, and their values. However, no matter how orthodox they are or not, all Jordanian women are very resolute about their beliefs and thoughts. It is very difficult to make a girl from Amman change their views about something, or their life goals.
Furthermore, these ladies have a lot of respect for their elders and their culture. Not to mention, they are are very family-oriented and care for their overall growth. In fact, these women make their decisions keeping their teachings in mind. They are indeed, very well-mannered and likable, and very nice to anyone they talk to.
Jordanian Girls (age 18 - 29)
Just like in any society in the world, there are many types of people in the world. No matter what your age is, certain personality points stay similar and at the same time, different. In the case of Jordanian girls around 18 years, their education is a priority. However, for most of these girls, marriage still trumps a future career, and they want a family of their own.
Of course, many girls do want a successful career, but Muslim traditions are very orthodox and old-fashioned. Moreover, many of these women are very stand-off-ish and do not easily talk to strangers. You should respect her actions and wishes and keep your distance if they seem uninterested. However, if they feel like they can trust you, they would become very friendly and nice.
Nevertheless, there are some different categories of girls here as well who are more outgoing and fun. You can meet them mostly during the night time, around the different bars and night-life areas in Amman. Indeed, they are extremely fun to hang out with and enjoy meeting new people.
However, many of these girls look for rich men and have a materialist mindset. Also, most of them are not in the mood for a romantic partnership and want something casual. Although that is true, you cannot tell the difference easily and you should not make prior assumptions. If you make the wrong move, you can offend them so keep in mind that you should always show respect and politeness.
Jordanian Women (age 30 - 45)
Around the age of 30 to 45 years, most Jordanian Women in Amman have a family of their own. Indeed, these women are interested in marriage and commitment and focus all their energy on that. Thus, if you are curious to date someone in their middle ages, you would not have a lot of luck in Amman.
These women are very close to their family and their husband and do not focus on meeting new people. In fact, most of their time is given to their family and for some women, towards their work as well. However, you are not completely out of luck as there are some who are up for dating.
Although that is true, you might have a hard time finding them easily. In this city, physical intimacy is not heavily celebrated and you cannot openly flirt with women. Therefore, the best option for you to meet single middle-aged women is through online dating. Truly, you must remember that in Amman, discretion is important, and that is highly applicable in this situation as well.
Jordanian Ladies (age 45+)
If you thought meeting middle-aged women was difficult, this age-group is more so than that! After all, many of these women put their own family as the priority and the older they get, this increases. Their kids have children of their own, and the ladies above 45 years focus their energy on helping them.
Not to mention, they have a very reserved upbringing and are devoted to their life partner and children. Furthermore, you would rarely find any Jordanian woman who has had a divorce in this city, as it creates social stigma. These women love their children a lot, and in the case of divorce, the law is partial towards the husband.
Thus, women in Amman prefer to stay in a loveless marriage rather than lose their children. Indeed, they are brought up with the mindset of being the pillar of their family, and they persevere onward. If you want to date someone in this age group, you would have better luck with non-Muslim women there.
Foreign Girls (tourists, expats, students, etc.)
Foreign girls are a dime a dozen in the city of Amman, thanks to its exciting old-school culture and growing economy. Indeed, this capital city of Jordan is highly affluent, which attracts travelers and job-seekers. Thus, if you are considering the dating atmosphere, you would find it easier with them.
After all, they share your feelings towards the dating lifestyle in Amman and possibly share your sexual views too. If you want a no-strings-attached relationship, many of these foreign girls would agree with you. Without a doubt, they are not looking for a commitment either and just want to have a fun time!
Moreover, you can integrate into your lifestyle as well, as it would mirror yours to some extent. Although you'd have fun together, you should remember that you are still in Amman, and respect their history. Thus, keep the physical displays to a minimum when you are out in public, and enjoy yourselves in private.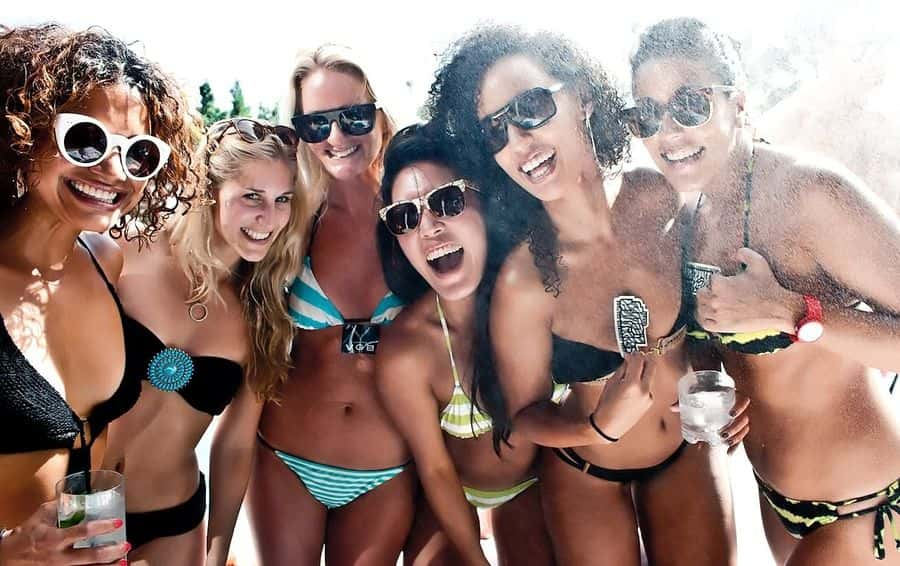 Sex
Jordanian women, in general, are very focused on their own lives and do not usually go out. Also, they are very closed off when they meet men they don't know because they don't trust them. In fact, many families in Amman are very orthodox and teach their daughters to not date, and follow traditions.
Thus, if you are interested in having sex with a Jordanian girl, your chances are very slim. However, there are many women in Amman who have a more westernized mindset, and they enjoy dating. You would meet many such women during the night mostly, in clubs and other such places in the city.
These women have no qualms against sexual relations with unknown men and would enjoy your excitement. They might refuse a few times, but that is a form of flirtation for them. Pay close attention to their body language and notice if their hands are near their chest. If so, it means that they are interested but they are being coy and flirty.
Aside from that, there are some other possible signs you can deduce from their behavior that would suggest their intentions. However, you should act with caution in case the woman you are talking to is not comfortable with you. Thus, stay polite and courteous, without being overly flirtatious and sexual. If they want you, they would not hide their interest for long, and some might make the first move!
Sex Culture
Although the Jordanian people don't openly show their interest, the sex culture is still dominant. However, everything is low-key and not shown outwardly, even if you are with your wife. To put it simply, this taboo mindset has moved down through generations, and traditions are important here.
Behind closed doors and out in certain nightspots, it is a different story altogether. Indeed, many of the young Jordanian men and women enjoy sexual intimacy and are curious about it. Moreover, there are many foreign citizens here too who enjoy sex and do not shy away from having a fun time.
Thus, if you are looking for a passionate time, the tourists and certain locals are ready for it. Also, if you are up for paying for sex, you would find many willing women in Amman. Of course, not many women would openly agree to it, and you can opt for some professional services instead.
One-Night Stands
While picking up a woman is fairly difficult in this city, there are many women who would agree to it. Although, you have to do so very smartly and after you have spoken to a woman for some time. Certainly, these women take some time to trust a person, and you need to make them feel comfortable with you. Yet, there are some ladies who are very forward and confident, and they can approach you themselves. This is more possible in the bar or nightclub areas and they can come up to you, offering a drink. You can also ask a woman for their number, and if they give it to you, flirt via texts. Indeed, these women are much more open and coquettish through their phone screens and you can progress it from there.
Sexually, Jordanian women are very demure and stick to the normal moves, but some do enjoy trying something exciting. They want to give pleasure and would focus on your needs and desires before themselves. Additionally, you can meet many tourists in Amman too, and they would enjoy casual sex as well. Overall, you would have a wonderful time in this city with these gorgeous women.
Best Places to Meet Single Girls
While Amman is quite modern compared to other Jordanian cities, it is not highly suitable for openly flirting. Indeed, you can meet many interesting women here, but asking them out is another deal altogether. You must respect these ladies and show your interest to them keeping their different cultures in mind.
Many of these women are hard to impress, but when you do, they are worth the effort and very charming. However, most people prefer to meet online because it is easier that way and the girls feel safer as well. Also, many of them are open towards dating and they have an open mind towards meeting someone new. Despite all that, you can meet many willing gorgeous women face-to-face too in many places around the city.
Bars, Pubs and Nightclubs
To put it simply, bars and nightclubs are the best spots in Amman to meet young open-minded girls. And you would have an easier time talking to them as well because most of them have a westernized outlook. They understand what dating is like and are open to the possibilities, and you would surely enjoy their company.
Amman has a vibrant and sexy nightlife, with many of the younger crowd feeling free and excited in such an atmosphere. They can openly behave fun and casual here, enjoying their passion for dancing and drinking as well. Truly, if you are looking for liberal and good-looking women in Amman, these are the first places you go to.
In Amman, the main hot-spots for night-time partying and a liberal lifestyle are around Paris Square mainly. Of course, that is not the only spot, and there are some other popular locations too. If you are into going for a night of fun with great companions, these clubs and bars are good options.
Aside from that, you can meet many young women in pubs and restaurants as well, such as these.
Also, you should keep in mind that you would meet some girls in these areas who are money minded. They want a lavish lifestyle and are only interested in men who can give that to them. Thus, you should keep your distance if that is not something that you are interested in.
Shopping Malls
Shopping malls and such are open to so many people and many of the young women spend their time there. With lots of opportunities and activities available to them, these women enjoy roaming in these places. You would surely see many gorgeous girls strolling through the shops and hanging out with friends. Some of the most popular shopping malls in Amman are mentioned below.
Amman Mall
The Galleria Mall
Abdali Mall
Taj Mall
City Mall
Of course, approaching the Jordanian women will become difficult out in the open and you need to do so carefully. Simply walk up to these women and if they seem comfortable, quickly make your acquaintance with them and possibly exchange numbers. However, you should make sure that you are not at a highly crowded place, as things can backfire easily for you. If you are respectful and kind, you would have better luck with impressing these women.
Outdoors
Indeed, the city of Amman is extremely beautiful and has many exciting places to go to. You would surely enjoy yourself a lot when you visit these sites when you are traveling to the city. Not only are the views great, but you would also get the chance to meet many breathtaking Jordanian women.
The ones who live there have a lot of love and care for their city, and enjoy going to the best places. Also, many of the female tourists also visit these areas, and you would get the chance to interact with them. Some of the most popular destinations in the city are as follows.
King Hussein Park - When you visit Amman, you should surely visit King Hussein Park. It has an old-world appeal, which attracts a lot of people to the area, including beautiful women of all ages. Therefore, you would definitely get the chance to meet someone exciting at this location.
Mount Nebo - If you are a lover of great views wherever you go, Mount Nebo in Amman has one of the best..! Of course, it is one of the most well-known spots and you can meet someone amazing and beautiful there.
Al-Badad - Every city has a center-point which is the hub of the entire society, and in Amman, that place is Al-Badad. From shops to restaurants, there is a lot to do and see at this place! Not to mention, many young women enjoy coming to this region as well, to pass the time or for work. Certainly, you might get the chance to meet someone that you like at this place.
Prince Hashem Bird Garden - Located in Ubaydah Ben As-Samet Street, this place is one of the most common and popular locations in the city. Indeed, many of the local women enjoy coming here and seeing the peaceful surroundings, and you can meet them. Of course, this is a tourist spot as well, which means you would meet many exciting foreign girls here too.
Jubilee Park - One of the most beautiful spots in the city, Jubilee Park is an exciting place to go to. If you are looking to meet young women and spend some time with her, this place is absolutely wonderful!
Universities and Colleges
In olden times, Jordanian women were not allowed to have higher education but that has changed recently. Now, women can focus on expanding their knowledge and possibly having a career before marriage. However, sometimes, they attend those colleges and universities that teach subjects that might help them in their home life later.
No matter what, this is a good place for you to meet some eligible women. After all, many of these women want to meet someone that they can have fun with and have a committed relationship with. Moreover, trust is an important thing for these women and college life has a way of creating great bonds.
Truly, you would have a wonderful time meeting and possibly dating these women. Not to mention, some foreign girls come here to study as well, and you can date them too. You would have someone to relate to in an unknown city, and that would make you feel better.
Some of the best universities in Amman are mentioned below.
Al-Ahliyya Amman University
Philadelphia University Jordan
Westford University College
Amman Arab University
Although, you can meet these women during your college life, many of these girls won't want to date. For many Jordanian women, further education is a privilege they didn't think they would receive. Thus, they want to focus on their studies and not get swept up by distractions. If you want to date them, you must become their friends first, and if they trust you, things can progress. You need to treat them with respect and care, and they would reciprocate the same.
Relationship
Women in Amman, especially the Jordanian Muslims, give a lot of importance to their future. Certainly, this city is much more open and liberal compared to many of the middle-eastern cities and supports women's rights. However, age-old traditions don't disappear all of a sudden, and that is the same in their case too.
Having a relationship and getting married are some of the main priorities in every girls' life, especially so in Amman. Since the earliest years, these girls know what is expected of them, and learn the skills they might require. Moreover, they depend upon the wishes of their male elders and do not cross them.
Thus, if you are dating a girl or want to date a girl in Amman, you should know what they are looking for. You should clear up any confusion beforehand if that is what you want and these women would do the same. In fact, they are very curious and determined and would tell you their truth in the beginning.
If you have a relationship with these women, you would surely enjoy your time a lot. Not only are they extremely caring, but they also make sure that their loved ones are cared for. Certainly, they have all the qualities of being a good partner, and you would have a loving relationship together.
Holiday Romance
When you are going to another place, a lustful and exciting experience makes the trip even more memorable. For tourists especially, this is a good thing to have and they enjoy it immensely. Not only do they not have to deal with commitment, but it also adds spice to their previously bland life.
However, if that is your intention in Amman, you are in bad luck. Truly, this city does not look well towards the public show of intimacy, and even flirting is not simple. Keeping in mind the culture and traditions of this place, you should contemplate the holiday-fling likelihood.
Of course, it is not completely out of the realm of possibility; you just need the right woman for it! True, many of these young damsels are not up for a casual flirtation, but some are. Also, you need to consider their upbringing and religion as well, and then make your move.
Furthermore, many foreigners and other tourists live here too, and you can have a fun time with them. These women understand and accept the casual sex relationship better and would fulfill your holiday romance expectations. Surely, you would get to make lots of passionate and unforgettable moments with them!
Tips for Successful Relationship
When people talk about love, they often confuse a lot of different aspects with each other and make a mess. Not only does love give you happiness, but it can also make your life sad and ruthless. Truly, they're two sides of this particular coin, and only your actions can make that distinction.
Thus, you must do everything you can to ensure that your life and relationship are moving forward properly. Here are some tips that can help you in this matter.
Give their family some priority. Truly, women in Amman care about their elders a great deal and they are always under their care. Thus, in order to impress a Jordanian woman, you must have the blessings of their family. Show them that you have good intentions and want a stable future, especially with their daughter.
Although this is a really difficult factor in Jordanian society, your perseverance and strength would develop your bond with her. Of course, you should continue this familial bonding even after your marriage to these women as well.
Talk to them about their hopes and wishes - Jordanian society is not exactly very good to the women, although that has improved a lot in Amman. However, ladies still hold the caregiver duty in the family, and many have to give up their other dreams. Therefore, if you ask them about their wishes and show that you care about their hopes, it would make them feel great. In return, they would support you in reaching yours' wholeheartedly.
Try to learn their culture - If you show care and respect towards their culture, it would go a long way in strengthening your relationship. Of course, they would do so too, and this team effort is what would help you both grow together.
Respect their religion - Just like their culture, you need to honor their religion as well. If you both have different religions, that might cause issues in your life later. Thus, you both need to show that you are supportive of their lives and work on understanding each other. Certainly, you fell in love with each other, and your differences are a part of you. A successful relationship occurs when you accept the whole of your partner, and it is highly essential.
Love
To put it simply, there is a reason why so many songs and movies are made based on and dedicated to love. Indeed, wherever you look, you would see something that would remind you of it. People spend a lot of their time consciously or subconsciously searching for this in their lives, wherever they go.
Thus, if you are going to Amman, you would feel this too when you meet and spend time with these women. Not only are they extremely nice, but also there's something very attractive about their quiet confidence. They care about their partners and if you are in a relationship with them, there is an expectation of marriage.
If you are looking for a long-time commitment, the Jordanian maidens are the best partners for you. They love deeply, and are very loyal towards their life partners; you would surely have no worries about them two-timing. Of course, they don't physically show their affection openly, but they are very interested in your contentment.
How to Make Sure She Is the One
Indeed, fear always remains in a person's mind regarding the intention of their partners. While words of comfort and love are always nice to hear, sometimes their validity remains questionable. Especially if the lady you love is from a foreign country, this doubt intensifies.
Of course, lifetime commitment is a big deal and divorce is not an acceptable option. Thus, it's important to know if the woman in your life is truly the love of your life or not. To help you understand your situation better, here are some factors that will help you determine the truth.
Her unflinching support - If she truly cares for you, they show that through their support for you. A good relationship requires partnership in both good times and the worst, and you can judge a lot on that.
She cares about you- As much as support is important, so is their acts of love. Of course, big displays of love do not convey truthfully the feelings of a person. Thus, you should notice the small and subtle ways they show their care for you.
Money is not a factor - Indeed, there are gold-diggers in every society, and it is hard to understand the difference between true and materialist love. Notice how they act when you shower them with expensive things, and also when you don't. It would help you realize her priorities in your relationship for sure!
Their care for your loved ones - A good partner cares for their lover's family as much as they care about you. Thus, if she shows this concern for your family, you can understand the depth of her love for you.
She makes you happy - Truly, if she makes you feel safe and giddy whenever you are with her, the signs are good. Having a happy and healthy relationship is important, and if she does that for you, she's the right choice.
Family acceptance on both sides - This problem is highly possible if you from different cultures, countries, and most importantly, religions. Certainly, the Jordanian families are very obstinate about their beliefs and traditions and adjustment will take time. However, if they like you and your family likes her, you can work on the rest later.
Marriage
Without a doubt, marriage is a very important aspect of a Jordanian woman's life in Amman. Mainly though, the female's family elders choose their husband for them and sometimes, they are their cousins. Indeed, in their culture, the ultimate power lies with the male elders, and that is visible in these cases.
Of course, things have changed in current times and so has the dominance of arranged marriages. Some people do go for love marriages and are not shamed in society for it. However, it still requires the blessing of the elders for the love marriages to occur and that is an important step.
In lower-income houses, though, love marriages are not highly common, and mostly they focus on keeping it within the kin. However, times are changing and women's choices are getting more recognition slowly but surely.
Wedding
For couples looking to get married in Amman, there are many beautiful possibilities. Indeed, there are many spots available for a destination wedding at this place, with really high-class services. If you want to have a wedding in this city, you would enjoy the experience well.
Some of the top spots in Amman are mentioned below.
Geneva Hotel Amman
Dead Sea Marriott Resort & Spa
Grand Hyatt Amman
Kempinski Hotel Aqaba Red Sea
Truly, Amman is an extremely gorgeous city, and it is important that such a defining life moment is beautifully celebrated. These services are gorgeous and heart-warming, and you would surely have a wonderful time!
Family Life
Of course, your family life in this mesmerizing city will become extremely amazing, especially along with these women. Not to mention, the city is remarkably well-kept and you can happily start a family. Children are a really important priority for them, and they would focus entirely on keeping them happy.
Truly, these women are strong and determined and focus completely on the needs of their loved ones. Thus, with them beside you, you would not have to worry about having a long and content life.
See Also